The boombox helped launch an urban revolution of style and technology. In The Boombox Project, Jame Phillips looks at some of the biggest, loudest, most extravagant, and D-cell hungriest shoulder-borne superradios of the day.
Size Does Matter
"My radio, believe me, I like it loud
I'm the man with a box that can rock the crowd"
- LL Cool J (rapper / actor)
Back in 1985 when LL Cool J released his debut album, Radio, and the hit single "I Can't Live Without My Radio," street culture in the U.S. was alive with the sound of what was colloquially termed the boombox or the ghetto blaster, depending on where you were from. The cover of LL's album reiterated the prominence of his hit single by depicting a close-up of a JVC RC-M90, one of the biggest and best-performing radio cassette players of the day. I collect boomboxes and have found a hobby bordering on obsession, learning as much as I can about them as well as playing with them and using them in my everyday life. I have a personal bias toward JVC, but this is simply because in my youth JVC was the best brand available in my community, and I still feel a strong connection to many of their products. But please do not misunderstand; there are many radios and many brands that are excellent.
JVC, or the Victor Company of Japan, launched itself into the portable radio cassette player/ recorder market in the late seventies when it released the amazing RC-550. Dubbed "El Diablo" by the Latino community, this giant monobox was devilish. It had a single 10-inch woofer, a 4-inch mid-range, and a 2-inch tweeter, separate bass and treble controls, and a big strong handle as well as a shoulder strap. It had roll bars on the sides that extended forward to protect the speakers, and even had shortwave bands as well. This unit was built for the streets and signaled a change in the mindset of portable design. Although not a stereo player, this unit was BIG!
G/O Media may get a commission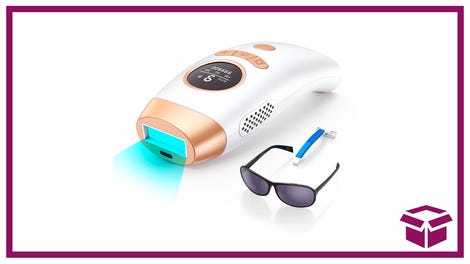 58% Off + Coupon
IPL Hair Removal Device
JVC followed up the success of the RC-550 with another great radio destined to become the classic model for most designs: the RC-M70. This radio was a stereo player, with four speakers, two 6-inch woofers, and two 2-inch horn tweeters. All the slide controls and buttons were on top, including a click-down music search function and a loudness button. A great sounding (40 watts of power), cool-looking unit, it had tremendous build construction (a JVC trait) and great bass response at a time when bass heavy music, funk, and R & B were merging their flavors to begin the rap / hip-hop movement. This radio also had a special seat belt–styled click-in shoulder strap and a special carry bag as well.
JVC was not done yet, as they introduced their top of the line RC-M90, the radio that inspired the LL Cool J song. This was it: 8-inch woofers, 3-inch tweeters, a full-logic two-motor cassette deck (meaning computer chip–controlled as opposed to mechanical buttons), eight radio bands, a more sophisticated LED-lit music search, and huge dimensions, 26-inch x 14-inch. This was perhaps the best-performing, loudest radio of its time. It also had Super ARNS (Dolby B) noise
reduction to further refine its sound, as Dolby was all the rage. The unit also had an optional wired remote control with a 16-foot cord to enable long-distance (somewhat anyway) manipulation of the cassette deck.
While JVC made some great boomboxes, they were certainly not alone. Panasonic, Sharp, Fisher, Aiwa, and Toshiba also made valuable contributions both stylistically and technologically as these portable players flooded the market.
In terms of design innovation, one needs to look no further than the Panasonic RX-7200, a beautiful single-decked, logic-controlled player that boasted both a stylistic variant (the upside down design whereby the radio tuner was located along the bottom portion of the unit) and a technological innovation (a digital tuner for the radio with a green LED readout). Sized between the M70 and the M90, it also had wood-paneled sides and could be purchased with a matching record stand that the 7200 could be mounted on to create an unbroken wood panel-this was not a radio for the streets, but a radio for a posh study or library, a beautiful combination of high technology and organic warmth.
Aiwa released several beautiful units, but perhaps the best one was the CS-880. Medium-sized (22-inch long), it had its single cassette deck thrust up in the left-hand corner, and in the middle had a 7-inch passive radiator designed to enhance the sound coming from the twin 5-inch woofers and 2-inch tweeters. The Aiwa had an amazing tape deck: This unit boasted wow and flutter on par with high-end home cassette players, which resulted in amazingly clear sound. Great build quality, elegant, compact design, and amazing sonic performance, Aiwa made a name for themselves as smaller, high-quality players. This was again a unit that seemed more at home in a home; portable yes, but not for the street.
Getting back to the street, we have to include one of the biggest and most famous radios of the early eighties, the Conion C-100F from Coney-Onkyo. This was a beast! Thirty-one inches long and 16-inches tall, it had all the street cred one could imagine, as well as some design innovations. It had two cassette decks, but instead of making them tandem, they were stacked on top of each other with the top deck a horizontal slot for the tape to slide in through a spring-loaded door. It had three pairs of speakers, two 8-inch woofers, two 4-inch mid-ranges, and two 2-inch tweeters-a full range of sound production. With two analog VU meters, and LED meters as well, it was designed not just to catch eyes, but to hold them hostage! As if this were not enough, in case its size, loudness, and killer "bling" looks overcame your morals, it had an incredibly loud motion-alarm feature that, when set, went off if someone moved the radio. Despite the political incorrectness of the term, this was a ghetto blaster, a consummate example of its time, and was featured in several films, including Beat Street and Breakin'. Fisher also got into the game, but a bit late. Their contribution was the massive PH-492, over 30 inches long and 15 inches tall. This unit had two very significant innovations: One, it had detachable speakers so they could be placed farther apart to get true stereophonic sound. The speakers had individual cases so they could resonate with better acoustics, having their own cabinets. The other important feature that Fisher brought to the industry was a 5-band equalizer to further refine sound to the individual taste. With an EQ, it essentially had a pre-amp and enclosed speakers, so the Fishers were great-sounding, large, heavy units that reeked of quality.
Fisher also made a very unusual unit called the SK-300, a cassette deck with detachable speakers and a removable synthesizer keyboard! You could adjust all aspects of your synth sound- pitch, tone, and length of notes. You could change the sound so it could emulate almost any instrument as well. You could also use the onboard beats to provide a backdrop while you play the keyboard over top, and record the whole arrangement using the cassette deck! Other companies made keyboard synthesizers as well. Not surprisingly, Casio made the KX-101, and Sharp made the GF-990 with a double deck and a pop-out "music processor."
Sharp was again a leader in both design and innovation with the VZ-2000, a massive, heavy, unique player that had a single cassette deck, radio, and a dual-stylus linear tracking turntable. This unit allowed one to play BOTH sides of the record without turning the record over, essentially an auto reverse feature, but with a record! Sharp also had the famous GF-777, a giant 4-inch-woofer and 2-inch-tweeter monster with twin decks in the upper left corner and removable speaker grilles.
The other innovation was that the main woofers had individual bass controls as well as a general bass control and a loudness button. The GF-9696 was a beautiful looker that had individual bass controls as well, but also had pitch control to adjust for different tapes.
Toshiba also produced a monster very similar to the GF-777 called the WX-1 Bombeat RT-S983. This unit had a very unusual configuration for detachable speakers, dual decks, woofers, tweeters, and passive radiators similar to the one in the Aiwa. This is perhaps the heaviest radio in existence, also with pitch control and a bass booster system, great looks, and a great name: Bombeat! Toshiba again showed their innovation with another model, the RT-S933, which had one of the most significant technical and design innovations: a built-in wireless remote control that ejected from the unit with the push of a button.
Other companies also weighed in, and perhaps the most famous boombox of its time was made so by director Spike Lee. Do the Right Thing was a seminal film about the boiling cauldron of race issues in the U.S. embodied by the microcosm of Bed-Stuy, a Brooklyn neighborhood. The object that sparked the riot on the hottest day of the summer was the giant boombox belonging to Radio Raheem. He strutted the streets, conquering all those he met with his ultimate weapon-a volume button. The radio he used to slay all comers was a Promax J-1 Super Jumbo, a monster with a ten-band EQ and three pairs of speakers including 8-inch woofers. In reality, the cheaper build quality of this radio was less than impressive, but its black case and crazy light display certainly won it points for style.
As portable radio tastes changed, so did their design. JVC was back in the driver's seat with the multipiece PC, or portable component, systems. The PC-5 divided into five pieces with a separate radio, tape deck, and amplifier. This radio was promoted by the Harlem Globetrotters. JVC followed up with another superb "executive" component system, the PC-55/550. These units were portable, but in actuality they were meant to be separated and used at home as high quality mini stereos. The PC-55/550 had many special features: Dolby B and C, a five-band EQ, speakers with ceramic woofers, wooden speaker cases for better quality sound, and, most innovatively, an illuminated LCD panel display that showed the many functions and options of the unit. Although ever so slightly bass-shy, this multicomponent unit sounded wonderful for all sorts of music, and had one of the best tape decks ever constructed in a portable.
When you consider the eighties and portable radio culture, I realize how different the world is today. The world of sharing music in parks and on city streets now resides in cyberspace as we share in anonymity online. The boombox that marked this change from public music "broadcasting" to private consumption was the JVC PC-100, a mini unit with a detachable headset. Now you could share your music in the public sphere, or keep it private by ejecting the cassette deck and plugging headphones into it. In many ways it is the ancestor of the Walkman of today, the consummate MP3 player: the iPod. Indeed, all the radios I have mentioned here were built with the ability to plug a portable media player into them, so you can easily plug your iPod into these radios and mix the digital age with the warmth of analogue amplification and sound. Today, when you think that the iPhone is the best thing to happen to music and communication ever, remember that twenty-five years ago playing your music was a public phenomenon. We blasted our favorite jams and drowned out the competition, or went to a party and rocked it with a few tapes, a big radio, and maybe even decks plugged into it. That was how we injected the public sphere with music and soul, back in the day.
Lyle Owerko is a photographer and filmmaker with a diverse roster of clients that include major brands, corporations and human rights groups. Known for his perception and knowledge of urban movements, his instinctively crafted visual images have found an indelible place in the lexicon of pop culture and journalism. In a morning that will stay with him forever, Lyle photographed the image that appeared on the cover of the Times Magazine September 11, 2001 issue. His current projects seek to bridge ethnic borders in a manner that documents cultural groups for the betterment of the human condition. Lyle was raised in Calgary, Canada, studied at the Pratt Institute in New York and currently resides in TriBeca with his girlfriend Shaundra and their dog Luna.
The Boombox Project - The Machines, The Music, and The Urban Underground is available from Amazon.com