The new iPhones are here, and with them, Apple has once again pushed the price of smartphones even higher—especially the iPhone Xs Max which starts at $1,100 and goes all the way up to a staggering $1,450 if you upgrade to 512GB of storage.

But what's this? There's a third iPhone, and with a starting price of $750, it's way more affordable than the iPhone Xs and Xs Max. Really, when it comes to Apple products, some might even call the iPhone XR cheap. So to find out how truly economical the new iPhone XR is, lets take a closer look at its specs and where it sits among Apple's other iPhones, and the smartphone market at large.
Now of course, to reach that price, Apple had to cut a few corners. Unike the X, Xs, and Xs Max, the iPhone XR features an LCD screen instead OLED, which should result in slightly lower contrast and colors that don't look quite as rich when compared to its more premium siblings. On top of that, it only has one camera in back like you get on a standard iPhone 8. And while it does have some sort of haptic feedback, the XR doesn't have full on 3D Touch either.
However, you do get Apple's latest A12 Bionic chip inside, FaceID, newly announced camera features like smart HDR, and battery life that Apple says is even better than the iPhone 8 Plus. And let's not forget about all of the XR's playful color options, which include black, white, red, blue, yellow and coral.
G/O Media may get a commission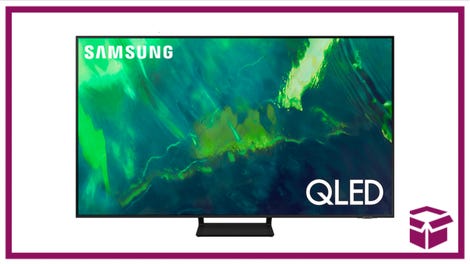 35% off
Samsung Q70A QLED 4K TV
Save big with this Samsung sale
If you're ready to drop some cash on a TV, now's a great time to do it. You can score the 75-inch Samsung Q70A QLED 4K TV for a whopping $800 off. That knocks the price down to $1,500 from $2,300, which is 35% off. This is a lot of TV for the money, and it also happens to be one of the best 4K TVs you can buy right now, according to Gizmodo.
That means when you take into account its 6.1-inch screen, the iPhone XR's closest family member is last year's iPhone 8 Plus. Yes, it's got one less camera, but its screen is bigger, its battery life is better, its got a more powerful CPU inside, and with a starting price of $750, it's also a potentially much better deal than 8 Plus considering it cost $800 at launch in 2017.
And even now that the iPhone 8 Plus' starting price has dropped to $700, unless you desperately need a phone with a 2x telephoto zoom, the extra $50 required to move up to an XR seems money well spent. At the same though, with the price of a regular iPhone 8 falling to just $600, it might be the real star for people who just want a reasonably priced iPhone.
But how does the iPhone XR stack up to smartphones on the other side of the Apple/Android device. Featuring a 5.8-inch screen, 64GB of storage and a single rear camera, Samsung's Galaxy S9 is as close as you're going to get when it comes to specs. But with an unlocked price of $620, it costs $130 less than a base iPhone XR.
And if you move up to the Galaxy S9+, Samsung's 6.3-inch dual rear cam handset still edges out the iPhone XR with a starting price of $740. That means Apple's "cheap" new iPhone is still more expensive than the most popular Android flagship.
Ok, so how does the XR fare against the Pixel 2? Actually quite well, because while the standard Pixel 2 costs just $650, it has a significantly smaller 5-inch screen and way bigger bezels. Meanwhile, the $850 Pixel 2 XL hasn't gotten a price reduction since it came out last year in October, which it leaves costing $100 more than the iPhone XR. Ouch. Of course, we're planning to see a whole new batch of Pixel devices in just a few weeks so all of this might change soon.
But once you start to move away from Samsung and Google, the current price of phones like the $529 OnePlus 6, the $700 LG G7, or the $735 you can pay for an international version of the Huawei P20 Pro suggest that there might still be a little wiggle room for Apple to go even lower. But that isn't exactly Apple's style.
Still, when compared directly against the iPhone 8 Plus, the XR looks like a surprisingly affordable alternative. And with Apple going full Face ID with all three of its new iPhones, it's nice to see that the new "default" iPhone is at least attainable, if not particularly cheap.