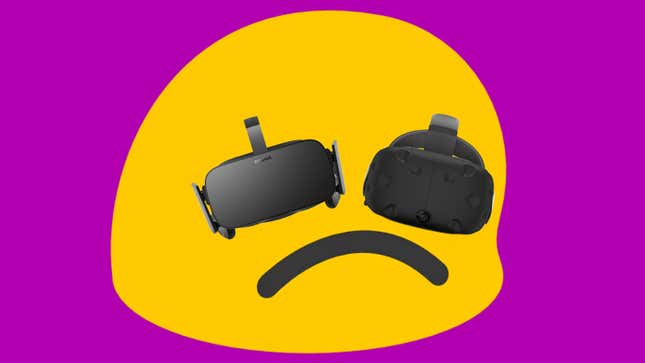 On the morning of Monday, February 29th, the day HTC's Vive VR headset became available for pre-order, Daniel Flesher parked himself in front of his computer and waited.
Meet Microsoft's New Surface Laptops
"I sat at my computer hitting F5, but I was at work," Flesher, an architect, told Gizmodo. He was worried about getting in trouble, but his bosses told him to keep refreshing—to "keep doing your thing," he recalled. A few minutes after the gates opened, Flesher placed his order.

As one of the earlier buyers, Flesher presumed he would be among the first to get his device on or around April 5th, which was touted as launch day. Ultimately, the day came and went with no news about his Vive.

More than a month earlier, on January 6th, pre-orders opened for the Oculus Rift, the Vive's chief competitor that was purchased by Facebook for $2 billion in 2014. Despite years of hype, however, the Rift's launch has been plagued by problems, and now some early customers—the very first to buy into the company's grand plans—will wait months to get their devices.
The Rift and the Vive were both set to launch within about a week of each other—on March 28th and April 5th, respectively. It was supposed to be a landmark period for consumer VR. Instead, early customers for both companies feel like they've been hung out to dry. Many, including Flesher, think the ordering and shipping process for the gadgets has been flawed, confusing, and rage-inducing. Beside delays, problems include mistakenly cancelled orders, mixed up shipping times, disappearing credit card payments, and inadequate company communication. Taken as a whole, it appears that in the rush to get orders out and stymie competition, both companies over-promised and under-delivered at the expense of their most enthusiastic supporters.
Much of the grumbling is happening online, specifically on Reddit. Two subreddits, /r/Oculus and /r/Vive, are full of gripes about how the products were rolled out. In an attempt to make sense of the process, Redditors created spreadsheets—one for each device—cataloging every detail of their orders so they could compare and predict when they might receive them.
Over at /r/Vive, the uproar has calmed down in recent days, as more and more early orders receive shipping confirmations. (According to HTC's Shen Ye, roughly 15,000 people ordered the device in the first 10 minutes.) But for the first few weeks of April, the forum was full of panicky buyers who wondered when their goods would ship, why orders were accidentally cancelled, or why credit card payments were mysteriously dropped. There's even a "crying" thread.

Flesher is a frequent poster on /r/Vive. He was active throughout March, particularly toward the end of the month, when he—and many others—received emails saying that their orders were being "processed."
"You're kind of thinking, someone's touching a box—they're sort of in the works of you having this thing," he said.

Many, Flesher said, were looking forward to April 5th, because that's when they thought "launch day" was: On February 28th, the company said orders would begin shipping then. But on March 22nd, Daniel O'Brien, the company's vice president of virtual reality, said on Twitter that Vives would start arriving on April 5th. It wouldn't be the first time the company contradicted itself and confused customers.

In early April, Flesher says he had a hold placed on his credit card. Though the company said it wouldn't actually charge until devices shipped, he saw this as an encouraging sign.

"At this point, everybody's going, 'sweet,'" Flesher said.

But signs of trouble were emerging. Other customers were receiving notifications that their orders had been cancelled. HTC soon confirmed the incidents, blaming "processing issues with financial institutions." The company promised that reprocessed orders "will be placed back in the queue based on their order time," but a Reddit thread titled "wrong cancellation megathread" still contains posts from worried customers.

"I think for a lot of people, this is a little bit odd—I'm thinking, they put this hold on a card, why hasn't it shipped?" Flesher said. On April 6th, he says he called customer support and said he was told he would receive his Vive on Friday, April 8th. But on April 7th, he received an email telling him he was in the "first wave" of shipments but that the company "[does] not have the exact date of when it will ship out." By the end of that weekend, he still hadn't received shipping confirmation.
Other Redditors started comparing notes, and realized that shipping notifications were being issued in a different sequence from order times. Though HTC promised it would employ a "first in, first out policy for Vive order fulfillment," this wasn't uniformly the case.

"We should have been clearer at the beginning that this would be done on a country-by-country basis," Jeff Gordon, a spokesperson for HTC, said in an email. "We are shipping Vives from different regional depots, not from one single global location. This means that customers will be sent units based on when they ordered them in their respective markets, not based on their global timestamp."

Meanwhile, HTC's Daniel O'Brien inadvertently made things worse. After O'Brien asked for order numbers on Twitter to check statuses for individual customers, some reported that their orders were cancelled. It's unclear what happened, but O'Brien later asked people not to share order numbers publicly.

Finally, on April 13th—12 days after a hold was placed on his credit card—Daniel Flesher received his shipping confirmation. He says the entire process has left him "somewhat jaded."
---
Oculus' problems are more straightforward than HTC's, but the end result is arguably worse. If HTC's issues appear to stem from logistical snafus, Oculus' are due to manufacturing delays: While HTC remains adamant that it will deliver early pre-orders in April, Rift shipments for many early customers have been delayed for months; Oculus' Kickstarter backers were recently told that their shipping estimates had been changed to "TBD." Oculus has placed the blame on a "component shortage."
As with the Vive, many complaints about Oculus shipments can be found on Reddit and Twitter. Gizmodo has also received a handful of emails from people complaining about the delays and Oculus' response.

Adam Waldron, an IT executive based in Idaho, told Gizmodo he placed an order for the Rift on January 16th. Now, Oculus is telling him it won't ship until July. He's currently mulling whether to cancel his order.
Early on, the company promised that orders for initial launch countries would start shipping on March 28th. On Twitter, Oculus founder Palmer Luckey said that Kickstarter Rifts would start arriving that day, and pre-orders would begin shipping mid-week. The same day that pre-orders opened, however, the shipping date was reportedly pushed back until April; a few days later, new orderers were told they might not receive their devices until June.

At the start of April, customers began to receive emails notifying them of the component shortages. They were told to expect an update by April 12th. By that date, many—including some who ordered within the first few minutes—received notifications that their shipments would be delayed into the summer. And these delays have gotten worse: If you place an order for an Oculus Rift today, you won't receive it until August.
"I get that you may not be able to throw a 'partner' under the bus here, but someone needs to eat some shit or there's going to be a riot," one Reddit poster wrote on April 12th. "I understand it's a new product, and glitches happen, but the lack of communication is screaming that this was all to keep people from jumping to the HTC Vive when you did a paper launch with promises you couldn't keep," another said.
The company has apologized for the delays, and in an email to Gizmodo, spokeswoman Tera Randall said Oculus has "taken steps to address the component shortage so we can continue shipping in higher volumes each week." She added that it has also "increased our manufacturing capacity to allow us to deliver in higher quantities, faster."
Waldron isn't impressed. "I think Oculus has certainly created a disadvantage for itself amongst early adopters and curious enthusiasts," he told Gizmodo.

---
It's not simple to launch a new product into what is essentially a new market— particularly because these devices are full of custom components that require brand new manufacturing processes. Not to mention that the online forum environment makes it easy to perpetuate outrage and panic. People complaining on Reddit and Twitter, after all, are mostly die-hard enthusiasts—those who've been counting the days until they can finally slide a headset on.
Still, it's not a great start for either company—especially because those early enthusiasts are critical in helping HTC and Oculus push their products to the masses. "Partly because this is a young market, these kinks are expected to some degree, but they're not inevitable," Lewis Ward, an analyst and director of gaming at market research company IDC, told Gizmodo. "Both of those companies wanted to rush to be first to market, which they did. And now they are reaping the whirlwind of putting something out there before [it was ready]."

HTC disagrees with that line of thinking, telling Gizmodo that "HTC Vive is absolutely ready—and already in many customers' hands and on their heads." Oculus emphasized its apologies and noted it that the "component shortage impacted our quantities more than we expected."

Certainly, things aren't all bad: The early buzz, technical sophistication, and positive reviews suggest that the consumer VR industry has a bright future. But the bumpy beginning brings the companies' claims about their products and place in the industry into sharp focus. HTC predicted that its system would be the "optimum VR experience," and in an interview with Gizmodo in January at CES, Oculus' Palmer Luckey said his company is intent on improving people's perceptions of VR.
"VR crashed and burned a long time ago, and it still hasn't recovered," he said. "We know there are a lot of people who are not going to be buying VR this generation. We just know that it's not for them yet. But if they know about it, and they try it, and they think about it in a positive way for us, that's a huge win for us."

Almost everyone we spoke to for this story was confident that once the headsets were delivered, most of the harm would be forgotten, assuming the products live up to the hype. But the success of both companies—and their ability to push VR into the mainstream—likely hinges on whether or not they can fix their early problems. Die-hard fans will put up with a lot of nonsense to see the future. The rest of us aren't so patient.