In early 2015, 33-year-old Chris Herron was declared legally blind, and was told he had an 80-percent chance of losing his sight entirely in three months. Now, he's almost fully recovered, and has launched an audiobook channel that helps scifi and fantasy authors... just like how they once helped him.

Herron is the founder of Tall Tale TV, a YouTube channel where he makes and releases audiobooks for burgeoning scifi and fantasy works. Before that, he spent almost a year wondering if he would be able to read books again after being diagnosed with diabetic retinopathy, the most common cause of blindness for working-age adults. It's where people with diabetes (Herron's had Type 1 since he was 7) suffer from leaks or bleeding behind the eyes if they don't keep their blood sugar low. He was told he'd need surgery in both eyes, and he had a four in five chance of going blind.
"[When I found out], I hyperventilated and they had to lay me down. It came as a major shock, I had never even considered the possibility of not being able to see," Herron told io9. "I decided I was going to fight it, and I was going to come out the other side regardless what they told me the chances were."
He immediately set out to change his lifestyle— losing 30 pounds in the first month from diet and any exercise he could do, which started as guided walks with his wife. He described his sight as "like looking through a cloud of ink," which meant he had trouble with many basic tasks. He also lost the ability to read and didn't know how to read Braille. Given his lifelong love of fantasy and science fiction, and how they served as an emotional release during bouts of depression, this hit hard.
"It was actually pretty devastating because I loved writing and I loved reading," Herron said. "It was actually my wife who suggested I turn to audio books."
G/O Media may get a commission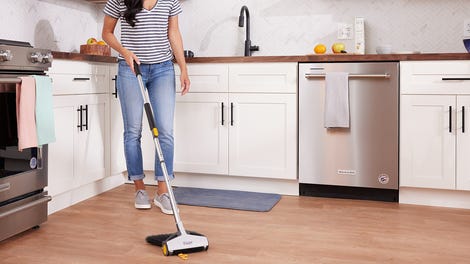 BOGO 50% Off
Flippr - BOGO 50% Off
The first audiobooks he picked up were from Terry Pratchett's Disc World series, and Herron said they changed his life. He'd listened to audiobooks before, but it was in passing while commuting to work, so he was worried it wouldn't be the same. But Herron was amazed at how much he loved them, saying "it gave the book[s] an entire new layer or dimension." Herron listened to them for several months, using them to help during a difficult time. Then, his sight started to return. Herron said it happened gradually so he didn't really notice, but one visit to a doctor's office showed how far he'd come and the odds he'd beaten.
"My doctor looked at my eyes and he personally was kind of floored... he told me, 'Your vision is back at about 80-percent, and you're going to be fine,'" Herron said. "I was so happy I cried."
Since then, Herron's sight has improved to about 90-percent of what it was before the diagnosis. He's able to read regular books again, as well as use a computer for longer than a minute or two. But, he's still "obsessed with audiobooks." More so... he's making them now.
A couple of months ago, Herron started Tall Tale TV, in hopes he could expose scifi and fantasy writers to a diverse audience, and give readers (especially those who are visually impaired) a new way of experiencing their work. The site focuses on short stories and individual chapters, so people don't get overwhelmed when listening to them. Right now, Herron narrates all of them by himself in his spare time (he also has a full-time job), but is looking to expand with more books and voice actors in the future.

You can check out Tall Tale TV here, with a new audiobook chapter expected to go up this week. It's worth checking out. The channel is a new project, but a noble one. Herron's helping burgeoning writers grow in a genre that many of them have loved during their entire lives, using a medium that helped him during one of the hardest times of his own.