When I meet Josh Westerhold at the offices of Project 100, the Las Vegas urban mobility startup that's funded by the Downtown Project, we decide it would probably make sense to head out into downtown Vegas to tour their project area in person. From the other room, his co-worker has an even better idea: "Take the Tesla."
Project 100 is one of a handful of startups that represent the most exciting aspect of the Downtown Project's scope: Private companies stepping up to improve services for downtown Vegas residents in everything from education to healthcare. In Project 100's case, that means supplying a comprehensive, membership-based suite of transportation alternatives for the downtown area. Including 100 shiny new Teslas.
A Tesla charging station being installed on the ground floor of Project 100's building
G/O Media may get a commission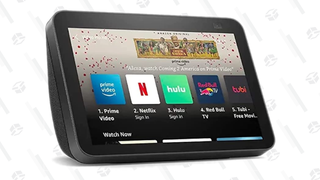 The Tesla Model S currently parked below Project 100's headquarters is the first of 100 vehicles that Project 100 is bringing to Vegas as part of an ambitious electric vehicle sharing program that launches this spring. Like many auto-centric cities, Vegas is a sprawling urban area with a good but not great bus system. Until transit improves, cars are still the fastest and most efficient way to get to many parts of the city. "Most U.S. cities really don't have the public transit capacity to not have cars as part of the mix," says Westerhold. "But you can't make it about giving up your car for the environment, it has to be a better system."
The team wanted to partner with Tesla because it's the best electric vehicle on the market—and it's right for their audience. It's definitely expensive to employ and manage a fleet of Teslas, says Westerhold, but it has something that most electric cars don't have: The sex appeal that will help upwardly mobile residents to surrender their own luxury vehicles.
While the Teslas are perfect for business lunches and dinners across town, they also needed a neighborhood-focused daily driver, so the second car Project 100 will bring onboard is Renault's tiny Twizy—they'll be the first to import them from France. Both models of cars will double as mobile advertising: They're distinctive and unique enough to turn heads on streets.
Bike lanes now lace throughout downtown, creating a solid network
As we purred down towards the Arts District, many of the streets were ribboned with bright green bike lanes. The super-flat city is starting to see a cycling renaissance, and that's why the second component of Project 100's initiative is a smart bike sharing system. These bikes will use a new stationless social system, a solar-powered locking and locating device that doesn't require a kiosk—meaning that the bikes can be placed nearly anywhere and customers can simply find them using an app. This gives the system ultimate flexibility, especially when complimenting the existing transit infrastructure.
The biggest challenge for mobility in Vegas is its lack of walkability, says Westerholt, as we rolled up at a typical Vegas intersection of eight lanes of traffic in both directions. In dense cities, it's easy to walk a half-mile or more to a transit stop or car sharing station because there's plenty to look at along the way. "In a large part of Vegas, it's not necessarily the most interesting walk," he says. "You have to look at what we call psychological proximity: How close to I actually feel to something?"
Westerhold also brought up something that wasn't immediately obvious on this January morning: July's 120-degree heat doesn't lend itself to walking long distances. They're currently collecting data from several parts of downtown to try to figure out that magic distance when it comes to proximity for both cars and bikes.
Bus service is good, but not great, so far. The city's monorail only serves the Strip
When we returned to Project 100's office, we watched a monitor as our route traced light and dark blue lines across a Google map. The ability to record and crunch trip data is another reason Tesla is the right car for the project (the Twizys will be outfitted with a similar third-party tracking device). But it also makes Project 100 very different from other car-sharing companies.
As they launch this spring, Project 100 will be looking closely at user behavior. They plan to roll out slowly with a small group of subscribers whose data can help drive their choices when it comes to locations and even what types of cars or bikes to purchase next. It's a radically customized and user-centric model for transportation. "What we want to do is match the need with the right vehicle for the trip," says Westerhold. "There are plenty of companies trying to figure out how to meet the needs of the customer. We want to do it in person with a tangible product which is getting around the city."
The light-filled waiting room at Turntable, with a full kitchen at the back
Just downstairs from Project 100 is the brand-new Turntable Health, another startup with a similar customer-focused approach to another looming crisis: The city's healthcare system.
A long, sunny ground floor waiting room has colorful couches, large communal tables and free wifi. At one end is a full kitchen, which Turntable uses for classes and workshops on healthy eating. At the other is a yoga studio, currently occupied by a group of members who get to attend the classes free as part of their monthly subscription access to all Turntable's services. "Instead of episodic sick visits, here they're actually getting well, and they're here maintaining that," says Turntable's Dr. Zubin Damania, a former internist at Stanford Medical Center (who also gained some internet notoriety as the rapping doctor Z Dogg MD, which makes him, in a way, the perfect medical leader for the Downtown Project).
"Vegas is essentially a third world country for healthcare," says Damania. "The problem in Vegas is not that there aren't good doctors, but there's no academic medical center setting the bar, and it's a very fragmented, siloed world with a lot of territorialism. But the other issue is that it's a volume thing—you see a ton of patients with a low quality of care."
Turntable doesn't turn anyone away, says Damania—they have people walk in who are obviously in need of social services, and they're given a private consultation in a small, comfortable circular room just off the waiting area that affords ultimate privacy without ushering people directly into the potentially stressful medical environment.
A much more comfortable place to learn about a diagnosis and talk to your doctor about options
In fact, the goal of the entire space is to remove that hierarchy between doctor and patient. Exam rooms have consultation areas, wall-mounted desks with monitors where a doctor can sit with a patient to show lab or imaging results instead of talking to them on the exam table. Instead of a diploma-strewn office, small rooms with chairs and tables allow doctors to explain treatment options to patients and family members in a more comfortable setting. Partnerships with Steelcase and primary care company Iora help them stay on top of new design and tech advances. It was a completely refreshing environment.
But the concept that sets Turntable apart is that it's a medical practice that is run like a startup. The monthly flat fee acts as an incentive for the company to succeed in keeping its patients healthy: The healthier they are, the more of that flat fee Turntable will get to keep, and the greater their profit. But it also serves as a balance sheet for employers and insurance companies to demonstrate that this approach is better. "We're paid to keep these patients healthy, and if we don't do that, they have plenty of data to see how we're doing," said Damania, as we sat in an employee break room where every surface was laden with fresh sliced fruit.
Turntable's model currently can accommodate 5000 members, with plans to expand into hospital services as well. While it would seem counterintuitive that keeping 5000 members healthy who can afford to pay a monthly subscription could have an impact on public healthcare, it's a method that he says will alleviate much of the stress placed on local hospitals and ERs so they can better serve the patients who need their services most, says Damania. Preventative care models like this have been shown to create a 50 percent reduction in urgent care visits.
The 9thBridge school is in a former church right in the heart of downtown
As I left Turntable, I walked across the street to the 9thBridge school, which was not open for the semester during the time of my visit. This is perhaps the most important initiative of the Downtown Project, and the one that will be the most closely watched: A new charter school. Currently, pre-kindergarten and kindergarten classes are enrolled, and the school will add more grades as the classes advance, eventually populating a full elementary school.
These projects were the most impressive aspects of the Downtown Project I'd seen so far. While parks, businesses, and restaurants are essential to rebuilding the urban core, if these startups can crack these social issues in a way that shows real impact citywide, the Downtown Project will be able to demonstrate some serious value for their investment. These are the projects to watch.
We're reporting live from Las Vegas on the Downtown Project, the $350 million urban revitalization project launched by Zappos CEO Tony Hsieh. Read all our coverage here.