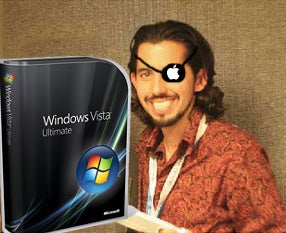 I'm going to E3 next week again to cover the major announcements for Gizmodo and to give Kotaku a hand. There should be some hardware announcements to be had, especially with rumors of Sony cutting PS3 prices by $100. It'll be good to catch up with the Kotaku guys again, many of whom I've seen since last E3, but a few (Ashcraft) have been hiding in Japan since then.
You guys have anything specific you want to see covered at E3? The Rock Band accessories? Wonder if they'll let me put the two guitars, the mic and the drum kit in my pants. Let me know in the comments. Don't know how to comment? Here's how:
1) Click on the "Register" link on the top right of the page. Fill out the form by choosing a username, password and email for your eventual comment account.
2) Choose a post, click on it, and scroll to the bottom.
3) Fill in the comment.
4) Refresh the page to see if your comment shows up. If it hasn't within a day or two, try again with a better comment.