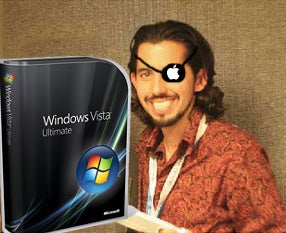 It's the weekend again, and I know what I'm going to be doing: kicking Crecente's ass at Shadowrun. And by "kicking," I mean bombarding him with friendly fire when he's not looking. That, and naming a Pokemon after him and repeatedly making it lose. That'll show him.
Oh, and make sure to check back this weekend for an update to Mark's iPod Dock Bracket. The last one had inMotion iM3 winning over the Griffin Journi—gutting upset, we know—but who knows who will win the next round.
Don't know how to comment? Here's how:
1) Click on the "Register" link on the top right of the page. Fill out the form by choosing a username, password and email for your eventual comment account.
2) Choose a post, click on it, and scroll to the bottom.
3) Fill in the comment.
4) Refresh the page to see if your comment shows up. If it hasn't within a day or two, try again with a better comment.