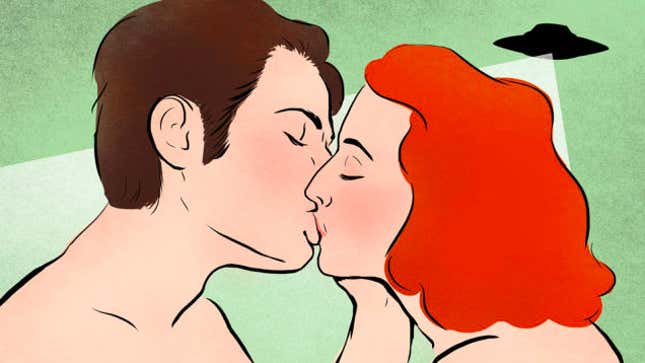 Fanfiction is one of the internet's most reviled and beloved genres. Its authors write tales set in their favorite pop culture worlds, from Star Trek and X-Files, to Hogwarts and boy band concerts. For every fic that's embarrassingly bad, there are thousands more that are brilliant and well-written. Here's how to hunt down the finest works.

Meet Microsoft's New Surface Laptops
The majority of people I know who produce fic are grad students, academics, career writers having fun in a beloved world, and working professionals who consider writing for online audiences a calling. Being young and untested also doesn't mean the quality is subpar: some of the most popular works out there are produced by talented high school and college students. But the sheer number of pieces available can make jumping into fanfiction for the first time a daunting process. We're here to guide you through it.

In the land before online connectivity, fic was published in bound paper zines, and distributed via mail and world-of-mouth. When I was a teenager and the Internet was young, fic was mostly housed in an array of standalone archives that fell into disrepair or vanished due to cease and desist orders from parent companies that saw the art form as a threat to their copyright.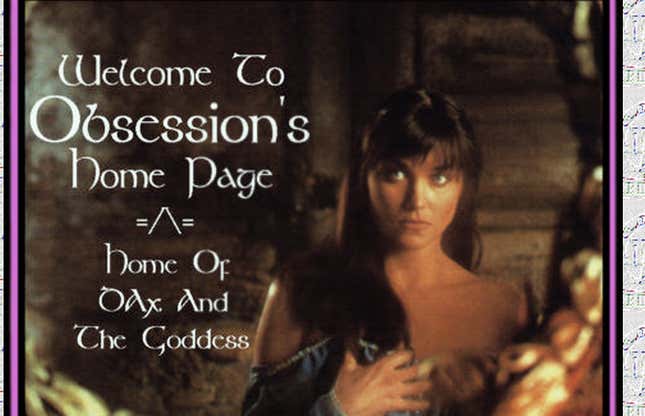 These days, there is a greater understanding of fandom and even encouragement from original authors and creators. There is also an established central resource to satiate the majority of your ficcish desires. Instead of a plethora of archives, there is the mothership—Archive of Our Own.
Archive of Our Own, or AO3 as it is commonly known, is a free service and a project of the Organization for Transformative Works. The OTW is "a nonprofit organization run by and for fans to provide access to and preserve the history of fanworks and fan cultures," staffed entirely by volunteers who do everything from coding and server upkeep to tag-wrangling and support. The OTW produces an academic journal on fan culture and maintains the fanlore.org Wiki, which documents individual fandoms, ships (popular relationships) and characters.


Archive of Our Own is massive, a testament to the activity and creativity of fandom creators. The site boasts 707,547 daily unique visitors and 5,660,376 daily page views. That's a mind-boggling amount by any online publishing standards, and impressive considering no profit is being generated, no ads live on-site and the works are all fan-produced. Anyone can request an AO3 invitation, though you don't need to login to view content. The invite will allow you to set up an account to upload works of your own, or provide a place to bookmark your favorites and comment on them with a unique identity.
For quick access, google any media property you can think of plus AO3—like "x-files ao3"— and you'll arrive at the landing page for that category. AO3 also has an internal search and is painstakingly divided into categories by type that you can browse: All Fandoms, Anime & Manga, Books & Literature, Cartoons & Comics & Graphic Novels, Celebrities & Real People, Movies, Music & Bands, Other Media, Theater, TV Shows, Video Games, and Uncategorized Fandoms.
I'm not exaggerating when I say that fanfiction, fanvids, podfics and fanart exists about nearly everything and everyone under the sun. From Arthurian mythology to real-world politicians to obscure anime to recent blockbusters, there's fic about it. A lot of fic.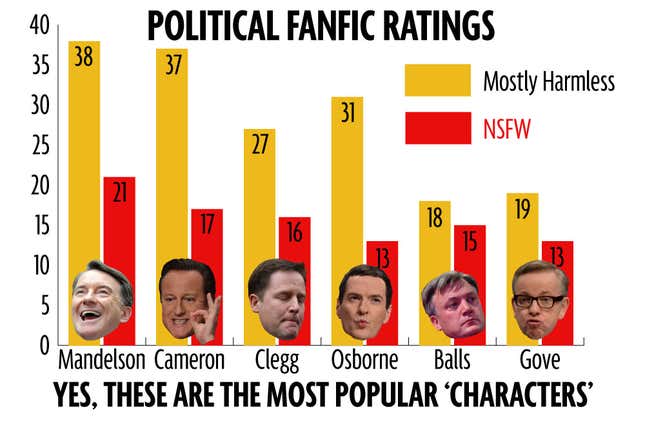 A chart of British politician fics from mirror.co.uk
On AO3 alone, there are 60,000+ works about the Avengers, for example, 79,000 about Harry Potter, and 80,000 concerning various Sherlock Holmes incarnations. How do you choose what to read? Archive of Our Own provides several options by which to vet the available works. The sidebar of every category page displays "sort and filter" options: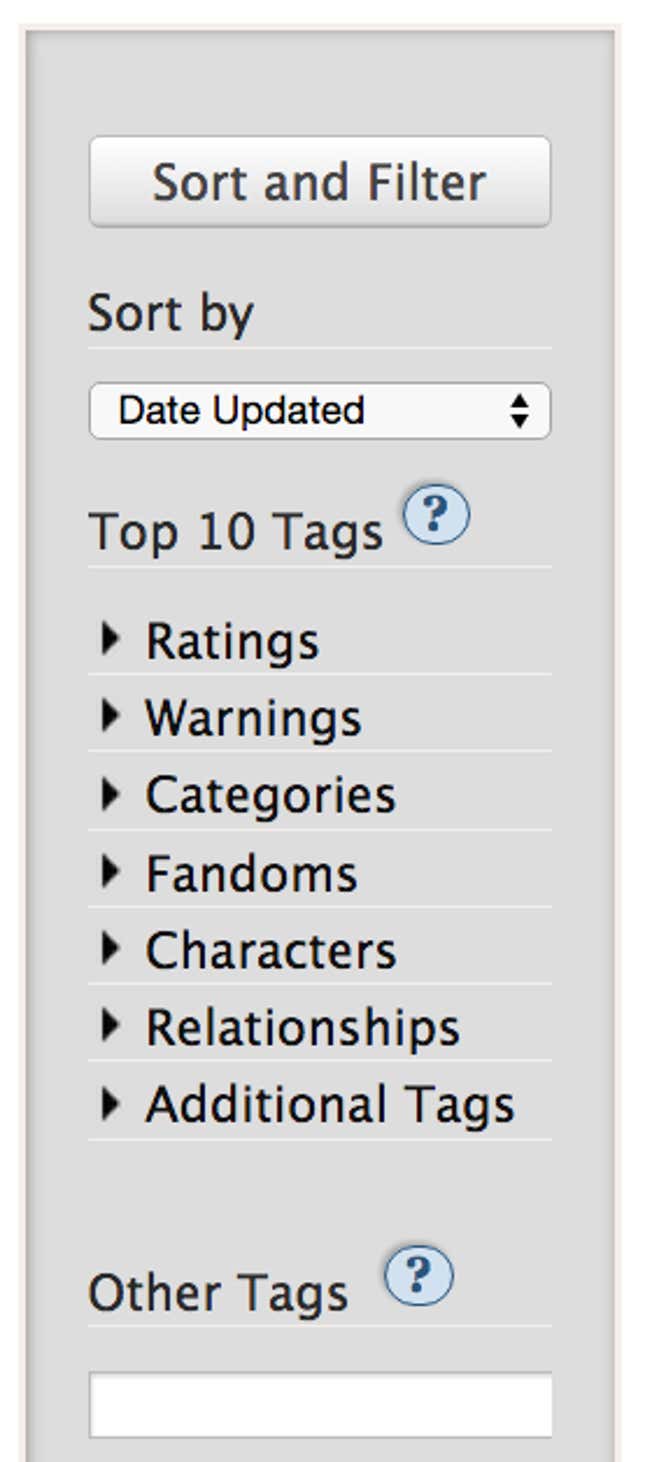 Under the "date updated" drop-down some of the most valuable sorting options are hidden. Herein you can choose to display stories by stats like word count, hits, comments, kudos and bookmarks. So if you're looking for a 200k word story to take to the beach, Ao3 has you covered.

The other stat markers are enormously helpful in winnowing down what to read. I tend to sort by hit count, trusting that the most-read and revisited stories will be worth my time.
Others choose the "kudos" designation when searching for stories of quality. Kudos are AO3's currency of acclaim—a button that both guests and logged in visitors can hit at story's end to indicate they liked what they read. The thinking here is that the most-kudos'd stories will be the best.
Within any category or pairing tag, you can also render stories by rating—from General Audiences and Teen to Mature and Explicit. Archive warnings indicate stories that have self-identified as having content that could be considered upsetting to the reader, like major character death, graphic depictions of violence, and sexual violence.
A popular way people like to discover new stories is to sort by your favorite "ship," a canonical or subtextual relationship between characters.
So if you're into the idea that Special Agents Fox Mulder and Dana Scully are deeply in love, you can visit the Mulder/Scully tag page, then display stories by the factors mentioned above or simply scroll through the 1000+ options. You can also subscribe to RSS feeds of individual tags, ensuring that you'll never miss a single offering from your favorite fandom or pairing. And Ao3 has a "download" option that allows you to save a story to your drive, tablet or phone in several formats for offline viewing.

Even AO3's seemingly infinite and every-growing library is just the tip of the fanworks iceberg. Tumblr is the fandom social network du jour, and searching by tags in there will take you to thousands of blogs and posts about whatever seizes your fancy. Though much of Tumblr is centered on visuals—fanart, gifs, photo manips—many fic authors also post their writing there. Livejournal, once the epicenter of fannish activity, still has loyal fans posting meta commentary, stories and contributing to established communities.
Users on Tumblr, Livejournal and other networks will often curate "recs" pages of what they consider the best stories. So if the sorting options on AO3 aren't enough, do a web search for a pairing or fandom and related recommendations, like "harry potter fic recs." Individual, dedicated archives in the older style still exist as well.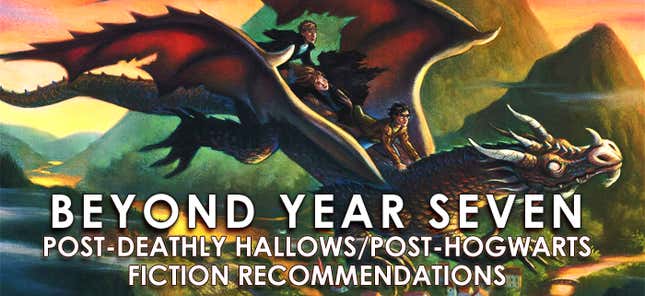 The old stalwart fanfiction.net is another place to find a bottomless well of content; its design hasn't much improved since I was young, though it now boasts a mobile interface. New services like Wattpad have turned fanworks into a business model and boast millions of views, tons of users, and new content uploaded daily. Wattpad is a mix of fanworks and traditionally published content, and hosts an international community and a snazzy app.
If you like to read, I guarantee that there exists quality free fiction about a topic that interests you. If you like to write, don't overlook fic as a place to build an audience and find your voice.
Top illustration by Tara Jacoby