Your Nexus 7 is Wi-Fi-only, but if Verizon thinks that you're ponying up $10 a month just for the privilege of tethering it to your phone, they've got another thing coming. Fact is, wireless Internet access is increasingly like potable water or pornography; with so much available for free, there's no reason to pay. You've just got to know where to look.
Here are just a few tips and tricks to make sure you never have to cough up cash for a hotspot again.
Get It Where You Shop
It's a simple premise: The longer a store keeps you within its confines, the more likely you are to buy something (as proven by every coffeeshop since 1991). But it's not just roasteries anymore, a huge variety of businesses—from neighborhood bars and sandwich shops to Starbucks and McDonalds to hotels, malls, and hospitals—use free access to entice customers or reward guests. And if you're shopping/eating there anyway, you might as well use it, right?
G/O Media may get a commission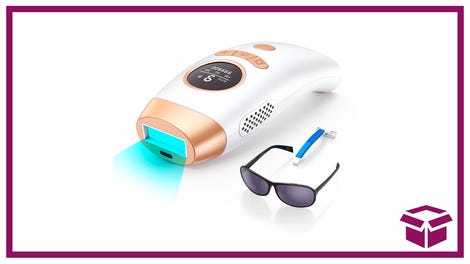 58% Off + Coupon
IPL Hair Removal Device
National fast food chains such as KFC, Taco Bell, and Burger King also offer free access for customers in many (if not all) of their locations. You may have to jump through a few hoops to get access, be it buying something, registering an account, or surfing a limited number of sites, but it's way better than the arm and/or leg you'll have to spend on your carrier's data overages.
Beyond the obvious national chains, remember that your local library is an excellent Wi-Fi resource, as are an increasing number of grocery stores, mechanics, and public parks.
Get It from Your Cable Company
Last May, five major cable providers—Bright House Networks, Cablevision, Comcast, Cox Communications, and Time Warner Cable—teamed up to provide a nationwide service for their combined user bases known as the CableWiFi network. This system allows all home cable internet subscribers to access the any of the five provider's Wi-Fi networks, regardless of whether or not it's their provider.
What's that mean in practice? As a Comcast home cable subscriber, I can access the Time-Warner Cable Wi-Fi network in NYC—which gives me free Wi-Fi in Madison Park and Times Square—or a Bright House network in Birmingham just as easily as an Xfinity network here in San Francisco. You simply try to connect to a CableWiFi network, open a browser, and sign on with the same credentials you use to access your cable service account.
What's especially handy is that after connecting for the first time, the system will authenticate your device across all of the member networks, totaling more than 50,000 hotspots across the US.
Get It from Strangers
If you don't want to buy a cup of coffee or surf in a fast food joint, you've still got a host of access options—namely random open Wi-Fi networks. Here's how to find them.
WiFinder is a popular network-locating app that scans for open networks and maintains a database of more than 550,000 free and paywalled hotspots nationwide. It's available for both iOS and Android. Similarly, WeFi (Android-only) and Free Zone (iOS and Android) host a reserve of 130 million and 12 million hotspots worldwide, respectively. Each displays nearby results through a Google Map overlay. Wi-Fi databases such a Open WiFi Spots are another helpful resource as well.
But don't forget that these open networks may, on occasion, contain a virus or two, so make sure you run capable firewall software and/or FireShepherd before logging on to a public access point. Still, if you can find enough hotspots you may finally be able to ditch your current ISP completely, relying only on the kindness—or laxness—of strangers. [Lifehacker - Wix - Make Use Of - CNet]