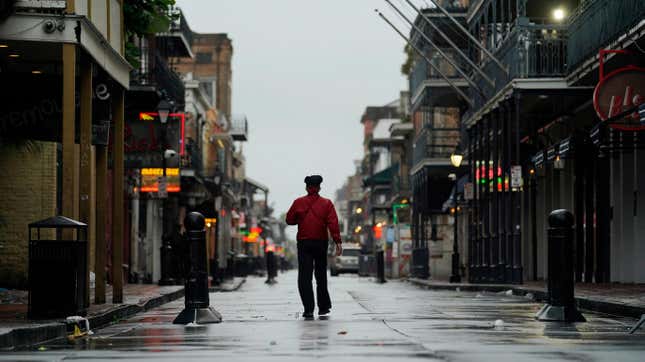 Hurricane Ida made landfall in Louisiana on Sunday as a powerful Category 4 storm, dumping flooding rain whipped by sustained winds of more than 150 mph (241 kph). Next comes the aftermath.
Hurricanes and Climate | Extreme Earth
Countless trees, homes, businesses, and lives are being upended by this monster storm, which became so intense in part due to climate change-induced temperatures super-heating the Gulf of Mexico. On Sunday night, all of New Orleans went dark as nearly 1 million people across Louisiana lost power—meaning the city lacks the power for the pumps installed post-Hurricane Katrina, which hit the city 16 years ago to the day. Ida's forces reversed the flow of the freaking Mississippi River.

While Hurricane Ida mercifully weakened to Category 3 status around 7 p.m. ET on Sunday—six staggering hours after making landfall as a Category 4 storm—the crushing wind and soaking rains continue throughout the region, including in nearby Mississippi, which did not bear the brunt of Ida's eye but will be heavily impacted nonetheless. By Monday morning, Ida's weakened to tropical storm status, as the storm begins its wet, windy trek across the eastern U.S. toward the Atlantic.

For many of us watching from afar as the slow-motion tragedy unfolds, there's one key question: How can I help? Here are a few good places to start, and some specific suggestions worth consideration.

How to Know Which Ida Relief Organizations to Choose
Times of crisis are opportunities for scammers, so always be diligent before giving. Check Charity Navigator or Guidestar for guidance on the reputability of nonprofits taking donations for Hurricane Ida's victims. And if you suspect someone is trying to trick people out of their contributions, you can report them to the National Center for Disaster Fraud through its online portal or by calling 1-866-720-5721.

If you're in need of assistance, FindHelp.org provides a helpful search function to identify verified programs that specialize in a wide variety of categories in your area.

Local Organizations Assisting Hurricane Ida Victims

If you're going to donate money or necessities, you want to know your contribution is actually going to help people. And frequently, local nonprofits and other organizations know the needs of their communities best and are nimble enough to distribute resources where they are needed most. Here are a number of local organizations to consider.
Imagine Water Works: A conservation group founded in 2012 and based in New Orleans, Imagine Water Works largely focuses on conservation and other environmental issues. But when hurricanes strike, the organization kicks into gear to help affected communities. Donate to its Hurricane Ida efforts here. And check out its guide for disaster preparedness here.

Cajun Navy Relief: Founded after Hurricane Katrina, this 501(c)3 helps rescue people and provides supplies needed to get through the disaster. You can donate supplies to the Cajun Navy here, apply to volunteer here, or donate funds through the organization's PayPal here.
If you or someone you know is in need of rescue or supplies, you can contact the organization here.
Another Gulf Is Possible Collaborative: Focused on racial justice in the Gulf region, Another Gulf Is Possible is collecting funds through the nonprofit ActBlue for victims of Hurricane Ida. Funds collected through their ActBlue page will be distributed "directly to indigenous, black, and brown frontline folks impacted by Hurricane Ida and groups who currently don't have online donations capacity, as well as directly to individual families impacted by the storm," according to the group. You can donate here.

Another Gulf Is Possible's Ida page also includes links to other groups and nonprofits that focus on supporting historically and currently under-supported communities.
NOLA Ready: Getting help on the ground means someone has to be on the ground helping. The city of New Orleans' NOLA Ready rallies volunteers to get people impacted by emergencies like Ida the assistance they need. Sign up to volunteer here.
Crowdsource Rescue: Based in Houston, Texas, Crowdsource Rescue supports search-and-rescue teams and volunteer groups to connect rescuers with people who need urgent help. The nonprofit provides training for remote volunteers as well, so you can help directly wherever you are. See here for remote volunteer training, and click here to donate.
If you or someone you know needs immediate assistance, click here.
Rebuilding Together New Orleans: Amid widespread property damage caused by Ida, Rebuilding Together New Orleans (RTNO) is asking for donations of materials and funds to help affected residents. You can select to donate from the organization's Amazon wishlist here, or click here to donate funds, 100% of which will be used to help people affected by the storm, according to the organization.

If you or someone you know needs assistance from RTNO, the organization suggests calling the crisis clean-up hotline at 1-844-965-1386.
Your local organizations: When a major disaster hits anywhere, people from around the U.S., from Washington state to Massachusetts, jump in to help. So, if you know of an organization from your community that's gearing up to help, reach out to see how you can get involved.
National Organizations Assisting Hurricane Ida Victims
Mutual Aid Disaster Relief: A grassroots organization dedicated to assisting people impacted by disaster, Mutual Aid is signing up volunteers to help with the Hurricane Ida recovery effort here, and you can donate to the organization here.
United Way: Helping people in times of both disaster and general need, United Way of Southwest Louisiana is looking for both volunteers and donations. Click through for more. For United Way of South Mississippi, volunteer here and donate here.

Americares: Providing assistance to people impacted by everything from earthquakes to outbreaks, to pandemics and hurricanes, Americares has partnered with the company MathWorks to match donations to Hurricane Ida victims up to $500,000. Donate here.
The Partnership for Inclusive Disaster Strategies: Focused on helping people with disabilities get what they need "before, during, and after" natural disasters and other emergencies, this organization provides a hotline for this impacted community. If you or someone you know needs assistance because of Hurricane Ida, call 1-800-626-4959. Donations can be made on its website's homepage here.
Save the Children USA: The organization has launched a relief fund for children impacted by Ida, which you can donate to here. Save the Children is specifically planning to supply essential items, including diapers, wipes, and portable cribs.

Project HOPE: Aiming to curb the health impacts of Ida, Project HOPE is sending its emergency response team to affected areas to distribute hygiene kits. The kids include everything from shampoo and toothpaste to first-aid kits and N95 masks to help limit the spread of covid-19 in an area where hospitals were already at their breaking point before the storm hit. The nonprofit previously assisted in the aftermath of Hurricane Katrina for more than 10 years, according to a spokesperson. Donate to Project HOPE's Ida efforts here.
World Central Kitchen: WCK's mission is feeding people, and founder and chef José Andrés and a WCK team have been on the ground in New Orleans preparing meals. You can sign up to volunteer here or donate to WCK here.

Red Cross: You likely already know about the Red Cross. What you may not know is that, as ProPublica investigations have found, the organization has repeatedly failed the people it aims to help. This includes documented shortcomings in Louisiana after Superstorm Sandy in 2013. Still, if that's the organization you want to go with, you can volunteer to assist in the recovery of people in Mississippi through the Red Cross here and Louisiana here.
How to Help Pets Impacted by Hurricane Ida
Because pets are family members too, anyone looking to help pets whose lives are also impacted by Ida can find a variety of organizations in the region and beyond helping out. The Austin Humane Society and Houston SPCA in Texas, and Atlanta Human Society in Georgia, all took in dozens of animals each ahead of Ida's arrival. Operation Kindness, a no-kill shelter in North Texas, partnered with the Jefferson Parish SPCA in Louisiana to transport animals displaced by the storm. The Humane Society is also collecting donations to support its Animal Rescue and Response Team, and the Humane Society of South Mississippi continues to need donations, fosters, and volunteers. All of these groups can use your support.

This post will be continually updated with new information as it becomes available.