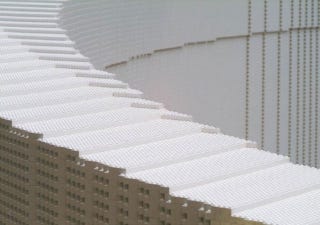 John Tooker has put up an excellent guide to taking care of the yellowing of your white Lego brick utilizing hydrogen peroxide and a dash of the ever famous Oxy-clean. It is a problem that has plagued Lego modelers and old computer equipment collectors for decades, over time and with light exposure, this stuff starts looking gross.
Quick Steps

Put pieces into a plastic/glass tub
Lightly dust pieces with Oxy-clean
Submerge pieces in hydrogen peroxide (3% strength)
Place in sunlight (optional)
Once a day, add peroxide, stir if needed
Rinse on the 5th day, or when white enough
Head over to his page for the full list of steps and before and after pictures.
---
You're reading Leg Godt, the blog with the latest Lego news and the best sets in the web. Follow us on Twitter or Facebook.