Apple just pushed out its newest app, a mobile iMovie for the Snapchat generation—but it's far from the only lightweight video editor you can get for your phone. Jazz up those clips of your pets and vacations before they hit Instagram and Snapchat with these mobile video editing suites, putting pro tools in your pocket.

---
Quik
Previously called Replay but acquired and rebranded by GoPro last year, Quik is one of your best options for on-the-go video editing—and you don't need one of the company's action cams to use it. One of its best features is the way it can pick out the highlights from longer scenes, though you can also trim clips manually if you want to take more control.
After your clips is edited you get 24 video 'styles' to choose from, and you can overlay text and drop in background music too, all with a few taps on the screen. It's one of the best picks out there if you want to get your clips looking like they were edited on the desktop, but don't want to do the heavy lifting—and it also has one of the slickest interfaces we've come across.
G/O Media may get a commission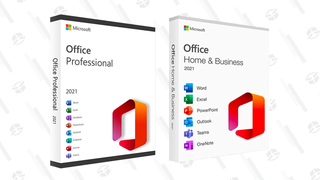 89% off
Microsoft Office Professional 2021 Lifetime License
The app's only real weakness is it might be a bit too basic for some. If you like the look of Quik, but it makes you pine for something a bit more sophisticated, try the similar Splice, also from the GoPro stable—however, that's iOS-only for now, and a little trickier to learn.

---
LumaFX
LumaFX promises "infinite video effects" for your clips, and while we're not tried to test that claim, the app certainly gives you lots of filters and effects to play around with. It also has a much more professional and sophisticated feel than something like Quik or the built-in video effects you get inside the Snapchat and Instagram apps themselves.
It's not the strongest editor, but if you want to run through some quick edits then you can, and if you need to dig deeper to change the strength of an effect or tweak the brightness and contrast, then that's possible too. On top of that you can fix a few common video problems, like color casts or having your video in the wrong orientation.
The app's strengths are definitely in how deep you can dive with effects and how they're applied, but that does add a little friction and make it harder to use than other apps here. It also costs a few dollars, but the ability to tweak your video like it's a photo is worth the admission fee.
$2.99 for iOS
---
FilmoraGo
If Quik is too simple and LumaFX too complex, than one of the best mobile video editors for you might be FilmoraGo. It keeps some of its effects and filters as paid-for add-ons, but there's still plenty to explore for free. You can change the whole look of your clips with a few well-chosen themes, and adding text and other overlays for the finishing touch is easy as well.
Dig deeper and you uncover more advanced tools, like color adjustment and slow-motion effects, and if you want to take more control over your video then FilmoraGo has that depth—from adding soundtracks to chopping and changing scenes around via a basic timeline.
There's no doubt FilmoraGo is one of the most capable video editors on mobile in terms of what you can do with your clips—we were stitching together clips and slapping on filters in no time—but that does take away from the quick fix, in-and-out kind of approach of something like Apple Clips... and the in-app purchases will put some people off too.

---
Adobe Premiere Clip
For those of you who take your video editing more seriously and aren't just looking for fun filters, there's Premiere Clip, the mobile, stripped-down, free-to-use version of the desktop juggernaut. It's actually pretty fun and intuitive to use, but we're talking trimming scenes, adding audio and enhancing color rather than stuffing your videos full of emoji overlays and fancy visual effects.
That said there are some instant filters available here, like Instagram overlays for video, and you can tweak the lighting in your scenes or add slow-motion effects. You do need an Adobe ID (which is free) to use the app, and direct social sharing is limited to Facebook and YouTube, though you can save your work first to get it into your other social apps.
Don't expect too much from Adobe Premiere Clip, but it excels at the basics of getting your raw footage into a presentable form on your phone.
---
Apple Clips
So what is Apple bringing to the table? At first glance Clips is refreshingly fun and easy to use, so you can create maximum impact—with a bold title or a Prisma-style filter—with minimum effort. There's a ton of effects and filters and emojis to pick from, but everything still feels straightforward and easy to access, whether you're a video editing pro or not.
The tools that you're likely to want most often, like audio mute, are kept front and center, and you can stitch several clips together if you want. For now you can't share directly to Snapchat (you need to save the video first), though most of the other social networks are present and correct, and there's no app for Android users to try yet, as you might expect.
It's early days but Clips appeals—it's certainly the easiest to use out of all the editors we've mentioned here. Whether users find it distinctive enough from the tools already in Instagram and Snapchat, we'll have to wait and see.
Free for iOS