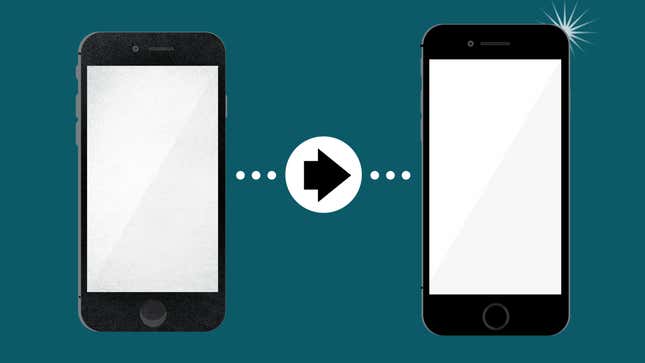 It used to be relatively cheap and easy to upgrade to the latest iPhone. Just renew your contract and get a new phone. Now that carriers are phasing out contracts, however, getting your paws on an iPhone 7 is going to cost you. But it doesn't have to break the bank.
Meet Microsoft's New Surface Laptops
Inevitably, the key to the best deal on a new iPhone is doing the research. You might still be eligible for a grandfathered-in upgrade, and there are plenty of trade-in programs worth considering. Apple's own iPhone Upgrade Program is pretty appealing as well. But everybody's options will be different, so let us walk you through the top five routes to a new iPhone to figure out how to get the best deal.
Your specific situation depends on the paperwork you signed with your carrier many months or many years ago. To figure out what your upgrade options with that same carrier will be, you'll need to get on the phone or log into your account to check your options.
But just because you're eligible for an upgrade, doesn't mean you should take it. When you're on the phone asking about the upgrade, be sure to ask about the various payment plans and attached fees. There's a good chance your carrier could end up charging you more than the retail value of a new iPhone in the long run. So let's break it down.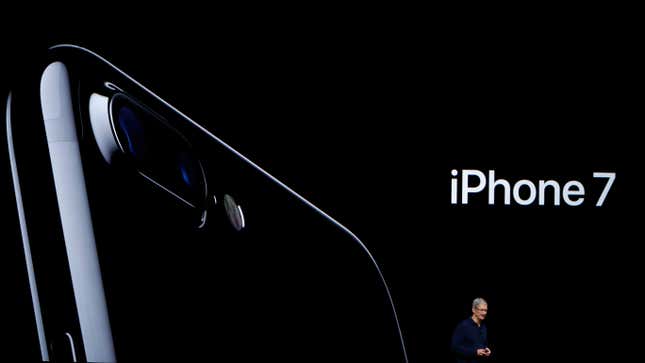 1) Apple (800.MY.APPLE)
Let me be blunt: Apple's iPhone Upgrade Program is probably your best option. It's not the cheapest, with monthly payments starting at $32.41. But Apple's plan guarantees that you get a new, unlocked iPhone every year and includes AppleCare+ protection, which is a good deal. The plan also works with Verizon, AT&T, T-Mobile, and Sprint.
If you consider that the major carriers' own payment plans all start at around $27 a month, Apple's iPhone Upgrade Program will end up costing you at least $220 more. But! Shave $130 off that premium for AppleCare+ and whatever amount you're willing to pay to get a new iPhone every year, and you're basically breaking even. All of the carriers charge upgrade fees that will cost you $20 to $50 over two years. So the Apple tax is actually moot.
It's also worth pointing out that Apple's good customer service is basically priceless. Anyone who's ever been stuck on hold with a carrier will understand this point.
---
2) Verizon (800.922.0204 or dial *611 from your phone)
Like all other major carriers, Verizon has moved away from upgrade programs and towards a simple payment plan. Although the company hasn't released specific numbers for the iPhone 7 quite yet, its payment plan for the iPhone 6s came out to $27.08 per month for 24 months with 0 percent APR. Since the iPhone 7 will have the same retail price tag, there's a good chance that the new monthly payment will be very similar not only for Verizon but for all carriers.
You can also trade in your old phone when signing up for Verizon's iPhone payment plan. The company advertises up to $300 in the form of a gift card, depending on the device and its condition. Verizon will only consider the Galaxy Note 5, Galaxy S6, Galaxy S6 edge/edge+, HTC M9, iPhone 6, LG G4, and LG V10. So if you've got an iPhone 5s, eBay might be your best option.
Then there are the fees. There's a $20 activation fee that may or may not be waived, depending on your standing. There's also a $20 upgrade fee, if you're adding a new device to your account. That fee goes up to $40 if you do the two-year payment plan.
---
3) AT&T (800.331.0500 or dial 611 from your phone)
This one is confusing. A couple years ago, AT&T started migrating customers from traditional contracts to its AT&T Next and AT&T Next Every Year programs both of which get rid of the contract altogether. These are basically payment plans, and depending on when you last signed a contract, you may or may not be able to switch over.
The AT&T Next program may or may not require a 30 percent downpayment, and then 30 monthly installments to pay off the rest of the phone's retail price. You can trade in your device for an upgrade, when you've paid off 80 percent of it. The AT&T Next Every Year program is similar except there are only 24 monthly payments, and you can upgrade after you've paid off 50 percent of the retail value. Both feature a 0 percent APR.
Confused yet? Long story short, AT&T's prices will vary based on the size of your down payment and the price of your new iPhone. You'll also have to pay a $20 activation fee.
---
4) T-Mobile (800.866.2453 or dial 611 from your phone)
If you're hoping to seamlessly switch from an iPhone 6 to an iPhone 7, T-Mobile might be your best option. The company is offering a free 32GB iPhone 7 to anyone who pre-orders the new devices and trades in an iPhone 6, 6s, 6 Plus or 6s Plus. You can get more storage, or an iPhone 7 Plus, for $100 to $200 extra.
Otherwise, T-Mobile's upgrade options are a bit like AT&T. The company offers the JUMP! and the JUMP! On Demand programs. JUMP! offers a 24-month payment plan and an upgrade after you've paid off 50 percent of the phone's retail price tag. JUMP! On Demand is an 18-month payment plan, but you can upgrade any time you want, up to three times per year. Depending on which plan you choose, you might get hit with a $20 a month upgrade fee, too.
---
5) Sprint (866.866.7509 or dial *3 from your phone)
Similar to the T-Mobile deal, Sprint is offering a brand new iPhone 7 if they trade in a iPhone 6, iPhone 6s, Samsung Galaxy S7, or Samsung Galaxy S7 edge. That deal is only good until September 16. After that, you're stuck with the regular old payment plan and a $30 upgrade or activation fee. And just like its competitors, Sprint basically lets you pay off the phone over a set number of months and waives the financing fees.
If you're already a Sprint customer, it's essential that you call the company and figure out what your options are. If you're not a Sprint customer, think very hard about whether you want to be a Sprint customer. There are reasons this carrier is in last place.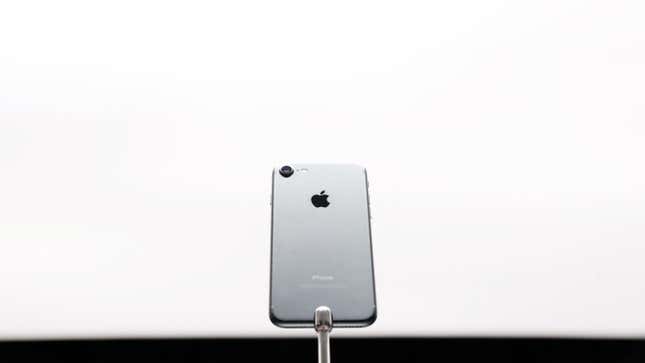 Still confused? That's okay. Pay a few extra bucks and go through Apple, if you don't want to deal with the headache of trying to figure out when and how to upgrade. If you don't want to deal with any of this bullshit, the very best deal is simply buying a new, unlocked iPhone at retail value. This way you're not locked into a payment plan, and you can switch carriers at your heart's content.
Whatever you do, don't decide that your high-interest credit card could serve as a good substitute to all of these interest-free plans. If there's any industry that's more frustrating and expensive than mobile carriers, it's credit cards.