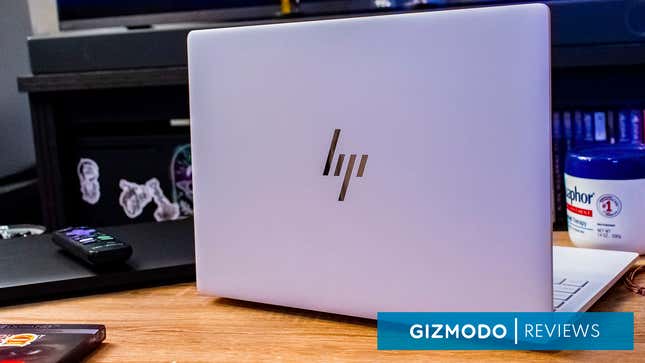 When it came out in 2019, the HP Elite Dragonfly was easily one of the best laptops out there for traveling businesspeople. It was thin, light, powerful and flashy enough to show off at high end coffee shops or wherever rich people congregate. However, because of the vPro platform and a host of features that made it appealing to IT professionals, the price tag was too high for most people to afford. The HP Dragonfly Pro is the Dragonfly for the rest of us.

Gizmodo Back to School 2023 Tech Guide
The HP Dragonfly Pro is a premium thin and light laptop built with features that appeal specifically to freelance workers that don't necessarily have the budget for a premium commercial laptop like the HP Elite Dragonfly. It even has IT support in the form of a built-in chat app that can be summoned with the press of the button – the catch is that the service tied to the app has a monthly subscription free.
This all makes the HP Dragonfly Pro a much more accessible laptop than earlier versions, but it still carries a premium price tag. But at least there's a Chromebook version that's a bit more affordable, even though it's much worse off than the Windows 11 model.
A Chromebook or a Windows machine?
The HP Dragonfly Pro starts at $1,399, which will get you an AMD Ryzen 7 7736u processor, 16GB of RAM, and a 512GB SSD. You can upgrade the RAM and SSD to 32GB and 1TB, respectively, which will up the price to $1,549.
But the Windows 11 Dragonfly Pro doesn't stand alone; there's also a Chromebook model, though the hardware is drastically different. The HP Dragonfly Pro Chromebook starts at $999, coming with an Intel Core i5-1235U, 16GB RAM and a 256GB SSD. This is the only model for the Chromebook, but it is available in both a white and black colorway.
The pricing on the Windows 11 Dragonfly Pro is basically perfect. You get a powerful little laptop with killer battery life and on-demand live support. The same cannot be said for the Chromebook.
Sure, you get basically the same design as the Windows device and the same support options, but you're still spending a thousand bucks on a Chromebook, one with frankly laughable battery life. If you're looking to spend this much cash on a Chromebook, there are so many better premium Chromebooks out there, like the Samsung Galaxy Chromebook 2.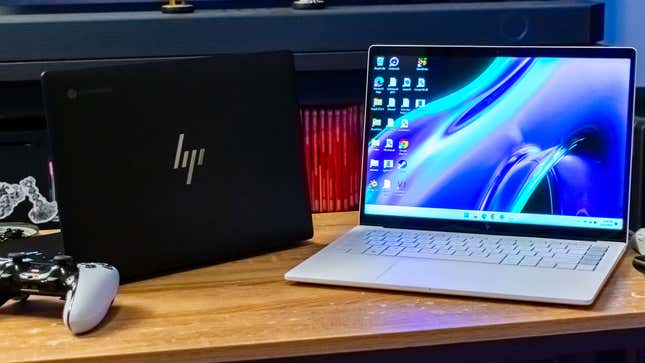 HP Dragonfly Laptops are still stunning
Just like the HP Elite Dragonfly that preceded it, the Dragonfly Pro is a beauty. It features an aluminum chassis that's .72 inches thick and weighs 3.53lb. The Chromebook is a little bit smaller, but not by much, coming in at 0.7 inches thick and 3.33 lb. It's definitely not the thinnest or lightest laptop on the market, but it's portable enough to carry around in your backpack without weighing you down.
But despite it not being the thinnest laptop out there, HP has trimmed any ports that aren't USB-C. You do get three USB-C ports, but there's no headphone jack. You can argue all day about whether or not headphone jacks are necessary in a phone, but you can have my laptop's headphone jack over my dead body.
At least the HP Dragonfly is pretty. Both the Windows laptop and the Chromebook are beautiful, and look just as premium as the price tag suggests. The white colorway of the Windows machine looks absolutely seamless, with the trackpad all but blending in with the rest of the device. The keyboard is all the same shade as well, with the exception of the specialized support keys.
There are four of these support keys, with one that brings up Windows Task View, one that opens the HP support app, and one that opens the webcam, for whatever reason. You also get a programmable macro key. The utility of these keys is going to ultimately depend on how familiar you already are with Windows 11, but I didn't find myself ever really using them beyond testing out what they did.
HP's live tech support needs support
One of the key selling points of the HP Dragonfly Pro is the ready access of support whenever you need it. However, in my experience, getting this support is more of a pain than simply googling a solution to whatever issue you're running into.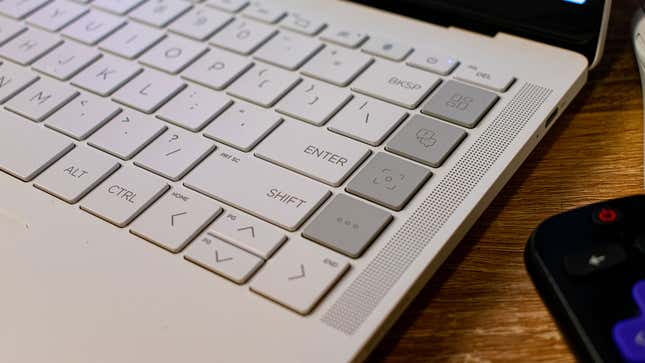 You can easily hit the little support button on the keyboard to bring up the HP support app, but it takes ages to actually load – I'm talking like "days before ubiquitous SSDs" speeds here. What makes this worse is that the custom AMD processor in the laptop was made in order to facilitate best-in-class system responsiveness.

I would think that a service that's all about saving freelancers and other workers the headache of dealing with IT issues wouldn't be a headache to use. Once you're able to actually load into the app, you still need to click through the chat option and then fill in the same kind of support ticket you're probably already familiar with.
And even though the option to chat with an Agent said "available now" while I was testing the service, it still took 3 minutes to be connected with the agent – and that's before the laptop became widely available for purchase. So much for support on-demand. HP does include this service for free for 12 months after you purchase the laptop, but after that initial year, it'll cost you $10.99 a month.
The way it stands right now, the service is absolutely not worth that asking price, but hopefully before the first year is over, HP will update the soft- and firmware to make this service more responsive.
A custom AMD chip
The HP Dragonfly Pro is equipped with a custom-made AMD Ryzen 7 7736u processor. AMD and HP worked together to design this processor just for the HP Dragonfly Pro, and it does show its chops in benchmarks.
The processor was able to get through the Blender BMW demo in just over 3 minutes, which is impressive for a low-power u-series chip like this. The same can be said for the processor's Geekbench performance, where it scored 9,222 points. This is in line with what you can expect from a mobile-class processor like this.
Graphics performance, however, is generally terrible. The Civilization 6 graphics benchmark saw the HP Dragonfly Pro manage an average frametime of 31.24ms. This isn't a gaming laptop, to be sure, but I'd avoid playing anything but the most lightweight indie games on the Dragonfly Pro.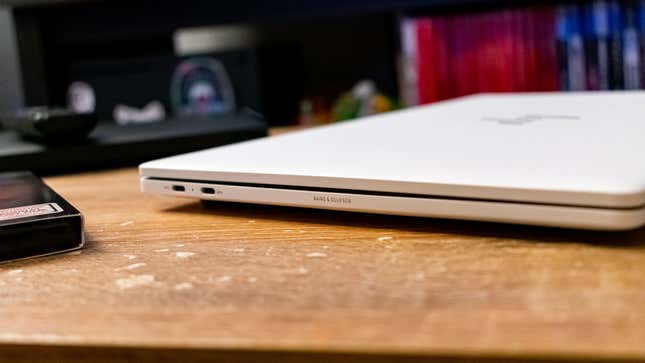 The HP Dragonfly Pro doesn't really need to be a performance powerhouse, though. Outside of using the support app, the device is generally responsive, though it often takes a few tries to get it to wake up from sleep.

It's a complicated little laptop, but it is early days for it. The Dragonfly Pro is a laptop that will live or die by the support it gets from HP. Right now, it's not looking great, but time may see it improve.
HP's nailed the keyboard and trackpad
The keyboard is perfect for this type of laptop. It feels great to type on, and each key gives the perfect amount of feedback. It is a fairly standard chiclet keyboard, but for a laptop that's meant for freelancers to work on, comfort is king.
I was easily able to meet my average 88 wpm typing speed and with 100% accuracy. Typing feels natural, and the HP Dragonfly Pro might be my favorite laptop to write on, despite its responsiveness issues. A software update can fix performance problems, but it will never be able to fix a shitty keyboard.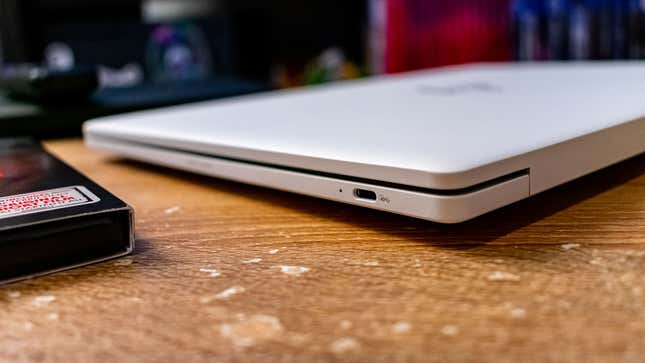 The trackpad is also basically perfect. It's large, and has some of the best palm rejection in the game. I can't think of a single bad thing to say about either keyboard or trackpad, beyond wishing the dedicated support buttons just weren't there. But that's just the HP Dragonfly Pro's entire story, isn't it?

A bright laptop display
The display is beautiful, with a peak brightness of 379 nits. That's not super bright, but it's enough to make content legible outdoors. The Chromebook is much brighter, though, with a peak brightness of nearly 1,300 nits. That's basically blinding indoors, but if you're looking for a laptop to use out in the sun, the Chromebook might be the way to go.
The Windows 11 laptop has a 1,920 x 1,200 display, while the Chromebook's display is 2,560 x 1,600. Both make for the 16:10 aspect ratio that's been growing in popularity recently. Colors are vibrant on both displays, but they're not going to be dethroning the MacBook Pro any time soon.

It's a display that's clearly designed for productivity work more than anything else, but it will get the job done if you need to do any photo or video editing on it. Though, you may want to look elsewhere for the latter.
Band and Olufsen speakers
The HP Dragonfly Pro, like any premium HP laptop, has speakers tuned by Bang and Olufsen. But tuning only does so much if the speakers are sub-par.
Luckily, audio on this laptop is better than most laptops in this class. I loaded up "Heaven or Las Vegas" by The Cocteau Twins, and it sounded just as heavenly as ever. Bass is nice and rich, and even at max volume there was no distortion or annoying tinniness – and this is a treble-heavy track.
Combined with the excellent display, these speakers are great for consuming content while taking a break from work, or for streaming music while trying to focus on whatever you're doing.
The Chromebook dies too quickly
The Windows 11 HP Dragonfly Pro managed an incredible 11 hours of battery life when streaming a 24-hour long Youtube video. It'll last even longer when you're doing productivity tasks, as web streaming is the kryptonite of laptop batteries. The Chromebook didn't fare well.
It lasted just 5 hours and 55 minutes in the same test at the same 200 nits screen brightness, despite being equipped with much-weaker hardware and a much less demanding operating system. I was honestly shocked, I was expecting it to be the other way around, but the Chromebook really whiffed it here.
Considering the lackluster battery life on the Chromebook, it's really not worth the asking price, especially when you can get one with much better battery life for half the price. All you're getting for the extra cash here is worse battery and the live support. That's not worth it.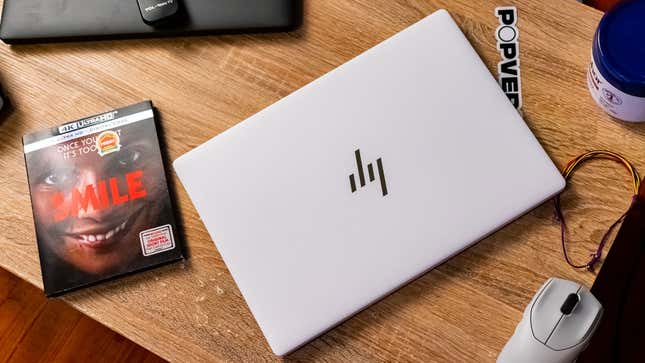 The HP Dragonfly Pro is promising, but there are too many little problems to make it worth the high asking price. For the same money, you can get a solid MacBook Air or a Dell XPS 13 that isn't laden with the software issues this laptop has.
However, every single problem the HP Dragonfly Pro has can be fixed with a simple software update, and you can be sure HP is working on those. But until those updates are published, you're going to essentially be a beta tester for its software, and you'll have to pay for the privilege.

Update 3/16/2023 at 12:10 PM:

This review originally incorrectly stated that the HP Dragonfly Pro Chromebook's display tops out at 1,920 x 1,200. This has been corrected to reflect the Chromebook's actual max resolution, which is 2,560 x 1,600.