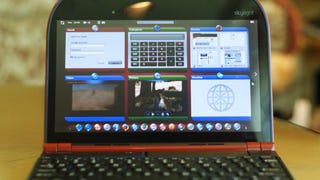 Lenovo's attempt to herald a category of mobile devices has been put off—again—as they announced today that they're ditching their custom Skylight Linux UI in favor of Android. It's a significant blow to the already dying smartbook category.
We've seen bits and pieces of Qualcomm's FLO live TV service, curiously even on an iPhone, but at MWC it'll be showing it off on Snapdragon-powered smartbooks. It enables real-time updates via Twitter while watching live TV.
The Tegra system-on-a-chip, the zippy hardware that powers the Zune HD, had so much potential. Then, the delays. Slow pickup. Disappointment. Whatever happened to the Tegra, Nvidia doesn't want it to happen again. This time, they say, will be different.
Intel's Atom processor is found in virtually every netbook, but others are still trying to get inside your mini-laptop. Independently, ARM and VIA are showing improved chips, but both won't touch what Intel has in store.