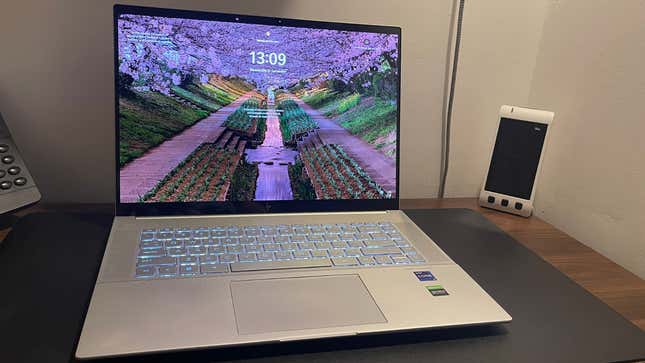 The HP Envy 16 is a laptop aimed at creators who want a more affordable alternative to other premium models. While this laptop may seem like just another workhorse offering from HP, it's actually a machine you can have a little fun with. With a stunning 16-inch, 16:10 4K display with touch capabilities, high power 12th Gen Intel H-series CPUs, a discrete RTX GPU option, up to 32GB of DDR5 RAM, and up to two terabytes of storage space, there is very little this laptop won't be able to handle.

Asus Zenbook 14X OLED Space Edition Review
Find your perfect model and price point
The HP Envy 16 comes with a variety of different configuration options. The base model starts at $1,399.99 and includes the Intel Core i5-12500H CPU, 16 GB of DDR5 RAM, 512 GB of storage space, and Windows 11 Home as standard. HP sent us its top-spec model, which has a 16-inch, 4K OLED display with touchscreen capabilities, an Intel Core i9-12900H processor, an NVIDIA GeForce RTX 3060 Laptop GPU, 32GB of DDR5 RAM, and 2 TB of storage. It also ships with Windows 11 Pro and comes in at $2,799.99.
Depending on your budget, you can add and remove options such as the 4K OLED screen, processor type, graphics card, and storage space. But one thing I wouldn't compromise on is the 4K OLED screen. It's one of the standout features of this device to me, and really takes what could have been an also-ran to the next level.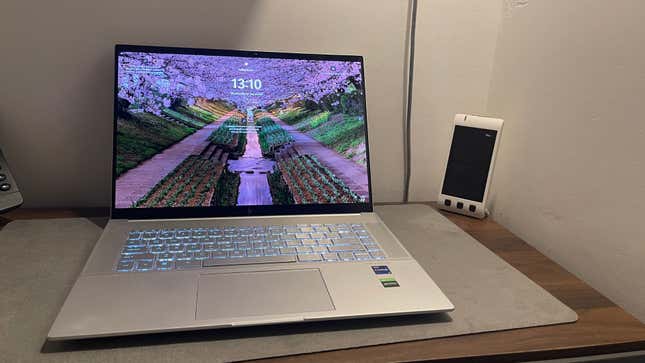 A familiar look but a practical layout
HP Envy laptops tend to avoid imaginative designs, and this model is no exception. It looks just like the HP Envys of days gone by. But that doesn't mean it's a bad-looking machine. Quite the opposite; the body is made using recycled aluminum, which gives it a premium look. Along with the shiny HP logo on the lid, this laptop also has some additional Envy branding on its hinge, just so people know for sure you're not working on the latest MacBook.
Not that anyone would mistake this machine for a MacBook. It may be stylish, but it's certainly not as sleek and compact. This is a big machine, measuring 14.07 x 9.91 x 0.78 inches and weighing in at just over five pounds.
The laptop is silver throughout, including on the backlit keyboard deck. It's sleek, but there are a couple of downsides. In a certain light, the gray legends on the silver keys are impossible to see. And if you turn the keyboard light up, then they just disappear altogether. Unless you're an awesome touch-typist, you'll have to adjust your surrounding light. Another slightly irksome issue with the chassis is that it attracts fingerprint marks. Likewise with the touchscreen, which doesn't use a stylus. You'll find yourself constantly polishing out the marks with this laptop.
Spectacular looks and sound
The HP Envy 16 has one of the best displays I've seen on a laptop. It has the right amount of brightness, peaking at 400 nits, so you'll be able to use it in almost all lighting situations, although bright sunshine is a struggle. In addition, it has low blue light filters, so if you're spending a lot of time in front of your screen, keeping this function switched on will help you avoid eye strain, which can have a huge impact on your productivity.
The screen is 16 inches, and our model came with a 4K OLED panel. The 2560 x 1600 display has a speedy (for the resolution) 120Hz refresh rate, which when paired with its exceptionally quick pixel response, means a smooth experience with little monitor ghosting when playing movies or gaming.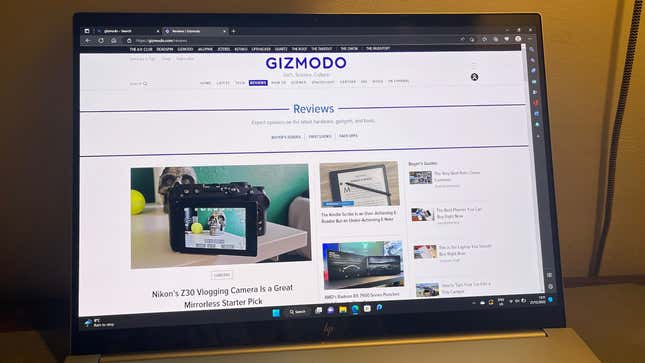 Plus, if you use Adobe Suite, then you'll be delighted to hear that the HP Envy 16 can handle 100% of the Adobe color gamut, allowing even the most minute detail to be seen.

Speaking of color, this machine is so vivid. I tried out the screen by watching Avengers: Endgame, and while this isn't the brightest laptop I've used, I found the colors to be rich and highly accurate. The blacks were deep and inky, too, making the fine details sharp and clear to see. The only downside is that the screen does suffer a lot from glare, so if you're planning to watch your favorite movie in the sunshine, this probably isn't the machine to do it on.
It is a touchscreen, which I'm going to admit I didn't use that much. I think the touchscreen on a convertible like the HP Envy x360 works better, because the computer turns into a tablet. On a regular laptop, I'm not sure there's much need for it.
Audio-wise, this machine comes with four internal Bang & Olufsen speakers, two on either side of the keyboard and another two underneath, so the audio surrounds you. The sound is phenomenal.
I tested the speakers by listening to Bohemian Rhapsody from Queen because of its vast range. For laptop speakers, these are really impressive. The song played with a bit more bass than I'd like, but it had very clear mids and highs and didn't sound distant or tinny at all. The speakers effortlessly picked up the dynamic changes, and volume wise, this laptop delivers; it may not be loud enough to provide the entertainment at a party but if you want to listen to some music whilst you work or you're watching a movie on Netflix, then it's plenty loud.
The tonal balance was also perfect, but there is also built-in Bang & Olufsen audio control software that allows you to customize the audio experience by tweaking everything from EQ settings to noise cancellation. It has three pre-set options, including music, movie, and voice, and I'd fully recommend selecting the movie option when you're streaming a movie, as I found the dialogue came across a lot clearer and it reduced the level of the background music (which can often be distracting). When you're in the app, you can manually adjust the bass, treble and dialog clarity. But another really cool feature with this app is the option to "speaker swap," which will adjust the internal speakers depending on the orientation of the screen. Whilst this is really more of a feature for 2-in-1 machines, if you do for some reason have your screen on the side, you won't lose out on sound quality.
Plenty of ports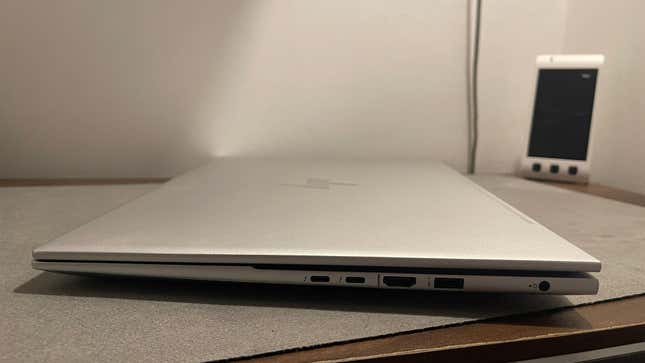 Coming from using a 13-inch M1 MacBook Pro, the number of ports on the HP Envy 16 is a treat. There is an excellent selection: on the right-hand side, you will find two Thunderbolt 4 USB-C ports, a USB-A port, HDMI 2.1, and the power jack. On the left is another USB Type-A port, with a latch that needs to be pulled down before inserting anything (this seems a bizarre design choice given the lack of a latch on the other side), a 3.5mm audio jack, and a microSD card reader. There are plenty of options that'll keep creators happy.

Using the Keyboard
Going back to the keyboard, it isn't all bad. This is a very comfortable keyboard to use. The keys are well-spaced, meaning there's plenty of room when typing, so if you're using this machine for some hardcore drafting, you won't get a cramp in your fingers. There's no number pad, which is surprising given the keyboard size, but this is a bonus as the keys are perfectly centered under the display, with two of the four speakers on either side.
Navigating around the keyboard is also incredibly easy, thanks to the superb layout. The top row of function keys includes the usual volume up and down buttons, F1 keys, screen brightness controls, the on/off button for the keyboard backlight, plus a dedicated emoji key. This top row also includes buttons to kill the webcam and microphone, which is a huge positive for anyone who has to endure daily Zoom meetings. These buttons have small LED lights so you'll know if they're turned off, and you won't have to go through 2020's greatest hit–"we think you're on mute."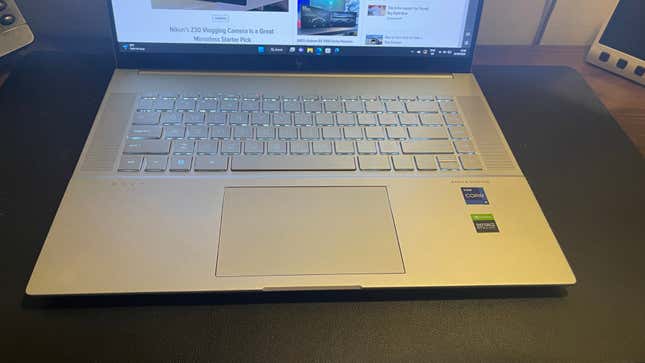 The touchpad is also impressive. Its 4.0 x 3.1 inches and has plenty of space to use the Windows 11 gestures. I found that scrolling, zooming and swiping all worked really well, without any lag.

A webcam that'll make you feel like you're in the office
The HP Envy 16 doesn't have many stand out features outside of its performance, but the webcam deserves a special mention. If you've been working from home for the last few years, you'll know how bad most laptop webcams are. While some laptops boast about having a 1080p resolution and others still sport an outdated 720p one, the HP Envy 16 blows most of them out of the water.
It has a 5MP IR camera (so you can use Windows Hello with it) with a camera shutter, temporal noise reduction, and integrated dual array digital microphones. It also has HP True Vision. If you're not familiar with True Vision, it's a technology used in HP webcams to enhance the image quality of video calls and recordings. It includes a range of features such as low-light enhancement, dynamic contrast adjustment, and noise reduction. These features work together to improve the clarity and color accuracy of images captured by the webcam, even in dimly-lit environments.
Additionally, TrueVision also includes a built-in digital microphone filter which helps to reduce background noise and improve audio quality. When it comes to lighting, I particularly liked the white screen effect, which saved me a lot of time trying to look semi-human in the mornings. As I mentioned earlier, you can also turn the camera and microphone off by clicking the keyboard button, making sure your privacy stays intact.
Powerful performance
The HP Envy 16 is aimed at content creators who need a workhorse of a machine but the convenience of portable productivity.
Just as a reminder, the machine I tested was equipped with a 12th Gen Intel Core i9-12900H CPU, 32GB of DDR5 RAM, RTX 3060 graphics, and a 2TB M.2 SSD. And as you can see by those specs, it's no surprise that this laptop performs very well.
The 32GB of RAM made multitasking light work, with no lag even when I had multiple windows, applications, and videos running. It also ran power-hungry apps, including Adobe Suite, without any stutters in performance. Being able to see 100% of the Adobe color gamut makes such a difference, as it gives you access to every single detail when editing images and videos.
The HP Envy 16 model we reviewed comes with a mobile NVIDIA GeForce RTX 3060 GPU, with around 6GB of dedicated VRAM. While serious gamers may not get excited by this, this machine will run AAA games well, and casual gamers will be blown away by how games come to life thanks to the OLED display. Even with the 60Hz refresh rate, images were smooth and stable.
I downloaded and tested Shadow of the Tomb Raider and Far Cry 5 using the built in benchmarks on high settings. The HP Envy 16 averaged 46fps at 4K resolution in Shadow of the Tomb Raider, whilst Far Cry 5 averaged at 36fps at 4K resolution. With these settings, I found the games stuttered occasionally and the fan noise was very loud. However, just dropping the resolution quality down to 1080p, Shadow of the Tomb Raider ran at 78fps while Far Cry 5 averaged 86fps, with a huge improvement in stability and not much difference in the quality of the graphics.
Still, one thing that lets this machine down is that you'll hear it before you see it when it's pushed to its limits. The fans are incredibly loud, and it does get very hot. Those two issues, combined with poor battery life, mean for anything strenuous, you'll want to keep it on a desk and plugged in.
In benchmark tests, this machine performed well across the board, with a Geekbench 5 score of 1,765 for single-core workloads and 11,667 for multi-core ones. This outperforms other laptops in its class, such as the Dell XPS 15, which scores 1,187 in single-core and 7,258 in multi-core.
And when it comes to video, the Handbrake test found that it transcoded a 4k video to 1080p in just over 6 minutes.
Our machine shipped with Windows 11 Pro, but depending on which specs you choose, yours could come with Windows 11 Home. There's not a huge difference between the two. Still, Windows 11 Pro is a better option if you're using this as a work machine due to the additional security features, including BitLocker, Encryption File System, Windows Information Protection, and having the ability to set the machine up without a Microsoft account.
As with all Windows laptops, you will find some bloatware on board, including McAfee security and the classic Solitaire collection. But mostly, you'll find a handful of HP apps and the standard Windows 11 offerings.
Poor battery life
This laptop's battery is disappointing. For a portable device, I was left feeling very underwhelmed by its performance. Official HP stats claim the battery will last 9 hours and 30 minutes, but our battery test, which involves continuous video playback with the screen set to 200 nits, showed it lasted just 6 hours and 37 minutes. Enough possibly to see you through a working day but not a great performance if you're planning on using it whilst on the move.
There is a Command Centre app pre-installed on the machine that can help you adjust some elements to improve the battery life, but nothing really will make that much of a difference. When it comes to charging, there's a main charging point, but you can also use one of the USB-C ports to charge. Charging is quick: it took around 3 hours to fully charge.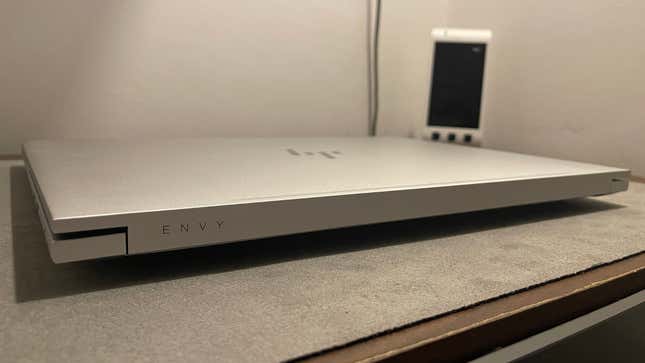 If you're looking for a high-performance workstation that offers exceptional audio and visuals, then you absolutely should consider the HP Envy 16. It's a machine that will appeal to creatives, casual gamers, and even the casual user who wants something reliable to surf the web, create documents and watch video content. The 4K OLED screen is possibly the best I've seen on a laptop. It's stunning, and it works well in all light situations, so it's ideal if you're like me and like to work outside in the summer months. The webcam is another big win. It may not be for everyone, but if you're constantly hopping onto Zoom or Teams meetings, you'll benefit from the better resolution and the enhanced lighting and noise reduction capabilities. The battery is a letdown, and if I'm honest, I think it's a bit too heavy for someone who wants a laptop they can just sling in their bag and carry around with them. If you're looking for something with similar specs but more portable, then it is worth looking at the MacBook Pro or even the HP x360, which is a superb convertible laptop that still enjoys powerful performance and stunning screen.