When Microsoft announced its goal of unifying Windows 10 software across PC, tablets, phones, game consoles, and even Pi-powered micro computers, the future seemed promising. But there was one big problem with that vision: no one really wants a Windows smartphone.
It's no secret that Windows phone has been in a downward spiral because of poor developer support and almost no significant hardware releases. So it makes perfect sense that HP, a company that's also in the midst of a downward spiral, would release a new Windows phone!
The Elite x3 is being pitched by HP as "one device that is every device." In essence, they mean it's built to take advantage of Continuum, the feature that turns Windows 10 phones into lightweight desktop operating systems. HP even created its own dock so you can do transform it from smartphone to PC at any moment.
For a quick refresher, this is what we're talking about when we say "Continuum":
G/O Media may get a commission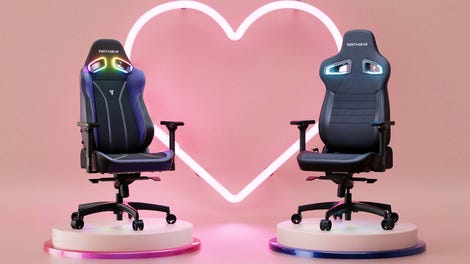 Up to $150 off
Vertagear Gaming Chairs
The Elite x3 is all about business. I think at one point during the demo, an HP spokesperson said the words "unique value proposition." It seems like the only way to make a Windows phone and not get absolutely destroyed by manufacturing costs is to make it for Fortune 500 companies that will force it on their employees. And that's what HP appears to be aiming for. The company claims a one-device-to-rule-them-all makes securing corporate networks way easier than the current bring-your-own-device system many companies use.
It could be worse news for you future frustrated business people saddled with the Elite x3. It has a Bang & Olufsen front-facing speaker, the brand new Snapdragon 820 processor, and a 5.95-inch quad HD display. On paper it's head-to-head with the very best smartphones you can buy in almost every way. In fact, the phone is almost exactly the same size as an iPhone 6s Plus and even feels similar with smooth, rounded edges. Though it comes with a soft-touch plastic back rather than full aluminum body. With those guts and that exterior, the Elite X3 could be a winner.
But it's a Windows phone, and even Microsoft doesn't seem that interested in the platform right now. It makes sense that HP would want to have a Windows phone, especially because they're already selling every other piece of hardware that can take advantage of Windows 10's Continuum. They sort of need a phone to go with it. Unfortunately, unless you're an absolute Microsoft acolyte, you're going to feel short-changed by the Windows on a phone.
The funny thing is even HP seems to know it. One big selling point was that Windows phone has "all the apps you need." But what about the ones I want?
For gadget fanatics who remain Windows phone stalwarts, this could be the phone to hold you over until Microsoft's elusive Surface Phone shows up (if it ever does). HP will be selling the phone on HP.com for everyone, even if you're not a CEO or an office drone in need of a new job.
---
Elite X3 Specs:
Network: Unknown

OS: Windows 10 Mobile

CPU: Snapdragon 820 processor

Screen: 5.96-inch 2560x1440 AMOLED (538 PPI)

RAM: 4 GB

Storage: 64GB + microSD up to 2TB

Camera: 16 megapixel rear camera / 8 megapixel front camera

Battery: 4150 mAh

Dimensions: 6.36 x 3.29 x 0.31 inches

Weight: 6.88 oz (195 grams)

Price and Availability: Price unknown, availability this summer.
MORE PHOTOS
---
Contact the author at darren.orf@gizmodo.com.