Just ahead of today's Windows Phone 7 Launch, HTC has unwrapped the details of five new WP7 phones. Check out the HTC 7 Mozart, Trophy, Pro, Surround, and previously covered HD7.
HTC 7 Mozart
G/O Media may get a commission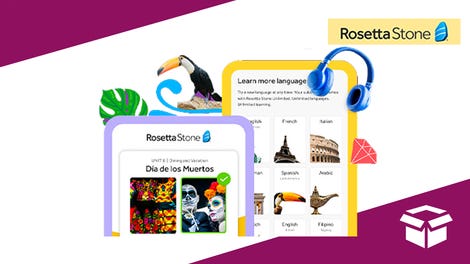 Extra 20% off
Rosetta Stone Lifetime Subscription - All Languages
At 3.7-inches, the Mozart is the smallest of the WP7 phones HTC is announcing today. Made from unibody aluminum (and plastic) like the G2, it will be exclusive to T-Mobile in the US when it goes on sale 7th November.
It trumps the WP7 handsets announced by LG and Samsung today, with an 8MP camera and Xenon flash, and also has Dolby Mobile and SRS Wow HD for "virtual surround sound."
Otherwise, it's very similar to the other WP7 phones HTC has announced, with a 1GHz Snapdragon processor, 512MB RAM and 576MB of ROM, and 8GB of internal storage. The phone itself measures 119 x 60.2 x 11.9mm, and weighs 130 grams. Bluetooth, Wi-Fi, a G-sensor, ambient light sensor and GPS are natural inclusions.
It also has the HTC Hub apps such as Flashlight and Notes, which is a neat little pin-up board for writing sticky-notes on, which get tattier and dustier the longer they're left on there.
In the UK, the HTC 7 Mozart will be exclusive to Orange and T-Mobile from October 21st, and T-Mobile in the US from November 7th.
HTC 7 Trophy
Meanwhile, the Trophy is meant to be HTC's budget WP7 phone, but really, when we're talking about something made by HTC, and squeezed with WP7, 8GB of storage and a 1GHz processor, it's not like it's going to be rubbish.
Sure, some of HTC's other WP7 phones are faster, better, stronger, but the Trophy is a lot more advanced than the phone some of our readers are using now. Not that that's your fault—you're probably locked into a lengthy contract and as soon as you escape you're planning on upgrading to something even better. But in the meantime, the Trophy should be one of the cheapest WP7 phones on the market.
Internally, it has 8GB of storage with 576MB of ROM and 512MB of RAM, and has a 3.8-inch WVGA screen, and measures 118.5 x 61.5 x 11.96mm, weighing 140 grams. Instead of compromising on the camera or battery in favor of keeping costs down, it's a 5MP effort with 720p video recording (Microsoft's lowest-allowed spec for WP7 phones), and the battery is a 1300mAh.
In Germany, France, Spain, Austria, Switzerland, Australia, New Zealand and the UK, it will be on sale exclusively with Vodafone, and in Singapore it'll debut on the M1 network.
HTC 7 Pro
Slide-Out keyboards are rarer than an iceberg in the North Pole, and it saddens me to tell you that the HTC 7 Pro won't go on sale until "the first half" of next year in the US, exclusive to Sprint.
If you're in Europe however, you'll be able to pick up the 3.7-inch tactile beauty later this year.
Internally, it's roughly the same phone ticking away as the various other WP7 handsets HTC is launching, with a 1GHz Snapdragon processor, 512MB of RAM, 576MB of ROM and 16GB of internal storage. That extra memory will be hugely appreciated, I'm sure.
It's a little smaller in size than some of the other handsets, despite its slide-out keyboard. It measures 117.5 x 59 x 15.5mm, and weighs 183.5 grams, and is crammed full with the usual specs, along with a 5MP camera with LED flash (capable of shooting 720p video), and a more powerful battery at 1500mAh.
If I went down the WP7 route, I think the HTC 7 Pro would be for me. I just can't ignore a slide-out QWERTY. Mmmm....QWERTY...
HTC 7 Surround
Where a QWERTY keyboard might normally slide out, HTC's attached a speaker in its place, and with its pop-out kickstand on the back it's the perfect little number for listening and watching. HTC's 7 Surround looks awesome, doesn't it?
It's US-only unfortunately, and will launch exclusively with AT&T, where their customers will get the same Dolby Mobile and SRS WOW HD audio quality as seen (or rather, heard) in the other WP7 phones HTC's launching today.
At 3.8-inches with a 480 x 800 resolution, it's a little larger than the Mozart, and internal storage is just 8GB, which is half what the Mozart contains. Considering this is a media-tuned device, that's a little surprising. The processor is powered up at 1GHz, and there's 512MB of ROM AND 576MB of RAM.
Weighing 165grams, it measures 119.5 x 61.5 x 12.97mm, and has the usual assortment of specs such as Bluetooth 2.1, Wi-Fi, a g-sensor, ambient light sensor, and a 5MP camera with LED flash, capable of 720p video recording. Inside, a 1230mAh battery lurks.
Check out the details of the HD7 here.
See all the new WP7 phones here.