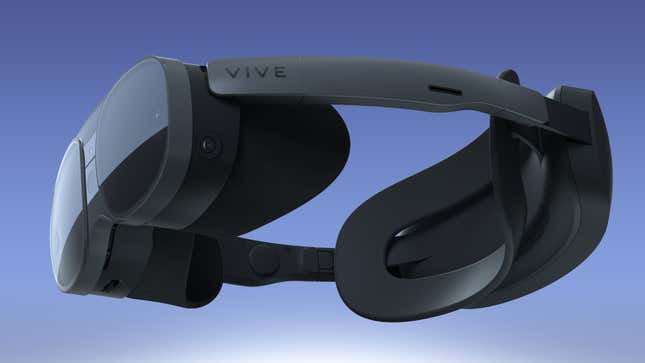 HTC on Thursday announced its new all-in-one mixed reality headset, the VIVE XR Elite. The $1,099 consumer flagship device combines augmented and virtual reality capabilities into a single device and represents the Taiwanese consumer electronics company's argument against Meta's $1,499 Quest Pro, which was announced in October.
The VIVE XR Elite adds mixed reality capabilities to HTC's family of VIVE virtual reality products, allowing consumers to view through its lenses to see virtual objects super-imposed on the real world around them. The headset includes a full-color RGB passthrough camera, four wide FOV cameras, a depth sensor, and hand-tracking. The display offers up 4K resolution (2K per eye), a 90 Hz refresh rate, and up to 110 degree FOV.
The headset weighs 625 grams (including the battery) and features a redesigned hinge from previous VIVE products which the company says will allow extended arms to more comfortably fit a user's head. A USB-C connecting port on the right-hand side allows users to plug into a power source for 30-watt fast charging, or connect to a PC to access PCVR content from VIVEPORT and Steam. The device also supports wireless PC streaming over WiFi 6E.
VIVE XR Elite will be available to pre-order globally starting today, and pre-order shipments are estimated to begin in late February. The product ships with the VIVE XR Elite headset, two controllers, and the headset battery cradle.
The VIVE XR Elite launches with over 100 new pieces of MR and VR content for the platform, according to HTC, including Demeo, Hubris, Yuki, Maestro, Les Mills Body Combat, FigminXR, Unplugged, Finger Gun, and more.

HTC also said on Wednesday that the company will launch a Face and Eye Tracker unit for the headset later in 2023.