Ridley Scott's new Blade Runner movie finds a writer. Michael Shannon praises the Man of Steel script. Director Shawn Levy explains his proposed Frankenstein update. Plus set photos for The Dark Knight Rises, Doctor Who, and Snow White and the Huntsman!
Spoilers await...
Top image from Dark Shadows.
Man of Steel
New General Zod actor Michael Shannon comments on the script:
I would still want the script to be ready to go. One of the main things on that is that Chris Nolan and David Goyer were in there writing the script, and those guys know what they're doing. It can't just be because it's Superman. There's no promises anybody's going to automatically love the movie just because it's Superman. There still has to be quality in all aspects of it. And yeah, I felt very confident making the decision to be involved because of the script, and because of Zack [Snyder]'s work as well.
---
The Dark Knight Rises
Here are some more set photos featuring Batman and Catwoman in Los Angeles. [Shockya]
G/O Media may get a commission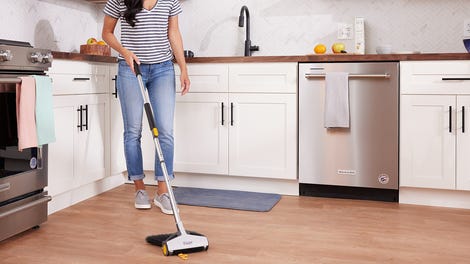 BOGO 50% Off
Flippr - BOGO 50% Off
Here's an extras casting call for the upcoming two weeks of shooting in New York City:
Take part in the urban action adventure coming to the streets of New York City." Shoots Oct. 29-Nov. 11, 2011 in NYC.

Seeking-Extras: male and female, 18+, all ethnicities, no experience necessary, to play law enforcement within a city besieged by crime and corruption, specific roles include Guards, Soldiers, and Police Officers, seeking physically fit athletes, people with military and/or law enforcement training/experience, weapons training, and/or martial arts training.
---
The Wolverine
Hugh Jackman promises that the only reason for The Wolverine's current delay is his new commitment to Tom Hooper's Les Miserables:
"If it wasn't for 'Les Mis,' we're ready now. Now that Jim [Mangold]'s on board, we're ready to go. For 'Les Mis' to work, we would have had to start "Wolverine," basically, yesterday. So when we needed to press the button, we weren't quite ready. So it will happen straight after."
He then discusses director James Mangold, who is replacing original choice Darren Aronofsky:
"Many directors wanted to do this film, I'm happy to say, because of the strength of the script. When he came in he just had such a clear vision of where this movie should go. He had the best take. He's done many, many genres. I look at '3:10 to Yuma,' and when he started talking about 'The Outlaw Josey Wales' I was like, 'Okay, now we're on the right track." He had a couple of things which, I think, even in Darren's version of the script, hadn't been solved that he just knew he had the key."
Jackman also explains why Mark Bomback was brought in to rewrite Christopher McQuarrie's script:
"When a director takes over any script. they need to make it their movie. So Jim hired Mark to help him make the movie his own. Darren had worked on the script himself and taken it in a certain direction that was right for him. And that would have been a great version of the movie. I've seen Jim's version now and, you know, Jim saw things that weren't working for him that were working for Darren. And I've got to hand it to Fox and to Jim, it's easy when you start with the best script we've had from Chris McQuarrie. Which is why Darren signed on. So once you have that, that's 80, 85 percent of your movie.
He also says that the film does indeed following Frank Miller's Japan-set run on Wolverine, although it will be a little darker and more streamlined (cutting out some extraneous X-Men related stuff). There's more at the link. [The Playlist]
---
Blade Runner Followup
Ridley Scott's new Blade Runner sequel/prequel/whatever may have found a writer. Scott Z. Burns, writer of Contagion and The Informant!, is reportedly the first choice to take on the project, and he reportedly wants to do it. [Twitch Film]
---
Frankenstein
Real Steel director Shawn Levy confirms he's still attached to direct this and Fantastic Voyage, and he'd like to do both if at all possible. He explains the premise for the new Frankenstein:
"A radical retelling. It is about a twenty-something Victor Frankenstein and his friend/assistant Igor. In the same way that with 'Real Steel' you go in thinking that it's a robot boxing movie, but you come out knowing that it's an underdog father/son movie, in 'Frankenstein' you go in thinking it's a monster movie, and you come out knowing that it's this story of friendship and betrayal against the backdrop of this ungodly creation."
---
Dark Shadows
Here are some new set photos featuring director Tim Burton alongside stars Johnny Depp, Michelle Pfeiffer, and Jonny Lee Miller. [Empire]
---
Snow White and the Huntsman
Here are some set photos of Twilight's Kristin Stewart in full armor for this gritty take on the Snow White story. Filming is currently underway at Marloes Sands in Pembrokeshire, Wales. [PopSugar]
---
Men in Black 3
Alien designer Rick Baker discusses the film's retro approach:
The thing that's cool is there is a time travel element [to the story]. Where I had fun is that we go back to the Men in Black headquarters of the '60s. The first thing I said is that we should have retro aliens, not aliens of 2012. More based on B-movies of the '50s and '60s. So, a lot of the aliens are based on that. Space suits with fishbowl helmets and ray guns."
---
Wanted 2
Universal has hired original Wanted writers Michael Brandt and Derek Haas to write the screenplay for the long-gestating, supposedly scrapped, and not particularly demanded sequel. Haas comments:
"We just always loved the 'Wanted' world and loved working with Universal and (director) Timur (Bekmambetov) on the first one, so we're excited. [Wanted 2 is] going to take off after the events of what just happened. Pick up Wesley [James McAvoy] a few years later and go back in for another round."
[The Wrap]
---
Doctor Who
Here's another roundup of spoiler-y details for the big finale, "The Wedding of River Song":
- Time has frozen and the Doctor knows that only his death can save the universe
- All of history is happening at once because time has stopped at 5.02pm on 22 April 2011 – the date of the Doctor's death
- Emperor Winston Churchill has the Doctor locked up in the tower
- History has gone haywire with Winston Churchill, Romans and Pterodactyls all existing at the same moment
- The Doctor knows that to return things to normal his life must end
- The Silence are keen to prevent his future
There's more at the link. [Doctor Who TV]
Alex Kingston offers this hint for the finale:
Towards the end of this episode, we have one of the most exciting sequences we've ever done. While this battle is going on, there are scenes between the Doctor, River, Amy and Rory where the final jigsaw pieces are put in place. Um ... let's put it this way: there's a big revelation about River, and River gets a big revelation about the Doctor...
The latest issue of the Radio Times provides this description of the open scenes of "The Wedding of River Song", also confirming that Simon Callow is indeed back as Charles Dickens:
We have Minis suspended by air balloons, pterodactyls attacking school kids, a train emerging Magritte-like from London's Gherkin building and Charles Dickens (Simon Callow) discussing A Christmas Carol with Bill Turnbull and Sian Williams on BBC Breakfast. Add to that Winston Churchill hailed as Caesar in present-day London and the Doctor shambling about like a bearded apostle. And all this in the first few minutes.

"Something's happened to time," spots [Churchill]. It's as if "all of history is happening at once". The time is two minutes past five and the date is 22 April; so it has been for as long as anyone can remember. Can the Lord of Time sort things out, or did he cause the problem in the first place?
You can read the rest of their preview at the link. [Radio Times]
There's a ton of awesome stuff to come out of the recent Christmas special filming in the Cardiff suburb of Rhiwbina. The scene involves the Doctor - dressed up in a very retro-looking black and gray spacesuit, complete with ludicrously over-sized helmet - being driven to the TARDIS by Clare Skinner's Madge. She guides the apparently disoriented Doctor to the TARDIS, and he bids her farewell before getting inside...only to find out it's an actual police box and not the TARDIS at all. You can see some set photos in the gallery, as well as an excellent set video below. [Doctor Who Spoilers and SpoilerTV]
---
Fringe
Here's a promo for the next episode, "One Night in October."

Here are some promo photos for episode four, "Subject 9." [SpoilerTV]
---
The Walking Dead
Here's a full set of cast photos for season two, as well as a general assortment of promo photos. [SpoilerTV]
---
Terra Nova
Here's a promo and a sneak peek for next week's episode three, "Instinct." [Terra Nova TV]

Here's a character profile for Commander Nathaniel Taylor, played by Avatar's Stephen Lang. [BuddyTV]

Here are some promo photos for episode four, "What Remains." [SpoilerTV]
---
Person of Interest
Here's a promo for tomorrow night's episode, "Ghosts."

---
Once Upon a Time
Kristin Bauer van Straten will take a break from being True Blood's main redeeming feature to guest star on NBC's new fairy tale show. She will play the witch Maleficent, who originates in the legends of Sleeping Beauty. It's only a single appearance for now, but the role could become recurring. [Nice Girls TV]
---
Chuck
Here's a brief synopsis for the season premiere, "Chuck vs. the Zoom":
Carmichael Industries takes on a thief and a conniving investor; Morgan helps Chuck put together a surprise for Sarah; Jeff and Lester work on their latest scheme.
---
Supernatural
Here are some promo photos for episode three, "The Girl Next Door." [KSiteTV]
Here's a relatively spoiler-free interview with stars Jensen Ackles and Jared Padalecki, unless you somehow consider their respective underwear preferences a spoiler. Well, now that I mention it...

---
American Horror Story
Here's another weird viral video to promote the show.

---
Being Human (US)
Here's a promo for season two.

---
Lost Girl
Here's a synopsis for episode five, "BrotherFae of the Wolves":
Bo and Dyson team up to track down a stolen Mongolian Death Worm on behalf of Dyson's old wolf pack mate. When things get complicated, Dyson finds himself reliving his medieval days – tormented by the hard choices he once had to make, and fighting in the present not to repeat past mistakes.
---
The Vampire Diaries
Here's a sneak peek at episode three, "The End of the Affair."

---
The Secret Circle
Here are some promo photos for episode four, "Heather." [KSiteTV]
---
Teen Wolf
Get ready for a whole hell of a lot more of werewolf lacrosse - easily my third favorite type of lacrosse - as MTV is considering ordering another twenty-four episodes of the show, to be broken up into two 12-episode arcs. The show would reportedly return in June 2012 for the first run, and then after a relatively short turnaround air the second half of the order. [KSiteTV]
---
Additional reporting by Mandy Curtis and Charlie Jane Anders.