Ten years ago, Hugo Award-winning author Nnedi Okorafor was getting ready to publish her second novel. She was thrilled to share her latest work with the world, which envisioned an African country after an apocalypse, centered around a black protagonist. Then she saw her book's cover.

Okorafor recently took to Twitter to share an experience of whitewashing from her days as a new writer. Right before The Shadow Speaker was set to come out in 2007, she discovered that the publisher, Hyperion/Disney, had changed the ethnicity of the main character on the cover. It showed a white woman in the middle of an African desert, even though there were literally no white characters in the novel. Even worse, Okorafor didn't get to see the cover until the advance copies had already been sent out and it was being featured on Amazon, as she revealed in an interview with io9.
"How did I feel? Shock, a sinking feeling in my belly, fury, and 'O-M-G, it's happening. To me!'" Okorafor told io9. "I started writing science fiction because I wanted to see Africa in the future... This cover erased a lot of that in one stroke. Plus, it was a lie."
G/O Media may get a commission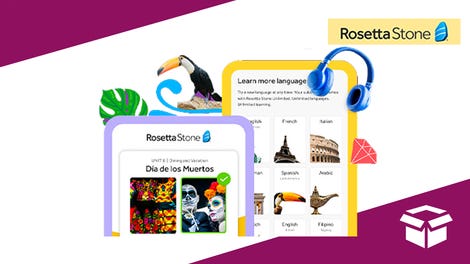 Extra 20% off
Rosetta Stone Lifetime Subscription - All Languages
This isn't a new phenomenon in Young Adult fiction. The public has recently been focused on whitewashing characters in movies, like Katara and Soka in The Last Airbender or Major in Ghost in the Shell, but whitewashing POC characters on the covers of YA books has been going on for years. In 2011, a peak year for YA fiction, writer Kate Hart did a detailed breakdown of representation on covers from that year... only 10% of them featured non-white characters. For example, Kelley Armstrong's Darkness Rising trilogy featured a Native American protagonist, and The Immortal Rules by Julie Kagawa had an Asian lead, yet both books featured white women on the covers.
Okorafor said she refused to allow her character to be whitewashed on the cover, and she worked with her agent to get the cover fixed. The publisher was gracious, albeit a little less-than-forthcoming about the problem. They said it was because there weren't enough stock model photos of black women, though Okorafor doesn't fully buy it. It took a few back and forths to get the cover to roughly represent the ethnicity of the protagonist (even if it inevitably failed to capture what she actually looked like, since her character was bald for most of the novel).

The Shadow Speaker cover situation happened at a time when social media wasn't nearly as pervasive, so Okorafor didn't have as large a support system to increase awareness. In the following years, we've seen more novels changed due to both private and public outcry. The 2010 YA novel Liar had a black woman as its protagonist but originally featured a white woman on its cover; but much like The Shadow Speaker, the cover was fixed prior to publishing. In 2015, author Rick Riordan finally got Dutch and Russian publishers to stop whitewashing covers for his Kane Chronicles series, which stars a young biracial man.
Even though The Shadow Speaker's revised cover accurately represented the character within the pages, there are those who've criticized Okorafor for having wanted it changed. A lot of the arguments are similar to ones that have been used to defend casting Scarlett Johansson as Major in Ghost in the Shell: "You're making a big deal out of nothing," "Who cares if it doesn't change the story," "You're racist for thinking ethnicity defines a character," or (my personal favorite) "White people spend more money."
This last one is a key issue, as one school librarian showed in a chat with some school kids back in 2013. Publishers and studios often share the belief that white characters sell more, even if it's more based on comfort than statistics. A 2015 study from UCLA showed that diverse shows and movies are in demand and they make money, but Hollywood is hesitant to follow through. Okorafor said she's heard all the excuses before, on film and in print, and it all comes from the same place.
"There's a whole history of racist intent and assumption behind whitewashing. To deny this is just to avoid the discomfort of guilt," Okorafor said. "People don't like to be uncomfortable, and seeing something in yourself that you know is problematic is uncomfortable, even painful. So giving the benefit of the doubt when it's not earned is easier. Pretending you don't see the obvious means you don't have to look within. It's easier to maintain than grow."
Okorafor's had several novels and novelettes published since then, including 2016's Hugo and Nebula Award winner Binti, and none of those covers have been whitewashed. She said she, and her publishers, wouldn't let it happen again. Sadly, The Shadow Speaker is currently out of print, but Okorafor, who's Nigerian-American, said the experience personally showed her what erasure feels like. It wasn't a hypothetical situation, or another person's plight, it was her own life's work. She said that non-white creators can feel like they're being personally attacked when their work is whitewashed, because it's not just their words that are being erased... it's their own experiences.

"I learned that whitewashing really can happen to me and not to let fear keep me from seeing what it is. It taught me that when the time comes to stand, I must stand. It reminded me of why I write. It taught me that when you speak up, sometimes you will be heard," Okorafor said.

Note: It's been pointed out that Katniss' ethnicity from The Hunger Games is open to debate. She has olive skin, black hair, and grey eyes, but that could mean Caucasian or non-Caucasian heritage. The books never openly state her ethnicity. I decided to remove that reference and added Avatar: The Last Airbender characters, who were whitewashed in their movie adaptation.