At Eastercon over the weekend, Iain M. Banks announced he'd just finished his latest novel in the Culture series, to be called Surface Detail. It will come out in February 2011.
Dave H from the Iain Banks Fan Forum was at Eastercon and reports on the Banks news:
The first draft of Surface Detail was finished last week. He didn't read from it as it needs to settle a bit and things might change. So Ullapool does look like the first outing for it. [Not sure I will make it up there] The mainstream one after Surface Detail is going to be "short, sharp and shocking" probably aiming for 65,000 words like The Wasp Factory. Surface Detail about three times that long . . . He definitely has another Culture book in him - probably more. A couple of parties interested in The Wasp Factory as a film. Iain hopeful a deal might get done this year.
Early book blurbs describe Surface Detail like this:
It starts with a young woman being murdered. Miraculously, a secret deal means she lives again within the Culture. Now, she vows to return and kill her own murderer. Meanwhile, a war in heaven is brewing. Or rather a war between the Heavens. Heavens are the network of uploaded consciousnesses - a cyber life after death. But where there are Heavens, Hells soon follow. Wars between these realms are formal digital affairs, but now there are rumors of secret factories building warships and all signs point to the factions of the long-dead and digitized. One man holds the key to making this war manifest in the Real. And a young woman wants her revenge on him.
G/O Media may get a commission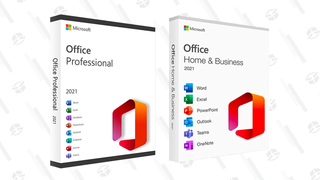 89% off
Microsoft Office Professional 2021 Lifetime License
We may have to wait 10 months for this one, but it sounds pretty damn worth it.