Yes, it's time for your annual update on the third Bill and Ted movie, which may or may not ever happen.
In a new interview with Digital Spy, co-writer and co-creator Ed Solomon talked about the long-rumored film, called Bill and Ted Face the Music. The update is that all of the attached parties, including Keanu Reeves and Alex Winter, are on board and really love the latest version of the script. It's one that Solomon and Chris Matheson have been working on for a decade, and it would meet back up with the characters in middle age. The problem is, they just haven't been able to get someone to pay for it.
Additionally, Solomon talked about how the film would deal with the passing of George Carlin, who played Rufus in the first two films. Rufus, of course, is the man from the future who brings the time-traveling phone booth to Bill and Ted. However, Carlin passed away in 2008.
"George Carlin is so deeply missed by all of us," Solomon said. "There is a... not just an homage to him, it's more than that. His absence is a part of the whole movie."
G/O Media may get a commission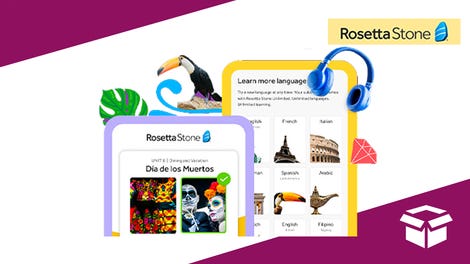 Extra 20% off
Rosetta Stone Lifetime Subscription - All Languages
How so? Well, Solomon actually revealed one of the scenes in the film that explains just that.
There's actually a scene – one of my favorite scenes in the whole movie – where middle-aged, 50-year-old Bill and Ted return to the Circle K and see their teen selves and Rufus, and actually interact with their teenage selves, played by their actual teenage selves.

They return to that scene at the Circle K when Bill and Ted first meet themselves, only now they're watching their younger selves and looking at the exuberance and joy that they had at that time in their lives. And they see Rufus, they see George Carlin...

There's also a character in the movie named Kelly, which is George's daughter's name, who has a very significant role in the journey, so George is a deep, deep part of it.
Solomon thinks Hollywood's reluctance to make Bill and Ted 3 stems from the idea that no one wants to see these iconic teenage characters as older men. He says studios are more interested in remaking the film for modern audiences, if at all. But, that's not how everyone who made the original films feels.
This is not, 'Hey let's all cash-in on the Bill & Ted thing for money' – this is the opposite. This is, 'We love these characters, they've been with us for our whole lives' – Chris and me, and Alex and Keanu – and we wanted to visit them again as middle-aged men. We thought it would be really fun, and funny, and sweet.
For much more on Bill and Ted Face the Music and why it could or could not happen, read the full piece below.