If you are the sort of person who sobs during movies, the out-of-body movie If I Stay will certainly bring forth the tears. But despite its grief-filled plotline, it's not a movie that will stick with you after it's over.
When If I Stay opens on a snowy Oregon morning, there's a worrying moment where it feels we've stepped into the intro to a Hallmark Channel original movie. Gayle Forman's original novel, on which the movie is based, is by turns warm and aching, but it would be easy to turn it into cloying schmaltz.
Then we step into the home of Mia Hall (Chloë Grace Moretz) and meet her family: little brother Teddy (Jakob Davies), riot girl turned real estate agent mom Kat (Mireille Enos), and punk rocker school teacher Denny (Joshua Leonard), and things start to drift out of Hallmark territory. Mia is a cellist, a classical music prodigy born into a rocker family, and while her parents are relentlessly supportive and wise, they're also lively and funny. They're the sort of people you wish were your parents—or they're the sort of parents you want to be. They're also the sort of people you wouldn't mind spending an entire movie with.
Then the entire family is involved in a tragic car accident and everything goes wrong, not just for the Halls but for the movie itself.
G/O Media may get a commission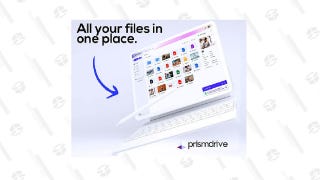 Save 97%
Prism Drive Secure Cloud Storage: Lifetime Subscription
If I Stay has a compelling premise. Mia has an out-of-body experience in the wake of her car accident and, as she revisits her family life and her whirlwind romance with rising rockstar Adam (Jamie Blackley) and learns the fates of her various family members, has to decide whether to fight to live or walk into the light. It's an interesting idea to explore—under what conditions a young person might decide to just let go.
But the first strike against the film is the way that portrays that out-of-body experience. The movie has a task that the book doesn't: to visually show our ghost version of Mia. Does she walk through walls? Is she tethered to her body? Can she teleport?
On this point, the film makes a sort of non-decision that's so absurd it's actually distracting. At the accident site, Mia is about to check on her family members to see the state of her injuries when it becomes clear that the ambulance holding her own body is about to close its doors and without hesitation, she simply climbs inside the ambulance. Was she compelled to do so? Was she worried she would be stuck without her body? Who knows. Moretz spends the rest of the movie running barefoot through the hospital hallways, walking only through doors that someone else has opened. Apparently, spectral Mia has all of the limitations of a physical body without any of the advantages.
But the other half of If I Stay's narrative doesn't take place in the hospital; it happens through flashback. We need to see what kind of life Mia is losing in order to decide why she might decide to let go. Moretz seems effortless as Mia, a girl who can't see herself the way that other people see her. She's made certain assumptions about how her love of classical music separates her from other people, especially from her family and Adam's friends. She's intelligent and pretty and good with the banter, but her insecurities can leave her isolated and cold.
Although it's through her romance with Adam that Mia begins to feel less out of place in her world, the romance plot is thoroughly outshined by the scenes involving the Hall family. Adam is a far less realized character than Ma and Pa Hall, two people who have grown comfortably into the adult, family-focused version of their punk lifestyle. Adam is sweet and tells us all about the past that is supposed to make him vulnerable, but Mia's sexual and social awakening ends up feeling routine rather than an anchor to life on Earth. The romance between Mia and her cello contains far more reverie.
If I Stay is filled with tear-triggering sequences, places where any theater crier will openly—if superficially—weep. But there are few truly gut-punching moments where you truly feel the depths of the grief swirling around the hospital where Mia is staying. Stacy Keach has a small role as Mia's paternal grandfather and nearly runs away with the whole movie in a single speech that says more about love—and the sacrifices some people are willing to make for love—than the film's entire romance arc. But, for the most part, the movie is content to skate across the surface of loss, relying on cinematic tricks to elucidate tears more than its characters.
This movie is a tearjerker, plain and simple. But if there's anything to grieve over by the time viewers leave the theater, it's that we didn't get to spend more time with Mia's family. It's clear that they were director R. J. Cutler's great love on this project and their warmth and wisdom will stay with the viewer far longer than any sense of heartbreak.