For nearly a decade, common sense has dictated that most people don't need a standalone graphics card in their computer. Gamers need them to make rich titles like Rise of the Tomb Raider hum, and some professionals, like video editors and 3D designers, need them to take the pain out of rendering huge multimedia files. For everyone else, a video card has been treated more like a luxury item than a necessary computer component. But AMD's $80 Radeon RX 550, a graphics card that costs a little more than the brand new games you'll render on it, is such a good value that it might make you rethink the notion that a graphics card is a splurge you should skip.

Currently available from major retailers, the $80 AMD Radeon RX 550 is intended to upgrade an old desktop or function as the centerpiece of a new super cheap PC build. Though AMD told Gizmodo there were plans for a mobile version that should appear as an option in laptops later this year.
If you're young, with dewy skin, zero wrinkles, and the ability to house six chili dogs in a row, then you might not remember the time when every computer, no matter how small, needed a video card. Then in 2010 Intel introduced a GPU directly integrated into the CPU that does the bulk of your computer's work. Graphics integrated directly into the CPU meant computer manufacturers didn't need to put a discrete graphics card in every computer, and consequently the RX 550's predecessors, the budget-friendly graphics cards of yore, basically died. The market today is dominated by powerful cards destined for demanding applications.
AMD confused some people Monday when it announced a new series of graphics cards based on its year-old Polaris microarchitecture. You see, back at CES in January, AMD announced a new, faster architecture known as Vega. Generally graphics card makers quickly retire the old architecture when the new one arrives. So, with Vega cards expected around E3 in June, AMD's decision to potentially cannibalize those sales with some cheap Polaris cards seems silly. Besides the newly introduced RX 580, RX 570, and the RX 560—cards that replace last year's RX 400 series, AMD announced the RX 550. It's a card with no equal—While it can't match the performance of any of the above GPUs, it beats every single one at price.
G/O Media may get a commission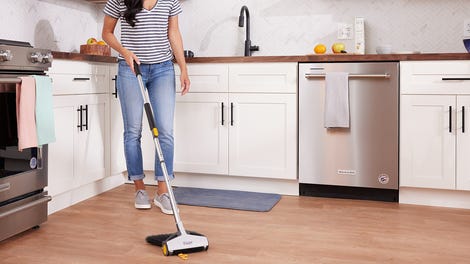 BOGO 50% Off
Flippr - BOGO 50% Off
The wicked cheap 550 carves out a space for AMD that hasn't really been feasible for any GPU maker in the last seven years. Intel Iris has been so good that GPU makers have never felt the need to compete for the hearts of budget-conscious consumers. But AMD has apparently changed its mind.
Let's be totally clear: The RX 550 won't win any races, but it instantly makes games immeasurably prettier and faster than the discrete graphics built into an Intel processor. In our testing, we pitted it against the Iris Intel HD 630 that's integrated into the Kaby Lake i7-7700K. When playing Civilization VI it ran nearly four times faster.
When playing Overwatch, with graphics set to the most intense setting (Ultra), the RX 550 was three times faster than the integrated GPU, though the game wasn't actually playable at that setting on either the RX 550 or the HD 630: The RX 550 managed 17 frames per second, which is an excruciating experience to play, but the HD 630 was an even worse 5fps. With a frame rate that bad it's sort of like you're trying to play a game in stop motion.
But when you drop the graphics settings to Low, Overwatch in 4K is downright playable with the RX 550, which managed a super smooth 70 frames per second. On the same settings, the HD 630 couldn't compete, clocking a borderline unplayable 28 fps. With a frame rate that low, the game gets extremely choppy—making it difficult to pull off the quick, skillful shots.
The RX 550 even performed better when rendering 3D graphics for non game projects, though with smaller margins. The RX 550 rendered a big 3D file in Blender in 9 minutes and 40 seconds. The HD 630 took an extra five seconds.
Good as it is, the RX 550's performance still pales when compared to the speeds you'd get with a "real" graphics card like the $200 Nvidia 1070 or new $200 AMD Radeon RX 580. Those cards can handle games like Mass Effect Andromeda and Rise of the Tomb Raider, which cause the the RX 550 and HD 630 to choke.
The RX 550 is especially appealing for people building a cheap PC from scratch. It's a leg up on Intel's integrated GPU, and it is also perfect to pair with AMD's excellent new Ryzen CPU. While the Ryzen processor beats Intel on speed at every price point, it notably lacks integrated graphics. If you tack on an $80 550, you'd match Intel on price beat Intel in performance across the board. And with AMD's plan to go after Intel in the mobile space, this means a laptop with Ryzen and a RX 550 inside will likely be faster than a similarly spec'd Intel device.

If you're the rare person with a tower PC, or you're a builder eager to create something cheap, then the RX 550 is a good choice. And if you buy it and don't like it, no big deal, it only cost $20 more than Mass Effect Andromeda.
README
The AMD Radeon 550 is faster than your integrated graphics.
It is slower than any other video card you could get.
It is also cheaper.
A solid card for builders looking to put together an entry level PC.
Will pair well with AMD's new CPUs, which are cheaper and faster than Intel, but don't have a GPU built in.