We're not judging or anything, but yeah — if you're not watching Warehouse 13, then your soul is probably in mid-decay. And you're part of why we can't have nice things. Tonight's midseason opener is a pretty good jumping-on point for all things Warehouse, too. Plus check out our guide to all the rest of the week's genre TV.
Top image: Warehouse 13
Today:
Defiance (9 PM, Syfy):
We quite liked the second episode, so let's hope this show keeps improving on that "post-apocalyptic Eureka" vibe. Here's what's next: "While investigating vicious Hellbug attacks, Nolan & Irisa realize they are tied to Irathient spirit raiders that have come into town. Meanwhile, Irisa starts experiencing strange visions."
Warehouse 13 (10 PM, Syfy):
This show picks up from its cliffhanger, with a black orchid plague thingy threatening the world with death, and Evil Artie stabbed with a magic dagger. And the midseason premiere gets a shot in the arm from guest star James "Spike" Marsters, plus a pretty strong opening that reasserts this show's focus on the characters.
Why should you be watching this show, and why might you be kind of a reprehensible sort of person if you don't?
Among other things, Warehouse 13 is (almost) everything we all say we want from television shows: It has strong, interesting characters, who have real pasts and complex relationships with each other. It has clever plotting, and an emphasis on smart problem-solving, rather than gimmickry. It's an optimistic show in the midst of a sea of canned angst (even though it also manages some super-dark moments) — and part of its optimism comes from its faith that humans can triumph over ignorance and learn to control or contain the destructive forces around us. It's a profoundly humanist show, in which people are powerful and the apocalypse is never inevitable or a fact of life. It has one openly gay character, who's not particularly defined by his sexuality — as well as a barely-not-acknowledged lesbian romance. And although Warehouse 13 seldom pushes the envelope in terms of Syfy-friendly storytelling, it's also reliably fun and watchable.
G/O Media may get a commission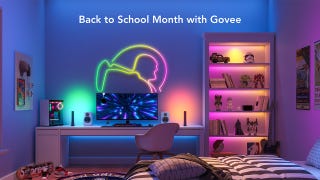 Back to School
Back to School Month with Govee Sale
Plus if you don't watch Warehouse 13, you know Syfy will just replace it with another show about paranormal investigators — and we'll all hate you.
Revolution (10 PM, NBC):
Now that Miles is a general again, is he going to quit with the hand-wringing? Also, how many times can he be face-to-face with Seb again without one of them dying? The good news is, Mark Pellegrino is back at last!
MILES AND MONROE FACE OFF WITH DEADLY CONSEQUENCES WHILE RACHEL AND AARON ENCOUNTER OBSTACLES IN QUEST TO REACH THE TOWER- When the past catches up with Miles (Billy Burke) and Monroe (David Lyons) in the form of mutual heartthrob, Emma (Annie Wersching) all hell breaks loose for them physically and emotionally. Charlie (Tracy Spiridakos) and Nora (Daniella Alonso) are the ones who rescue Miles this time. Meanwhile Aaron's (Zak Orth) life is turned inside out while accompanying Rachel (Elizabeth Mitchell) on her tenacious trek to the mysterious Tower where she plans to restore the power.
Also on TV tonight: There's the season finale of The Following at 9 PM on Fox, a new Brain Games on National Geographic at 9:30 PM. At 10 PM, there's a new Castleon ABC.
---
Tuesday:
Teen Titans Go! (7:30 PM, Cartoon Network):
They're really pushing the "superhero sitcom" thing as far as they can:
"Driver's Ed"

Robin enrolls in a driver's education course, not knowing that the instructor is a crook using Robin as his getaway driver.

"Dog Hand"

When Raven's demon dad comes for a visit, the Titans all talk about their "daddy issues."
Plus it's preceded by a brand new Johnny Test.
Grimm (10 PM, NBC):
This show is getting promoted to Tuesday nights, along with its early renewal. And to celebrate, we're doing the obligatory UFO episode!
NICK FACES AN OTHER WORDLY MYSTERY THAT MAKES HIM QUESTION WHAT HE KNOWS ABOUT THE WESEN WORLD — Mysterious cow mutilations and reports of glowing creatures put Nick (David Giuntoli) on a case that forces him to question the existence of aliens within the Wesen world. He also meets a strange UFO expert who seems to know more than he's letting on. Meanwhile, Nick digs further into the key, and Juliette's (Bitsie Tulloch) romantic memories of Nick start coming back in a big way.
---
Wednesday:
Arrow (8 PM, The CW):
Yay, Felicity in the field! Plus some answers about the Undertaking:
WITH A LEAD ON WALTER'S WHEREABOUTS, OLIVER GAMBLES ON FELICITY IN THE FIELD — Finding it difficult to mend fences with Tommy (Colin Donnell) and Diggle (David Ramsey), Oliver (Stephen Amell) instead focuses on crossing another name off the list. While digging through a crooked accountant's laptop, Felicity (guest star Emily Bett Rickards) discovers a transaction that could help Oliver find Walter. To reconfirm the lead, Oliver gambles that Felicity can be counted on in the field for the first time. In a flashback, Malcolm (guest star John Barrowman) reveals to Robert Queen (guest star Jamey Sheridan) and Frank Chen (guest star Chin Han) painful details surrounding his wife's murder, and how that shaped his plans for the Glades. Meanwhile, Tommy (Colin Donnell) stuns Laurel (Katie Cassidy) with the truth.
Journey to Planet X (8 PM, Epix):
Here's an oddball documentary following a pair of DYI science fiction moviemakers:
Eric Swain and Troy Bernier are scientists by day and amateur filmmakers by night. Over the years these two friends have turned out many of their own amateur, sci-fi inspired movies. Journey to Planet X follows the filming of Planet X, the duo's most ambitious endeavor to date, and sheds light on their unique brand of "movie magic."

While Troy views Planet X as an opportunity to launch a career in the movie-industry, Eric is content with making films as a playful and creative hobby. Troy's bold new aspirations greatly exceed anything they've accomplished in previous films and the pressure of raising the bar forces both to take a leap of faith. They recruit the involvement of everyone they can find - from their own family members, to co-workers, and local aspiring actors. They shoot on sand dunes, highway overpasses, and inside an industrial-sized freezer at a local supermarket. Together with their cast and crew, they form an unlikely community of like-minded adventurers.

Eric and Troy are inspired by the transcendent nature of moviemaking itself, where the fantasies of being space travelers, charming leading men, and even successful filmmakers, all seem quite possible. Our documentary captures their struggle to realize their filmmaking dream.
Mythbusters (9 PM, Discovery):
It's the season premiere! And it's preceded by an all-day Mythbusters marathon, plus a 10th anniversary special at 8 PM. This time around, we're reexamining the myth of the "JATO Rocket Car," which won an original Darwin Award for the man who fitted a jet engine on his car. (This myth was also debunked in Mythbusters' first ever episode in 2003.)
Supernatural (9 PM, The CW):
This show has been on a bit of a creative upswing lately... could it actually end its season on a high note? In related news, this episode is written by Ben Edlund and directed by Robert Duncan McNeill, aka Tom Paris, who directed many of the best Chuck episodes:
FEELING LUCKY TONIGHT? — When Sam (Jared Padalecki) and Dean (Jensen Ackles) receive a distressing video message from Kevin Tran (guest star Osric Chau), they set about trying to uncover the Third Trial. The boys make a discovery that sends them to a casino in Colorado, to find a mysterious recluse (guest star Curtis Armstrong) who may be able to fill in the holes in Kevin's research. Meanwhile, Crowley (guest star Mark Sheppard) is on a winning streak. Castiel (Misha Collins) tries to elude Naomi (guest star Amanda Tapping) and the angels hunting him.
Also on TV tonight: There's more Nature, about "legendary white stallions," on PBS at 8 PM, followed by more Nova, about the "strange creatures" in the first 4 billion years of Australia, at 9 PM. Syfy has more Deep South Paranormal at 10 PM, plus USA has a new Psych, and FX has the season finale of The Americans.
---
Thursday:
The Vampire Diaries (8 PM, The CW):
Now that we've seen the first glimpse of the spinoff, we're back to the main storyline: Elena's lost humanity. (Oh, and Silas possibly bringing Hell on Earth, but who cares about that?)
LET'S MAKE A DEAL — Damon (Ian Somerhalder) and Stefan (Paul Wesley) try a brutal new approach to provoke Elena (Nina Dobrev) into turning her humanity back on, and Caroline (Candice Accola) is frustrated when her attempt to intervene backfires. When Elena figures out a way to call the Salvatore brothers' bluff, they call for backup from a surprising source. Matt (Zach Roerig) gives Rebekah (Claire Holt) some unsolicited advice on her life choices, and she tries to help him in return. Caroline has a confusing and dangerous encounter with Klaus (Joseph Morgan), and Katherine (Nina Dobrev) is suspicious when Bonnie (Kat Graham) makes her an offer that she promises will benefit them both.
Beauty and the Beast (9 PM, The CW):
Now that this show has won a second season, how are they upping the ante? By bringing back the dead mom, apparently:
CAT DISCOVERS HER MOM MIGHT STILL BE ALIVE - On the anniversary of her mother's death, Cat (Kristin Kreuk) asks Gabe (Sendhil Ramamurthy) to attend her family's annual remembrance of Vanessa, which makes Vincent (Jay Ryan) incredibly jealous. Cat learns some information that makes her think her mom might still be alive and when a sniper shoots the mayor at a public event, Vincent finds evidence that links Gabe to the sniper. Austin Basis, Nina Lisandrello and Brian White also star.
Person of Interest (9 PM, CBS):
Holy crap, now that the machine is fully infected, we're on tenterhooks to see what happens next. And both Amy Acker and Sarah Shahi are back this time, which is usually the sign of greatness. Here's what to expect:
"Zero Day" - Reese and Finch realize that a virus has rendered The Machine erratic, causing it to issue numbers irregularly. As they race against the viral countdown, the team searches for a tech millionaire so elusive no one has ever seen him. Also, Detective Carter's mission to bring Cal Beecher's murderer to justice lands her squarely within the sights of the HR criminal organization.
Also on TV tonight: This week's Big Bang Theory sees the guy hiring their childhood hero, Professor Proton, to perform at a party. And this week's Community is a sort of satire on interlocking superhero origins, with Abed proving that all of the members of the study group had already intersected years before they came together. There's a new Elementary on CBS at 10 PM. At midnight, there's a brand new Your Pretty Face is Going to Hell on Adult Swim.
---
Friday:
Da Vinci's Demons (9 PM, Starz):
This is an especially loony episode, with the anachronistic gadgets and the random tortures and poisonings. Good times! Here's what's up: "Bechhi is accused of spying for Rome; Leonardo unveils his latest weapon as the armies of Rome and Florence face off; Leonardo is detained at a party in his honor."
Touch (9 PM, Fox):
Remember this show? Enjoy it while it lasts, I guess. Now featuring random actors from 24 to try and pull in Jack Bauer fans:
With the Aster Corps quarterly report just days away, executive Nicole Farington (guest star Frances Fisher) becomes increasingly desperate and the pressure is on for Calvin Norburg to deliver results from the company's ongoing study of the "Righteous 36." Following an intense encounter with Aster Corps enforcer Tanner (guest star D.B. Sweeney), Martin schemes alongside Trevor Wilcox (guest star Greg Ellis), who puts it all on the line to go undercover and prevent the company's distressed executives from harming innocent test subjects in the name of corporate greed.
Merlin (10 PM, Syfy):
This show is back after a hiatus, to air the last few episodes of season five. This time around, Merlin comes up with a scheme to save Guinevere from her curse — but can he do it without revealing himself to Arthur?
Also on TV tonight: There's a brand new Nikita on The CW at 8 PM.
---
Saturday:
Doctor Who (8 PM, BBC America):
Diana Rigg is kicking all kinds of ass over on Game of Thrones — can she bring some of that over to Doctor Who? Please? Check out an interview with her, and a brief clip from the episode, above.
There's something very odd about Mrs Gillyflower's Sweetville mill, with its perfectly clean streets and beautiful people. There's something even stranger about the bodies washing up in the river, all bright red and waxy. When the Doctor and Clara go missing, it's up to Vastra, Jenny and Strax to rescue them before they too fall victim to the Crimson Horror!
I guess Vastra, Jenny and Strax are going to be a mite surprised to see Clara back from the dead...
Orphan Black (9 PM, BBC America):
If you think it's getting along with your random family members, just imagine trying to get along with your clones. This week: "Sarah's hunt for answers is interrupted by a trip to the suburbs. Alison's paranoia has boiled over, putting all the Orphans at risk."
Also on TV today: And a new Monsters Vs. Aliens on Nickelodeon at 11:30 AM. Science has a brand new Outrageous Acts of Science at 10 PM. Also at 10 PM: Eliza Dushku is on The Nerdist on BBC America.
---
Sunday:
Once Upon a Time (8 PM, ABC):
Yet again, ABC is waiting until a few days before the show airs to reveal a synopsis for the new episode. But it's called "Second Star to the Right," so expect something Peter Pan-themed, I guess?
Game of Thrones (9 PM, HBO):
I'm really glad Robb Stark is thinking of patching things up with the Freys. All they need is a little reconciliation, and they can really help him turn his luck around. "Tywin (Charles Dance) plans strategic unions for the Lannisters. Melisandre (Carice van Houten) visits the Riverlands. Robb (Richard Madden) weighs a compromise to repair his alliance with House Frey. Roose Bolton (Michael McElhatton) decides what to do with Jaime Lannister (Nikolaj Coster-Waldau). Jon (Kit Harington), Ygritte (Rose Leslie) and the Wildlings face a daunting climb."
Argo: Inside Story Unlocked (10 PM, Discovery):
Better late than never! Now that Ben Affleck's Argo has gotten an Oscar, we're getting a one-hour documentary about the real story. If can't wait to see the full-length Science Fiction Land documentary, this might be the next best thing: "Following the success if Ben Affleck's 'Argo,' which chronicles the CIA's attempt to rescue six Americans during the 1978 Iran hostage crisis, Discovery Channel's 'Argo: Inside Story', gains access to the top players involved in the crisis to hear their side of the story, including the CIA's chief of disguise, Tony Mendez, who was called upon to devise the rescue plan."
Also on TV today: There's a new Winx Club on Nickelodeon at 1 PM. Fox has its usual collection of animated TV shows, starting at 7:30.
Sources: Futon Critic, MSN TV, TV Guide, and various TV studio press releases.