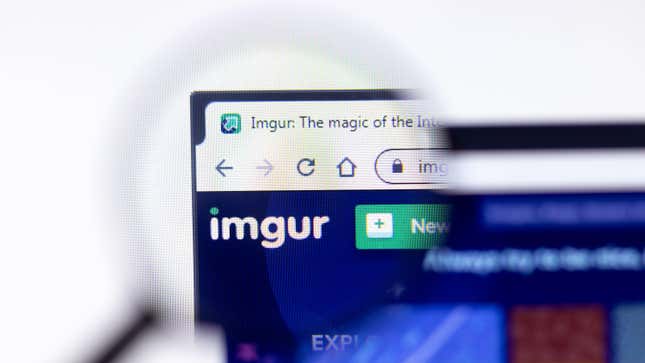 Imgur has announced a new policy on NSFW content—and you should say goodbye to all of it. The image, GIF, and video hosting platform familiar to Redditors everywhere has announced that beginning May 15 it will be forbidding all future (and purging all pre-existing) NSFW content posted by users.

Google's Antitrust Case Is the Best Thing That Ever Happened to AI
Imgur released its refreshed Terms of Service yesterday, which breaks down the ban on explicit media. After serving as a third-party platform for erotic subreddits across the web, Imgur has now decided to take a less horny route forward. The company announced that explicit content can no longer be posted moving forward—this includes any explicit or implied sexual acts as well as full or partial nudity. The new policy also includes the removal of all content depicting pornography or nudity that was posted in the past.
"We will be focused on removing old, unused, and inactive content that is not tied to a user account from our platform as well as nudity, pornography, & sexually explicit content," Imgur said in its announcement. "You will need to download/save any images that you wish to save if they no longer adhere to these Terms. Most notably, this would include explicit/pornographic content."
The decision is bound to send Redditors into a tailspin, as Imgur has served as a third-party platform for media uploads to Reddit for years. Until 2016, the then-11-year-old Reddit relied heavily on Imgur to host content like photos and videos published on the site. While Imgur is still heavily used on Reddit to this day, the social media platform introduced its own photo-uploading tool in 2016. Now, Imgur has primarily been relegated to use in subreddits publishing pornographic content (not that I would know) since NSFW media cannot be uploaded using Reddit's in-house tool.
The platform said in its release that this change is "an important step in Imgur's continued efforts to remain a safe and fun space on the internet," and expressed its gratitude to its users with a GIF of a puppy to try and cut the tension. While maintaining user safety on the Internet through mechanisms like banning non-consensual porn is crucial and notable, Imgur seems to not understand what its own user base is doing on its platform. It'll only be a matter of time until another image hosting service fills in the vacuum that Imgur is leaving behind as Reddit's chief porn destination.
Imgur's decision to ban unsavory content mimics a similar decision Tumblr made in 2018—the blogging platform also opted to remove pre-existing and future content that it deemed explicit. Tumblr's decision to remove NSFW media was a bumpy ride, with its removal bot flagging images of dogs and kids instead of naked bodies while further stigmatizing the online sex work industry. Naturally, Tumblr's move resulted in users flocking from the platform, with reporting by Mashable claiming that Tumblr saw a nearly 30% decline in its user base. Tumblr eventually kinda sorta walked back on the decision and, last fall, announced that the website would host nudity but no explicit sex.