Friends Kaylin Andres and Jon Solo have created a comic book that takes readers inside (literally) a young woman's battle against cancer. It's a battle Andres knows well. At 23, she was diagnosed with both thyroid cancer and a rare form of bone cancer. During her treatment, Andres turned to blogging and developing the comic book Terminally Illin' with Solo.
For some, this full color comic will seem off-color. The comic's co-creators told SF weekly:
"For me, humor has always been my best coping mechanism," Andres says. "It's the great unifier in life — you can literally make fun of everything. Everything has the potential to make you laugh, even cancer, even death. When I was going through treatment, making jokes was my way to process what was happening to me, a way to deal with the situation. By making fun of cancer, I was essentially taking control of it and how it affected my life instead of staying helpless."

Says Solo, "Cancer is a taboo subject and most people are afraid to talk about it."
Getting people talking and learning about cancer, is one of the main goals of Terminally Illin'. To do that, the comic puts readers exactly where cancer is. The comic's premise is explained on Terminally Illin's Kickstarter page:
Our heroine travels inside her own body with her pet battle-kitty, to take on the evil nazi tumors, cancer aliens, and The Tumornator - on a microscopic level, where cancer starts.
G/O Media may get a commission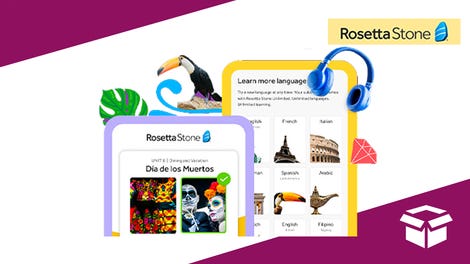 Extra 20% off
Rosetta Stone Lifetime Subscription - All Languages
Cancer has a face in Terminally Illin' - a Hitleresque dictator, leading an army of Nazi cancer cells. The imagery is in-you-face for a reason. Terminally Illin' co-creater Solo told SF Weekly:
"When certain people react uncomfortably after reading it, we believe it is working. We're filling the void opposite to 'Livestrong' cancer types."
Terminally Illin' might not be for everyone, but that's by design. Co-creator Solo told SF Weekly that "young adults" were the target audience. According to the comic's Kickstarter page, Terminally Illin' is also intended for those that want a "slightly cynical, slightly irreverent, and REALLY hilarious" look at cancer and its treatment.
To check out Terminally Illin' for yourself, head to its KickStarter page.
[via Laughing Squid and SF Weekly]
Top image is from the Terminally Illin' Kickstarter