Why feature a boring ordinary Jack O'Lantern, when you can confront trick-or-treaters with Khan? Or a Xenomorph? Or the incredible cuteness of Totoro? Here are some of our favorite science fiction and fantasy icons, immortalized as glowing pumpkins, to help inspire your own Halloween decorations.
Additional reporting by Sophie Bushwick
Totoro pumpkin, via Animation Roller Coaster.
G/O Media may get a commission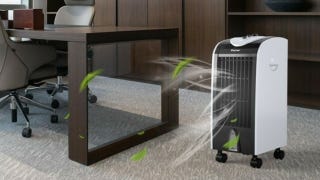 Save $10
Evaporative Portable Air Conditioner Cooler with Filter Knob
Remote-Controlled Dalek Lantern — which actually works! Details, including video and instructions, at Evil Mad Scientist. Via SF Signal.
Death Star in mid-strike, via Phoenix New Times
Iron Man pumpkin, via Instructables
Alien Pumpkin, via Pumpkin Gutter
Yoda, via Pumpkin Gutter
MST3K pumpkin, via Warming Glow
Mars Attacks pumpkin, via The Torch Online
Gollum pumpkin, via The Torch Online
OOD PUMPKIN!!! via DeanoSidwell on Deviant Art
Clone Trooper pumpkin via RJCIRutter on Deviant Art
Hunger Games District 11 pumpkin, via BCTrumpeteer on Deviant Art
Bender Pumpkin by Radioactive Glowstick, via Smosh
Brock Samson, by Chrome Goddess on Deviant Art
Turret pumpkin, via Ceemdee on Deviant Art
Darth Vader, via Pumpkin Gutter
Gremlin, via Spider.Dog on Flickr
Stormtrooper, Batman and friend... via The Bywaters on Flickr.
Muppet Pumpkins (Mumpkins?) — a "Mahna Mahna" Snowth and Animal. Via Brooke Duckart on Flickr.
Admiral Ackbar, via Pumpkin Gutter
Greedo, via Pumpkin Gutter
Alien via Pumpkin Gutter
Bender, via Amplified Stories of Interest
Spidey, via Amplified Stories of Interest
Xenomorph, via Pumpkin Gutter
Khan, via The Pumpkin Geek
Locutus of Borg, via The Pumpkin Geek
Gul Dukat, via The Pumpkin Geek
Catwoman via The Pumpkin Geek
Master Chief Helmet, via Bonus-Level.com
Charizard, via Bonus-Level.com