Megan Fox talks Transformers! Duncan Jones talks Moon! Plus amazing new pics from Dead Snow, 9 and Scott Pilgrim. A crazy Lost rumor gets debunked! Plus [Rec] 2, Dollhouse, Virtuality, Stargate, True Blood and Sanctuary. Spoilers are eating your brain!
Deadly Mississippi Tornado Kills More Than 2 Dozen | Extreme Earth

Transformers: Revenge Of The Fallen:
Entertainment Tonight features an interview with Megan Fox, where she explains that the new movie has "bigger everything." [TLAMB]


Moon:
There's a scene with the two Sam Rockwells, where they have an actual physical interaction and one of them helps the other with his fly and helps him put on a hat. It was the most challenging special effects sequence in the film, says director Duncan Jones. [Screen Crave]
G/O Media may get a commission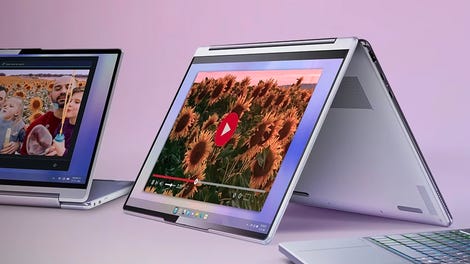 up to 70% off
Lenovo Spring Clearance
The movie has quite a hopeful ending — although it's not such a great ending for Sam I, it's an upbeat ending for Sam II. And some of this hopefulness comes in the form of "radio chatter." Jones tried leaving out the radio chatter, but the movie was too bleak without it. [Cinemablend]
Dead Snow:
A group of Norwegian medical students take a rowdy, naughty holiday at a remote cabin in the mountains, where they fall prey to zombies — who happen to be Nazis who fled at the end of World War II and are hoarding treasures from during the occupation. There's one wise-guy character who comments on the zombie-movie cliches in the film and talks about the ill-advisedness of going into the woods, etc. And he happens to be the only character who gets laid. The zombies do a bit of strategizing in between their blood-lusty attacks. [Sci Fi Wire]
And here are some eye-blisteringly awesome photos. [IGN]

[Rec] 2:
Chances are, the sequel will deal with the clean-up of all the the infected people left in the basement of that tenement, including the little girl, who's shown in a new still. [ShockTillYouDrop]
9:
Here's an awesome new poster for this world-without-people ragdolls versus machines movie. [Cinemablend]

Scott Pilgrim:
Director Edgar Wright posted a couple new set pics. [Edgar Wright Here]

Dollhouse:
Don't get your hopes up for November (Miracle Laurie) to reappear in season two. A source tells TV Guide that since Paul negotiated November's freedom, her storyline seems to have come to a close. [TV Guide]
Not only will Richard Dean Anderson and Amanda Tapping be showing up, but you'll be seeing plenty of Sam/Jack quality time. However, in less encouraging news, Joseph Malozzi says the Stargate: Extinction DVD won't include the character of Elizabeth. [TV Guide]
Lost:
Not sure if it's worth posting a spoiler that's already been debunked... but here goes. Someone on Twitter (you can already see why this rumor was debunked) claimed to be a Hollywood talent agent's assistant, and tweeted that all of the Lost season one cast would be back in season six for some episodes, except for Michael and Walt. That included Charlie, Shannon, and Claire, of course. But sadly, the rumor's already been debunked, before we even had a chance to tell you to take it with a grain of salt. (However, EW's Ausiello says Team Darlton is checking the availability of several past stars. [Lost Rumours]
Virtuality:
Producer Michael Taylor co-star Billie Kashmiri sings a "punk rock" version of the Munsters theme song, with the lyrics in Japanese. (Okay then.) And he hints the TV movie's original ending has been tweaked, which may be good news for people who like Captain Frank Pike. And he provides more backstory: the show takes place twenty or thirty years in the future, when global warming is wrecking the planet. The Phaeton travels on our first interstellar voyage, to discover new life and hopefully find some solutions to our eco-nightmares. It's a straight shot to the next star system, which means the voyage is pretty uneventful most of the time. So to keep the crew from going bonkers in the enclosed space, they get the nifty virtual reality modules, which go so terribly, and fatefully, wrong. [Televisionary]
True Blood:
Ashley Jones plays Daphne, a new waitress at Merlottes and a new love interest for Sam Merlotte. She appears in the season's first episode, and at least seven others. Sams's never been too lucky in love, but Daphne come salong, adn she's from a similar background, and she and Sam "get" each other. She's a complicated person with her own agenda, and nobody understands her but her man. There's a lot more to her than you realize at first, and her connection to the whole vampy world goes "pretty deep." And she comments that the show's fake blood does not taste good. [Sci Fi Wire]
In the first episode, Sookie and Bill have a big fight, followed by makeup sex... followed by makeup biting, with blood gushing all over the sheets. Sookie gets gored by a "horned, taloned creature" in the woods after she storms off in her fight with Bill.
Also, we'll see more of Eric's "sensitive and funny" side this season. And Eric makes a play for Sookie. The death they investigate in Dallas is one of Eric's associates, so it throws Sookie and Eric together. Jason, meanwhile, has a "small romance," and his Fellowship Of The Sun storyline eventually intersects Sookie's Dallas visit, because the Fellowship is also in Dallas. And Jason has to put on his Rambo outfit and go to war.
Jessica will have a new romance, and will struggle with the immense power she's taken on as a vampire. New character Daphne is a "sweet, spunky gal," says Jones, but she complicates many situations. [TV Guide and Rolling Stone via SpoilerTV]
Deborah Ann Wolf describes Jessica's arc this season:

I see the second season, for Jessica, really being about growing up and maturing, and dealing with situations in a way that she can be accountable for her own actions and for things that happen, and looking for solutions. In essence, it is a coming of age story for her. She's starting to deal with some of these problems and issues of being a vampire, a bit more like an adult would, in a way that I think Papa Compton would be proud of me, if he knew that that's how I was responding.
[IESB]
Sanctuary:
Michael Shanks will guest star in this show's second season this fall, playing a character named Jimmy. [Sci Fi Wire]
Vampire Diaries:
And because you demanded it, an extended preview of this CW show. [SF Universe]