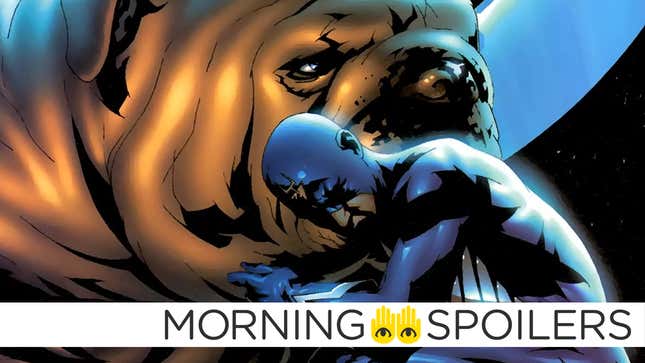 Valiant's Bloodshot movie finds its director. There's a new Teenage Mutant Ninja Turtles show on the horizon. Scarlett Johansson wakes up not once, but twice, in new Ghost in the Shell footage. Plus, a new Beauty and the Beast clip, Thrawn attacks in the Rebels season finale, and new pictures from Sense8. Spoilers are here!

Meet Microsoft's New Surface Laptops

Extinction
Lizzy Caplan has joined the cast of the family-focused alien invasion film as the wife of Michael Peña's character. [Variety]
---
Mission: Impossible 6
Vanessa Kirby has been cast in the lead female role. No details on the character were revealed, but it's believed that the role is on par with Rebecca Ferguson's in M:I5. [Variety]
---
Spider-Man: The Animated Movie
According to Jeff Sneider, host of the Meet the Movie Press podcast, Sony is interested in casting Ice Cube as Miles Morales' father, Jefferson Davis—a former NYPD cop in the comics who has a fraught relationship with his brother, Aaron.
---
Bloodshot
SFX director Dave Wilson—whose previous body of work mainly covers CG cinematic trailers for various video games through Blur Studios—will make his feature debut helming the Bloodshot movie for Sony and Valiant. [Bleeding Cool]
---
Ghost in the Shell
Here are two new TV spots for the film, both of which feature Scarlett Johansson waking up from a coma.
---
Beauty and the Beast
Belle meets Lumiere and Cogsworth in a new clip tucked in this online Disney show. If you want to cut right to the chase, it's at the 1:15 mark in the video below.
---
Inhumans
New set pictures from filming have given us early looks at two crucial characters on the show. First we have Anson Mount's Black Bolt, wearing a costume that's a bit different than his gear from the comics—at least for this scene, there's no tuning-fork-mounted headgear to be found on the Inhuman King's head. Two pictures also give us a sort of "look" at the Royal Family's beloved escort, Lockjaw, the doglike creature they use to teleport about the place.
Lockjaw will probably at least look a little less blue in the final show, but the pictures give use a decent view of his scale in comparison to the world around him.
---
Lucifer
The show's production is moving from Vancouver to Los Angeles for season three. Beside being cheaper, it's where the show is actually set after all, so it makes sense! [Deadline]
---
Teenage Mutant Ninja Turtles: Rise of the Turtles
Nickelodeon will be winding up its current CG Ninja Turtles series to make way for a 2D reboot titled Rise of the Turtles in 2018. Here's the official synopsis:
Rise of the Teenage Mutant Ninja Turtles will follow Leonardo, Raphael, Donatello and Michelangelo on all-new adventures as they seek to unlock the mystical secrets of New York City. From the tallest skyscraper to the dankest sewer drain, the Turtles will encounter absurd new mutants and battle bizarre creatures all while enjoying their favorite slice of pizza. Tapping into mystic, ninja powers they never knew existed, the four brothers must learn to work together and navigate the perils of the modern age and hidden realms in order to fulfill their destiny to become a team of heroes.'
---
Star Wars: Rebels
Thrawn has Phoenix Squadron in his sights in a new synopsis for the two-part season finale, "Zero Hour."
Part I: In final preparations for their attack on Lothal, Phoenix Squadron's plans are disrupted when Grand Admiral Thrawn discovers their location.

Part II: Trapped on Atollon with the rebel base under siege, Hera and Kanan fight to keep the squadron alive as Ezra attempts to rally help from an unexpected source.
---
Once Upon a Time
Jennifer Morrison spoke to Entertainment Weekly about Emma's fate in the midseason finale, and what she'll be like going forward after her encounter with Gideon:
Obviously no one wants to die. She's dealing it with the way she's dealt with every other crisis, which is that they're going to do everything they can to fight him, figure it out, and try to not die. It's not like she hasn't faced things like this before, so it's another one of those situations.
---
The Walking Dead
Here's a sneak peek at next week's episode, "Bury Me Here." It's full of snarling zombies, melancholy piano and the sounds of shoes on concrete. And Carol!
---
Sense8

New promotional pictures for the next season have been released through the show's Twitter account.


---
Tangled: The Series
Finally, Disney has released the first five minutes of the series' pilot movie, "Tangled: Before Ever After."
---
Additional reporting by Gordon Jackson. Banner art by Jim Cooke.