I'm normally not interested in the onslaught of green power strips and surge protectors, but Innergie's mCube90 is interesting because they're working with electronics manufacturers to have special power-management tech installed in the gadgets.
So here's what makes the mCube90 surge protector/universal-power adapter unique: most devices, even when fully charged (or off) still continue to draw power. Using a sort of open energy communication standard developed by Greenplug, the mCube90 makes it so these gadgets stop drawing power altogether (or a reduced amount, at the very least) when they're fully charged.
So far, companies such as HP, Fabrik, NEC and others have implemented the technology into their products so that they work with the Greenplug standard and Innergie adapter. It can handle notebooks that pull between 18-21 volts and 65 watts of continuous energy.
The power adapter itself has a port for your standard AC notebook cable, complete with removable tips, as well as a special USB port that can charger your portable gadgets even quicker. And when you're on the go, you can even remove the bottom segment for a portable charger with the same green features, but without surge protection (it seems).
G/O Media may get a commission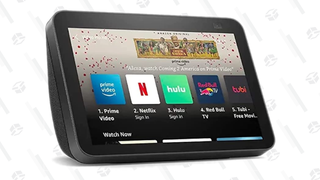 It's not like this will solve all of the world's energy related problems or anything, but it's nice to see big companies getting behind a good idea—one that unfortunately costs $130. [Innergie
Innergie's got the power. Green Plug's got the power. And soon, so will you.

A year ago, Green Plug (www.greenplug.us) burst on to the scene, committed to fixing "the broken power model."

The broken power model? That's the status quo that sees consumer electronics companies churning out some 2.5 billion incompatible power supplies to recharge the gear we know and love: laptops, printers, speakers, routers, modems, cell phones, MP3 players, power tools, digital cameras, and all manner of other stuff. Schlepping around separate chargers is both costly and inconvenient for consumers. Worse, obsolete chargers represent a massive source of solid waste dumped on Planet Earth. Every year, in the U.S. alone, hundreds of millions of discarded power supplies end up in landfills.

At 2009 International CES, in Las Vegas Jan. 8-11, the fix is in.
In tandem with Innergie (www.myinnergie.com), developer of the world's smallest and most versatile universal power adapter, Green Plug will begin to deliver on the promise. Together, at the Lunch@Piero's press event, the companies will show the first implementation of Greentalk™, Green Plug's intelligent digital solution that effectively eliminates the need for multiple chargers. Innergie and Green Plug will demonstrate the Greentalk-enabled Innergie mCube90G, powering a variety of brand-name consumer electronics devices, each with distinct power requirements. The CES demo will showcase a digital media enthusiast's toolkit, centered on a dazzling HP TouchSmart PC, eco-friendly Fabrik SimpleTech [re]drive storage system, Ricoh digital camera, NEC LaVie Laptop, Canon photo printer and camcorder, and Linksys wireless router, all powered by Green Plug's Greentalk™ technology.]