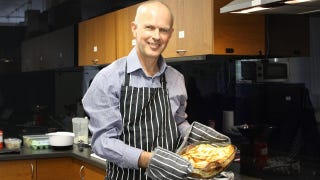 Rote memorization of a new language will only teach you so much, you need to actually use it in everyday instances for it to really sink in. An intelligent kitchen from Newcastle University aims to do just that with a bonus of fine French cuisine.
The process starts when a user chooses a desired recipe on a computer connected to the system. Then, the system provides audio instructions for the dishes preparation and follows what the user is doing—and how well he's doing it—using sensors embedded in the utensils and equipment. If the user makes a mistake, the system will notify him and repeat the direction as necessary for him to get it right. This isn't just a $556,000 method for learning French, mind you. The instructions are worded to help a student's general comprehension of the language as well.
In addition to the primary system installed in the catering kitchens of Newcastle College, researchers have also built three portable versions for use in culinary schools and even home kitchens. The Newcastle team hopes to have them available for sale at the end of next year and will reportedly also offer them in English, German, Spanish, Italian, Finnish and Catalan language varieties. Apparently there is a larger demand for both the Finnish language and its cuisine than I had initially figured. [Gizmag]
---
You can keep up with Andrew Tarantola, the author of this post, on Twitter, Facebook, or Google+.