With the help of BMW i, we're proud to present the Gizmodo Guide to Green Luxury. Over the next few weeks, the guide will feature fahhhbulous earth-friendly accommodations, power-saving tech, and an assortment of green gadgets that will keep you feeling good and doing good. Today's installment brings you the best and greenest in luxury travel.
---
Accessorize Without Excess
Everyone has baggage, but how many can say that theirs is both stylish and recyclable?
The Cardboard Origami suitcase from Chiara Goose is a sturdy and organized way to haul the nicest of your belongings. And if you happen tire of your sleekly minimalist tote, all you have to do is have your help break it down and set it on the curb to be pulped and repurposed.
You should also consider what you're packing your costly, precious electronics in. While a recycled, buttery-soft leather iPad cover might not win you any PETA points, it's a lot better than buying a fresh cow case for your tablet.
And of course, if you're planning on a lengthy journey, you'll probably want to carry on a little in-flight entertainment—most likely in the form of your smartphone. However, if you're on the recycle and reuse kick, you also need to consider reducing. The PowerMax app for Android extends your phone's battery life, which means less need to plug in your energy-slurping device. So the next time you want to whisk away for an exclusive weekend tour of the Galapagos, you'll be charged up and ready to go!
G/O Media may get a commission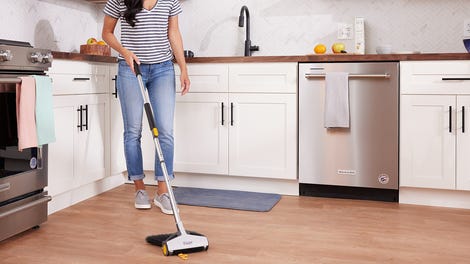 BOGO 50% Off
Flippr - BOGO 50% Off
By Land or By Sea
Now that you have your luggage fancily figured out, it's time to think about a critical, and often environmentally taxing, aspect of your adventure stuff—transportation.
If you've got your sea legs (and your boat shoes), consider hopping on board a solar-powered yacht. The PlanetSolar is the first photovoltaic ship to circumnavigate the world. They aren't taking bookings yet, as most of their man (and sun) power is committed to scientific research, but expect luxury ocean liners to follow suit eventually.
Exotic destinations might scream high-end, but staying local might be the most eco-friendly option. The award-winning bamboo bicycle from Calfee Design—whose sleekly modern frame has been featured in Newsweek, Time Magazine and on the Discovery Channel—is a low-impact from of luxe transportation that makes a big difference. Each handmade bike, takes 40 hours of labor to build, and uses predominantly sustainable materials—giving riders a smooth and stylish ride. Hardly a rusty Huffy, it's the perfect road bike for the Century race to the Hamptons.
Unfortunately, the most common method of luxury travel, flying, hasn't quite advanced enough to offset the total impact of the industry's CO2 emissions. However, this August, the FAA certified the Boeing 787 Dreamliner for domestic use. Boeing asserts that the 290-passenger ultra-swank jet is the company's most fuel efficient model yet, and is the first major airliner to use composite materials for most of its design and construction. Sure, it's not quiet ideal for those interested in 100% carbon neutrality, but it's a flight in the right direction.
Arrival Time
Finally, the most important step in planning your chi-chi adventure is picking a final destination that takes its own environmental impact into consideration. So before you check in, check to make sure those 800-thread count Egyptian cotton sheets are fully organic, and your morning coffee is fair trade.
The TreeHotel in the small village of Harads, Sweden is located just 60 km south of the Arctic Circle. In the midst of a beautifully perserved Boreal forest, the hotel's modernist designers have built a series of staggeringly surreal structures, including a 13' x 13' x 13' fully-mirrored, full-amenitied cabin, that hang amongst the trees, unobtrusively making use of the stunning surroundings, without any eco-system damaging deforestation.
If the whole Nordic nature thing isn't your cup of maté, maybe the Heritance Kandalama hotel in Sri Lanka with its jaw-dropping mountainside views, infinity pools and award-winning spas, is. Additionally, the world-renowned destination has an extensive on-line manifesto that explains its water conservation and waste management systems, offers travel tips, and espouses gender quality amongst its staff.
If you'd rather stay a bit closer to home, the Topia Inn in Adams, MA is the eco-luxe equivalent to a traditional Berkshires B & B. It's definitely a bit crunchy: there's no smoking and no shoes indoors (they track in pesticides). But there's a complimentary homemade organic breakfast with all locally-sourced ingredients, chemical-free lavender bath salts to help you soak the city smog off, and various spa therapies that will help become more physically, emotionally, and environmentally aware.
---
Well, that's it for the first edition of the Gizmodo Guide to Green Luxury. Check back in coming weeks when we bring you some environmentally-conscious luxury products, design solutions, and gadgets for your home. And to experience the pinnacle of innovative, responsible, comfort check out everything that is BMW i..