We couldn't be more impressed with the way the Gizmodo community has pushed their photography skills with Shooting Challenges. So today, we're expanding the idea with a once-a-month expansion called the Video Challenge. Our first topic: time lapse.
So How Will This Work?
With the existing Shooting Challenge, you get a little under a week to email us your photos that we feature and judge. With Video Challenges, we're giving you a lot more time, but we simply cannot handle the HD videos internally. So we're using Vimeo. And to keep the projects reasonable, all clips must be 45 seconds or less and begin with content, not slates, credits, colorbars or countdowns. They''ll be due February 9th by 8am Eastern. Results will be posted on the 11th.
Become a member of our Vimeo group and add your video by the deadline. We'll then go through the submissions and highlight our favorites on Gizmodo.
The Rules - READ THESE
1. Submissions need to be your own, and you must have rights to use all content within them.
2. Videos must be produced (shot and edited) since this contest was announced.
3. Explain, briefly, the equipment, settings, technique and story behind the clip.
4. Tag all vimeo clips "video challenge" and "time lapse"
5. All clips must be 45 seconds or less...
6. ...and begin with content, not slates, credits, colorbars or countdowns.
7. Entries should be uploaded to our vimeo group by Feb 9th and 8am Eastern.
G/O Media may get a commission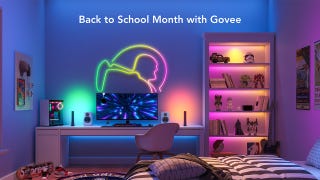 Back to School
Back to School Month with Govee Sale
OK, on to the Challenge!
We'll delve more into strict video and editing projects down the line, but we chose "time lapse" to bridge the gap between our photographers and videographers, to welcome those of you who understand digital imagery but haven't done much editing.
As with Shooting Challenges, interpret the challenge as you like. Capture a time lapse of any length by taking photos of a scene in a set interval and combining them into 45 seconds of video. Oh, and we allow soundtracks, voice overs and anything else you want to add in terms of audio. Just make sure you have rights (or the rights are open) to use the content. Note: We're not looking for stop motion animation.
The Method
I usually link a few how tos in this section, but you'll only need one this time. Photojojo's Ultimate Guide walks you through the process while remaining highly readable.
The Example
The lead clip is of the "Perseid Meteor Shower and the galactic core of the Milky Way as seen from Joshua Tree National Park." We prefer to just call it magic.
Good luck, everyone! I can't wait to see what you do with video.
For the last six months, I've been working on a very exciting project called Philanthroper, which is now accepting beta testers. Sign up to help us build something that could change everything.