While Director Zack Snyder is working away feverishly to complete his live-action adaptation of Alan Moore's seminal Watchmen graphic novel, we decided to take a look at the three versions of the film's script floating around on the etherwebs. This project has had several stalled-out development attempts since 1986, and reading through some of these it's easy to see why. Check out the breakdown of the top three below.


Note: hit the links to read these suckers for yourselves. The Alex Tse draft was out there at one point (we saved an older copy), so you might be able to find it by sifting the web. Or you could just put David Hayter's draft in a tumbler and give it a couple of shakes, it's roughly the same experience.
Sam Hamm, 1989: Hamm is probably best-known for writing Batman, also in 1989, so it's probably no small wonder that studios suits thought he'd be perfect to adapt Watchmen for Joel Silver at Fox. However, the resulting script is pretty much utter trash.

In the opening scene, the Watchmen try to foil a terrorist scheme in the Statue of Liberty, although it results in the death of their teammate Captain Metropolis, and Lady Liberty gets blown up. Cue the government's war on "masks" and superheroes.
The opening credits are described as dozens of watches floating around the screen. Lame.
Adrian Veidt has developed smokeless cigarettes that are supposedly non-cancerous, while "cleaning your lungs at the same time." A far cry from the glass pipes in the original, plus it turns out Veidt was actually giving them cancer. Evil.
Veidt has also created "Nostalgia," which isn't a perfume like in the comics, but rather an "anti-aging" Dick Clark-esque skin cream.
The whole premise is built on the fact that the creation of Dr. Manhattan changed the world forever, so Veidt spends his time and millions trying to create a wormhole in time and space so he can kill Jon Osterman before he becomes the good doc. Dr. Manhattan stops him, but realizes he was right and goes back in time to prevent himself from existing, thereby changing the future.
This "new world" (actually, our own present-day New York City) shimmers into existence around Dan (Night Owl), Laurie (Silk Spectre), and Rorschach, leaving them confused and wondering what happened. Fin.
Lamest moment: EXT. SEAPORT - THAT MOMENT - DUSK
Ground level. From the midst of the bewildered CROWD we watch as the OWLSHIP and the CTU talk some serious trash:
NIGHT OWL OVER OWLSHIP LOUDSPEAKER— "or we'll BLOW YOUR ASSES OUT OF THE SKY!"
CTU LOUDSPEAKER — "UNREGISTERED CRAFT. IDENTIFY YOURSELF."
OWLSHIP LOUDSPEAKER — "BABY . . . WE'RE A BLAST FROM THE PAST."
David Hayter, 2003: Hayter was tapped to write the script once the project ended up at Paramount in turnaround from Fox. Hayter, who also wrote X-Men and X-Men 2 (and plays the voice of Snake in the Metal Gear Solid video games) stayed much closer to the source material than Hamm did, but he took some liberties as well.
G/O Media may get a commission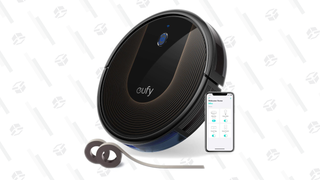 48% Off
Eufy BoostIQ RoboVac
Dr. Manhattan is much more godlike in this script, creating a "magic mirror" for Laurie that can allow her to see any point in her past. This only seems to serve as a plot device so that we can see her fighting with The Comedian in the past.
Dr. M also uses his abilities to give Laurie one of the lamest superpowers since Jubilee: she can now shoot a blue ball of energy from her fingers, slingshot-style.
She uses this power to try and stop Adrian, but he catches the ball and pummels her. Not quite as dramatic as catching a bullet, is it?
Instead of a vat-grown alien-tentacled telepath, Veidt fires a concentrated beam of radiation at orbital mirrors which reflect into New York City, killing 20 million people.
Night Owl and Veidt square off in the end, and although Veidt beats the crap out of him, Night Owl still wins by tricking Veidt with an Owl-o-rang and killing him. Yes, really.
Lamest moment: ADRIAN — "Why an Owl? I mean, assuming your intention is to intimidate the criminal element... What's so frightening about an owl?"
DAN — "I don't know, really. I guess it's because... No matter how hard you listen, you never hear them coming."
Dan DUCKS. Having circled the room, the OWL-WING ZOOMS OUT OF THE DARKNESS, OWL-FACE SCREECHING INTO FRAME —
— And STRIKES ADIAN THE IN THE CHEST, KNOCK HIM OFF HIS FEET. Adrian SLAMS to the ground, THE BOOMERANG'S LEFT WIND IMBEDDED IN HIS SOLAR PLEXUS. He wheezes blood.
Alex Tse, 2006: Novice writer Tse was hired to come in and work on David Hayter's draft, which remains mostly intact. He changes a few things, but it still seems like it's mostly Hayter's script.
Dr. Manhattan is seen as the "peacekeeper of the world," keeping all of the world's government in check, for better or for worse.
Rorschach busts in on an army officer with a hooker, beats the crap out of him (and her) and takes his uniform. Later, he disguises himself as the officer, so he can enter Dr. Manhattan's army lab and tell him about The Comedian's death.
Veidt impersonates Dr. Manhattan, and fires beams of concentrated... er, "big blue energy clouds" into key cities around the globe, killing three million people.
Dan and Veidt square off again, but this time Dan crashes the Owl-Ship via remote control into Veidt, wounding him badly. You think he might survive, but as Laurie flies the ship out, she sets his body on fire. Whoops.
Lamest moment: ADRIAN — "I have to say, I've always thought your choice of an owl was quite juvenile."
DAN — "Really? I've always liked owls..."
Adrian sees that Dan has pulled one last item from his belt. Adrian STEPS on Dan's WRIST, bones crunching. Dan's hand falls OPEN, revealing the OWL-SHIP REMOTE.
DAN (cont'd) — "... because you can never hear them coming."
BEHIND ADRIAN: FLOODLIGHTS BLAZE, targeting Adrian as the OWL-SHIP CRASHES THROUGH THE WINDOW and into Adrian and Dan.

Thankfully, both Hayter's and Tse's scripts keep Rorschach as the central character, complete with his journal voiceovers, his origin backstory told to the police psychiatrist, and the fateful envelope sent to The New Frontiersman offices. Also of note is that none of these scripts feature "The Tales of the Black Freighter," which Snyder is filming, although they do feature shots of a kid reading comic books near a newsstand.
At any rate, we'll be watching these Watchmen.