It's that dreaded time of year, when you face your greatest challenge: Finding presents for all your friends and loved ones. But don't worry! We've got your back — with our indispensable guide to the best gifts for science fiction fans and science nerds.
Including everything from the best DVD box sets to the most awesome science books!
Top image: Ron Miller.
---
G/O Media may get a commission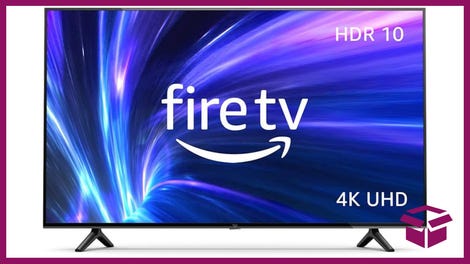 42% Off
Amazon Fire TV 50" 4K Smart TV
Knowing what to buy your favorite science fiction or fantasy genre junkie can be a taxing chore. You're posed with some important questions, like Dalek or Vulcan? Cthulhu or rainbow-vomiting dinosaurs? We empathize. Here are several dozen nifty, covetable gifts that will cater to the genre junkie in your life, no matter what they fancy. More »
---
Need something for your offspring post haste? Don't worry, we've got you covered. Check out our amazing collection of toys, books, sheets, rugs and giant plushies for the little nerdlings in your life. More »
---
What do you get the person who has everything? Something insanely freaky. We have scoured the internet for the most insane gifts to give your friends who are impossible to find presents for. And what we found was simply amazing. More »
---
T-shirts always make the best presents, plus they're a way of gift-wrapping yourself and your friends in cool images and slogans. We've put together a collection of classic, seasonal, and downright insane tees for you to bestow upon your loved ones - and yourself. More »
---
While everybody is getting stoned on turkey and starch this holiday season, you're hoping to join a secret collective of super-intelligent scientists who will invent faster-than-light travel and cure cancer. We understand. That's why we've put together this list of great science books that came out in the past year - they're the perfect gifts for people with inquiring minds (including you!). More »
---
When you really want to show people you care about them, the best present is one that they can spend hours exploring. And nothing sucks people in quite like a really feature-heavy DVD or Blu-ray box set, full of special features, alternate versions and commentary tracks. More »
---
Giving graphic novels as gifts to non-comics readers can be hard - after all, there are only so many copies of Watchmen one can give before they stop being books and start becoming the construction materials for an Alan Moore-themed play fort. More »
---
One of the most common types of holiday gifts is the Coffee Table Book - big, expensive, and usually something people flip through instead of actually reading. But what if you could give a book that would fascinate your friends as well as looking like a status item? More »
---
Whether they run their own lab or they're just entering kindergarten, the mad scientist in your life will love these presents. More »
---
What do you get the geek who has every awesome collectable? something extraordinary. That's why we've gathered together a collection of all the best toys to give your friends and loved ones. And yes, that is the floating guard eyeball from Big Trouble Little China. More »
---
Recently I was invited to, and attended, a lightsaber fight in a park. The organizer supplied the entire battle with lightsabers from her own collection. I took the opportunity to ask her opinion on the best online saber sources. More »
---