Need something for your offspring post haste? Don't worry, we've got you covered. Check out our amazing collection of toys, books, sheets, rugs and giant plushies for the little nerdlings in your life.
Superhero Cape T-Shirt
Turn your kid into a superhero with one simple shirt. These Superhero T's from The Gap have tiny capes sewn right into the collar. Super adorable, and only $34.95.
G/O Media may get a commission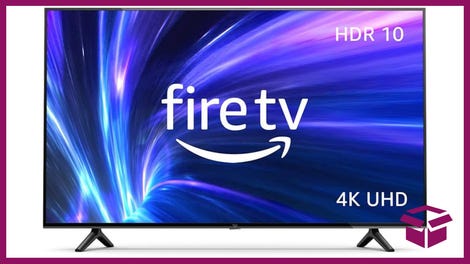 42% Off
Amazon Fire TV 50" 4K Smart TV
Officially titled a Waldorf Wooden Dollhouse we think this handmade playhouse is just screaming Lord Of the Rings Shire to us (even though it can't say so officially). Until they make Hobbit Playhouses, this is an easy alternative. Going for $169.95 at Bella Luna Toys.
[Via OhdeehDoh]
Wampa Rug
When I was a little kid, I had a giant white kitten bear-skinned rug that I loved more than anything in the world. This one is cooler. Going for 100.00 at Think Geek.
Remote Controlled Eagle
9 1/2 Foot Remote Controlled Bald Eagle, $499 at Hammacher Schlemmer.
Redwall
If your kids are too young for the seriously adult fantasy books of Game Of Thrones, why not start them on something a bit more light such as Brian Jacques' Redwall series. It's a tale about the epic battles of the woodland creatures of the forrest. It's like Mrs. Frisby and the Rats of NIMH only with more critter blood! You can find Redwall for around $10.00 at Amazon.
Only the lost sword of Martin the Warrior can save Redwall Abbey from the evil rat Cluny and his greedy horde. The young mouse Matthias (formerly Redwall's most awkward novice) vows to recover the legendary weapon. In the course of his quest, Matthias forges strong ties with various local animals. As much as the magic of the sword, it is the help of these new friends that enables Matthias to defeat Cluny once and for all. Jacques's clever use of detail creates an animal world as compelling as that of The Wind in the Willows. From the beginning, each of Redwall's characters is endowed with a unerringly distinct personality: there is a powerful badger named Constance; a mute squirrel named Silent Sam, who knows the forest better than anyone; and his mother Jess, a champion climber who leads a splendid rescue of a piece of the abbey's tapestry. This epic adventure contains elements of all grand quests, with heroic archetypes that will keep fans of Tolkein and King Arthur tales engaged to the final battle.
Vintage Star Wars Sheet Set
Teach your kid how to geek out in style with vintage print sheet set at Pottery Barn Kids $16 - $119.
Lovely hand made fantasy creatures from Ostheimer and wooden fairy tale figures at Bella Luna Toys, around $20 each.
Dragonriders of Pern
Get your child hooked on one of the best book series ever made but the beloved (but now sadly deceased) Anne McCaffrey. The first book, Dragonflight is selling for around $10 on Amazon.
The planet Pern has been colonized for centuries by humans. When humans first settled on this world, they did not take notice of its sister planet, which had an indigenous life form that attempted to land on Pern when it came within reach. These silver "threads" fell in a destructive wave on the temperate lands of Pern once every 200 years, destroying all life they encountered. To combat this menace, the inhabitants of Pern developed a species of dragon that could burn these threads out of the sky before they touched down. Now, centuries have passed between threadfalls, and the danger of thread is considered a myth. However, a dragon rider named F'lar knows that the riders are once again needed.
Pac Man Fleece Blanket
Cuddle up under a classic with your wee little ones. Only 24.99 at Perpetual Kid.
Pocket Microscope
Conduct experiments anywhere and everywhere. $10.00 at Fred Flare.
Breadcrumbs
Written by Anne Ursu and illustrated by Erin Mcguire, Breadcrumbs is a gorgeous journey into another world with white witches and magic, and it's only $10.00 on Amazon.
Once upon a time, Hazel and Jack were best friends. But that was before he stopped talking to her and disappeared into a forest with a mysterious woman made of ice. Now it's up to Hazel to go in after him. Inspired by Hans Christian Andersen's "The Snow Queen," Breadcrumbs is a story of the struggle to hold on, and the things we leave behind.
Giant Ugly Doll!
$699.95 at Hammacher Schlemmer.