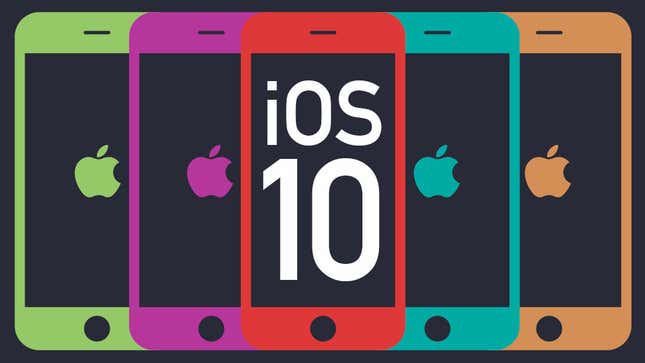 Apple just announced the tenth version of iOS, the heart and soul of all the company's mobile hardware. In celebration of the operating system's double-digit milestone, Apple is making lots and lots of upgrades. Let's take a look.
Twitter Is Shifting Right | Future Tech
A much better lockscreen
Craig Federighi started his massive iOS demo by saying this was the biggest release of iPhone software in its entire history. The lockscreen is completely redesigned with rich messages directly from the lockscreen, as well as interactive live status updates with apps like Uber. Apple's also integrated 3D touch in order to clear all your notifications and added a new shortcut to quickly get to your music app or camera.
On the homescreen, widgets get an upgrade in the drop-down Today widget panel and 3D touch offers up more information for some apps like ESPN and Apple's own activity app.
Siri is finally open to developers
This is the big one. This means that you'll soon be able to ask Siri to open up specific apps and then do actions. As Federighi demoed, you can now say "Tell Nancy I'll be five minutes late with WeChat," or some variation of that phrase, and Siri will do exactly that. It can also do ride booking with Uber and Lyft and you can talk with various workout apps. Obviously, this feature list will only grow as more and more developers dive into the code.
Essentially, this makes Siri closer in useful functionality to Google's own Google Now assistant, which has taken advantage of third party apps for awhile. It's a muuuuch needed upgrade.
Quick Typing is less ridiculous
Apple is now using deep learning and AI to make smarter suggestions using Apple's Quick Type keyboard. If someone texts you asking for a specific email for instance, Siri can look through your contacts and pre-fill the email in a Quick Type suggestion. Additionally, it can keep track of your availability through Calendar and past locations searched online.
Photos gets drunk on AI
Much like Google Photos, Apple is implementing AI and image recognition tech into its photos app so it can quickly organize photos for object recognition search, and also automatically identify trips in your camera roll and create short collections. Once again, a big upgrade but mostly features we've had for a year in the form of Google Photos.
Apple is still trying to make Maps useful
Apple has had it rough with Maps, even apologizing for the less-than-stellar app when it launched with iOS 6. Eddy Cue explained that Maps now has a deeper integration with CarPlay and that the platform is now open to developers. One example demoed onstage was OpenTable, so Maps can keep track of how much time you'll need to get to the restaurant on time. You can also book a reservation with Uber, pay with Apple Pay, all without leaving the app. Basically, Apple is still trying to be the one Maps app to rule them all, but still seems to be playing catch up rather than innovating in any interesting way.
Apple Music gets a complete makeover
One of Apple Music's biggest criticism was that its chaotic design made it difficult to navigate the messy spasm of colors and tabs. That's all been pared down to a simple list with a mostly black, white, and pink color scheme. There are new sections like "Recently Added," so you can quickly access new music added to Apple Music.
Apple has also updated the "For You" section to include a curated playlist keeping your own music tastes in mind, not unlike Spotify's own Discover Weekly playlist. Beats 1 also has new search powers. Almost every facet of Apple Music has been tinkered with, so we'll see if it's any good once we get to try it.
There was also a moment where a bunch of tech journalists were awkwardly clapping to The Sugarhill Gang. It isn't really a feature. It was just funny.
You might actually like Apple News now
Apple News launched with a whimper with iOS 9. Really, it was just Flipboard with a worse design. But Apple has completely redesigned the app, so it at least looks better, but News also comes with subscription support (which I can't believe it didn't have already) and breaking news notifications, so you can actually use the app as a news app. It seems obvious, but there it is nonetheless.
HomeKit now has an app called "Home"
Apple is finally getting serious about the smart home by creating an app that takes advantage of its Internet of Things protocol, Homekit. The app comes with a simple design for automating your home, but also a feature called "scenes" where you can say "goodnight" and Home will dim the lights. Cool, but Samsung's SmartThings have been doing this kind of stuff for years.
Regardless, it's nice to see Apple finally addressing smart homes since it's been not-so-vocal about its IoT plans for a while now.
Putting the Phone back in iPhone
The phone app now comes with voicemail transcription standard, much like Google Voice. The Phone app can also automatically detect if a call might be spam. Contact cards also get a design makeover with quicker access to the various contact channels for each contact.
iMessages gets cutesy
Apple's now doing rich linking with websites, meaning when sharing a link it will also pull images or videos if they exist, so you never have to leave the app.
ALSO EMOJIS!!!! THEY'RE 3X BIGGER AND EASIER TO USE. THANK GOD. 🙏
Apple also added new features previously seen in Google's new Allo app. Messages will now allow you to increase the size of text to emphasize texting as either a yell or a whimper. You can draw handwritten notes and share/play music in-app so you never have to leave messages. There's also a feature called "invisible ink" which obfuscates things like images or texts so people have to swipe away the particle effect to see the message.
iMessage will also be open to developers, so you can create separate apps layered on top of the messaging platform (basically, Facebook Messenger). Federighi demoed the new app store by showing off a sticker app, a Doordash food ordering app, and of course, GIFing with apps like JibJab.
In many ways, it's a more reserved attempt at redefining messaging compared to Facebook and Microsoft, which are building whole bot stores to automate more of your digital life.
Some stuff Apple didn't mention during the keynote
Apple clearly underestimates how much its users hate some of its stock apps, most notably...the stocks app. Now, you can delete those apps from your iPhone and download later if you want to do that for some reason. The apps will be available in the app store and people who've downloaded the developer preview are confirming the change. Neat!
Live Photos also gets filters and some much-needed stabilization, the camera app launches even quicker, and you can choose weather iMessages uses read receipts by specific conversations. 9to5Mac has a complete list of all the small tweaks that fell through the keynote cracks.
iOS 10: It's all about openness
The thread tying together all these updates is Apple embracing third-party developers like never before on iOS. In some ways, it cedes ideological ground to what a smartphone can be to Google, whose open source approach has tapped into third-party services for years. Of course, Apple punctuated the iOS portion of the keynote with a re-dedication to privacy in the wake of all this new openness.
We'll see how all that actually plays out when iOS 10 is available this fall, and the public beta will be available next month.