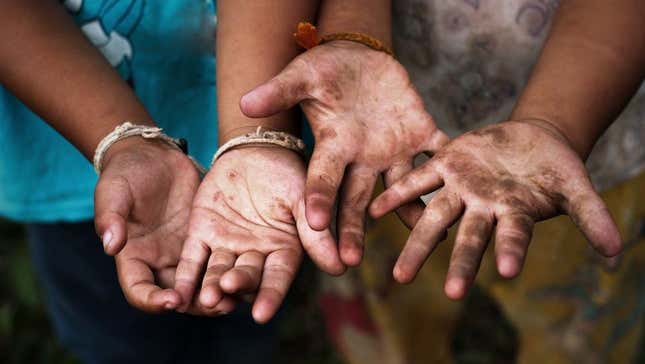 As companies like Uber transition the world onto the gig economy, and AI promises to eliminate the need for large swaths of the workforce, the great state of Iowa is taking a stand, declaring once and for all that child labor is good, actually.
Robinhood App Lays Off 9% of Staff
In a session starting at 3:36 am Tuesday morning, Republicans in the Iowa Senate passed SF 542, a bill that undoes protections for child workers, according to WHO 13 News Des Moines, a local NBC affiliate. It's part of a broader Republican-led effort to undo protections for children in the United States.
The bill lets 14-year-olds work six-hour night shifts, clears 15-year-olds for work in factories and assembly lines, and carves out exceptions to allow 16- and 17-year-olds to serve alcohol.
SF 542 passed 32 to 17, with every Democrat and two Republicans voting against it. The bill now moves to the Iowa House of Representatives. Some call it child labor. Others, such as Iowa Republican Sen. Adrian Dickey, call it freedom.
"With this bill, we are strengthening and providing protections to our youth. We are not forcing them into slave labor. We are not selling our children. We are not even requiring them to work," Sen. Dickey said on the Senate floor. See? No slavery. What more do you people want?
Federal child labor laws date back to the Fair Labor Standards Act of 1938. But what the libs in Washington fail to understand is that children's tiny fingers are perfect for reaching the bobbins in my textile factory. Fortunately, state lawmakers across the country are working hard to save American kids from the oppressive restrictions preventing them from taking their proper place in the sweatshops.
If Iowa kids are lucky, they'll get good, hardworking American jobs like the Department of Labor turned up in February. This year, the DOL found over 100 kids as young as 13 years old were working illegal jobs in slaughterhouses owned by Tyson, JBS, Cargill, and other companies. The children sometimes worked night shifts cleaning dangerous blades on kill floors, and at least three suffered injuries including chemical burns. Or maybe Sen. Dickey hopes his kids can get a gig with Hyundai-Kia, which is under investigation for employing 14-year-olds in factories across Alabama.
Ten states launched efforts to weaken child labor protections in the last year, according to a report by the Economic Policy Institute. Several states have already passed laws weakening or lowering restrictions. Arkansas Governor Sarah Huckabee Sanders signed a law this March eliminating age verification and parental consent requirements for kid workers. Iowa passed a separate pro-child labor law in 2022 and is considering another bill that would allow parents to lie about their kids' ages to get them jobs.
Those are just examples of laws that were enacted; the real fun is in the bills that haven't been signed yet. Take Nebraska, where state lawmakers passed a bill that gives kids the right to work for less than minimum wage. And don't forget little old Ohio! There, Republicans passed a bill that proposes kids should be "allowed" to work until 9 pm on school nights.
"The trend reflects a coordinated multi-industry push to expand employer access to low-wage labor and weaken state child labor laws in ways that contradict federal protections," the Economic Policy Institute said in its report. "Children of families in poverty, and especially Black, brown, and immigrant youth, stand to suffer the most harm from such changes."
These aren't hypothetical concerns. According to the US Department of Labor, the number of minors employed in violation of child labor laws was up 37% in the fiscal year 2022. And when you compare 2022's numbers to 2015, the child labor violations went up 283%.
Who could possibly be in favor of something like this? Why, industry trade groups and billionaires, of course. As the Economic Policy Institute put it:

Across the country, the primary proponents of these laws are business groups and their state affiliates, particularly the National Federation of Independent Business, the Chamber of Commerce, and the National Restaurant Association (Lazare 2022). Hotel, lodging, and tourism associations, grocery industry associations, home builders, and Americans for Prosperity—a billionaire-funded right-wing dark money group—have also supported bills in various states
Republicans across the country are hard at work finding more hard work for kids. Meanwhile, they're working double-time eliminating other freedoms under the guise of saving those very same children. Sen. Dickey's daughter caused a stir in 2022 when she cut off her dad for his work to create special rules that only transgender people have to follow and strip women of their right to reproductive healthcare. She went on to accuse her father of abuse, and posted, "There's so much more money and power-driven things he's done."
Sen. Dickey did not immediately respond to a request for comment.