NYTimes: Sez newspaper fiend Matt:
The oh-so-limited NYT Editors' Choice iPad app has been replaced by the full-content NYTimes for iPad. Modeled on the Times Reader app, not only is it now the best way to read the Times, it's free until 2011.
All the news that's fit to put into pixels.

TED: TED Talks are just about the best thing on the internet, and the iPad is a perfect (and perfectly futuristic) device on which to watch them. TED made all their videos iPad-friendly some time ago, but this well-designed package makes it all the easier. Settle in and expand yer worldview. Free.

Remote Palette: Kat, paint us the picture:
Sure, there are plenty of painting apps for iOS already, but Remote Palette has a neat twist—it connects an iPad and iPhone so the iPad can be used as a canvas, and the iPhone as the color palette.

The video above will be pretty awkward for anyone who's not seen this video from 1982 of Andy Warhol eating a hamburger, but the digital agency Dare does successfully show how the iPad and iPhone (or iPod Touch) can sync up for some fun painting, for just $1.
G/O Media may get a commission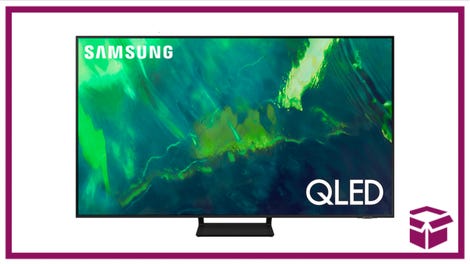 35% off
Samsung Q70A QLED 4K TV
Save big with this Samsung sale
If you're ready to drop some cash on a TV, now's a great time to do it. You can score the 75-inch Samsung Q70A QLED 4K TV for a whopping $800 off. That knocks the price down to $1,500 from $2,300, which is 35% off. This is a lot of TV for the money, and it also happens to be one of the best 4K TVs you can buy right now, according to Gizmodo.

NY Post: The New York Post is available on the iPad. That means Page Six is available on the iPad. The future of gossip is here! You get 30 days free with your $2 purchase. After that subscriptions run $6.99 per month, $39.99 per six months, or $74.99 per year. Never miss another hi-larious headline! $2