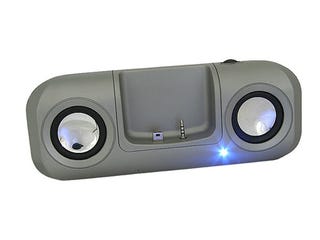 Stop the presses, a non-iPod music player dock is on the loose. Designed for the HP iPAQ rw6818/6828, this dock does most everything you'd expect a dock to do, like charge your player and play back your tunes with a set of stereo speakers. Even though it's designed with the iPAQ in mind, a line-in lets you connect other music players as well; if you still own a CD player, you're in luck.
The iPAQ is a PDA/Smartphone running Windows Mobile currently available in Asia. Incidentally, it's probably more powerful than the laptop I'm using right now.
The dock includes all the necessary cables for all your syncing and charging needs. It's available now from USB Geek for $32.
Product Page [USB Geek via Mobility Today]