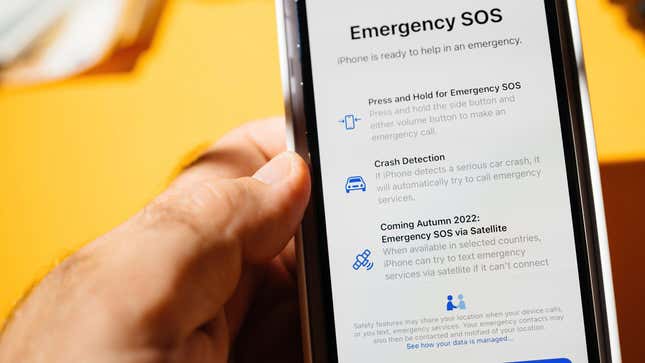 If you're on the line, stay on the line! That is: Stay on your iPhone call with emergency services if Apple's crash detection feature unnecessarily calls for help on your behalf.

The iPhone SE Offers Almost Everything You Want In An iPhone
The company is asking its customers to not hang up on first responder dispatch. Instead, Apple says iPhone users should wait for a person to pick up, and then specify that they don't need assistance, in cases of accidental false alarms. The company noted this request in an update to its crash detection support document, as first reported on by Mac Rumors.

"If the call has been made, but you don't need emergency services, don't hang up. Wait until a responder answers, then explain that you don't need help," the adjusted support doc now says.
The company also removed a line in the document which previously instructed users to cancel a call during the timer period. "If you don't need to contact emergency services, tap Cancel and confirm that you don't need emergency services," the support guide once said, per Mac Rumors. Though the support site still advises users to dismiss alerts before they go through, Apple seems to be trying to minimize the number of instances where its customers hang up on existing emergency calls.
Apple's iPhone 14 boasted a suite of new features when it was released in September 2022. Among the updates, upgrades, and additions: Satellite connectivity was brought to the existing Emergency SOS—boosting the device's ability to alert authorities even from remote locations without cell or data service. Plus, the company introduced crash detection tech, intended to automatically sense if an iPhone user has been in a car accident and alert emergency services and pre-set emergency contacts. Apple Watch, too, incorporated the additions.
Combined, the added features were intended to better ensure Apple customers' safety. And in some cases, that vision seems to have been realized. One man who became stranded while on a trek in the Alaskan wilderness was rescued thanks to his iPhone 14's satellite connection.
But in other cases, the combo of boosted connectivity and impact-triggered alerts has led to false alarms and an influx of unnecessary, line-clogging calls to emergency services.
In more than one instance, iPhone 14/iPhone 14 Pros have called police and EMS because of roller coaster rides. Skiers and snowmobilers, who participate in their winter sports in mountainous areas where they might not even have phone service, are also unintentionally setting off the alert system when they don't need aid, creating a headache for at least one Minnesota county's Emergency Communications Center.
In Summit County, Colorado (which contains the popular Breckenridge ski resort), Apple Watches and iPhone 14s led to 185 false crash notifications in a single week, as reported by the New York Times.
Apple has been attempting to address the issue in its recent iOS 16 updates, per an earlier Mac Rumors report. The company even sent representatives to Summit County to attempt fixes. But, in addition to software and operational changes, Apple has also moved to shift some of the burden for the problem onto the shoulders of its customers. In the world of Apple's new support document advisory: If emergency responders end up wasting their time tracking down iPhone 14 users following false alerts, well, the phone owner should've told them it was an accidental alarm.
When an alert is triggered via crash detection, iPhones display a screen notification and produce a noise that's supposed to be a series of "loud whoops to get your attention," per the support page. But, stuffed into the pocket of thick ski pants or competing with the sound of a roller coaster cart zipping over tracks, one could easily imagine a user missing the "whoops". Whoops.
It's not clear how someone can answer the phone and reassure first responder dispatch they don't need help if they're unaware the call has been made in the first place. Gizmodo reached out to Apple with questions about the issue, but the company did not immediately receive a response.
Crash detection can be disabled by navigating to Settings, then Emergency SOS, and toggling "Call After Severe Crash" into the off position.