How do you make the best iPhone ever even better? That's the perennial question, one that's inevitably easier to answer as Apple releases innovative new products. This year, the fan universe finds a plethora of clues in the company's wearable computer. The iPhone 6s, these clues suggest, will be a giant Apple Watch.
Check out Gizmodo's Liveblog of Apple's big event here.
That's an optimistic outlook. Skeptics will be quick to suggest that the next iPhone will try to correct the flaws of the last iPhone—specifically, the infamous bending problem. Either way, as usual, all signs point to a (very) slightly bigger, faster, feature-rich iPhone.
What will it be called?
I'll give you three guess. Actually, screw that I already told you. Apple's new pocket computer will almost definitely be called the iPhone 6s. Naturally, the larger version will be called the iPhone 6s Plus—although, since that's many syllables long some think it could be called something different. Why not the iPHONE 6S? (Emphasis intentional.)
G/O Media may get a commission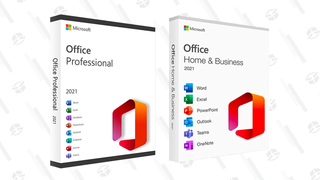 89% off
Microsoft Office Professional 2021 Lifetime License
As with the iPhone 6 release, some people also think that Apple is going to resurrect that "c" naming scheme. That would suggest a new line of colorful, cheaper iPhones that kept the specs from the current iPhone 6 line. Based on the sales of the iPhone 5c and the growth it brought to Apple, this isn't such a crazy idea. This tweet from popular leaker Evan Blass seems even more certain:
There is a crazy version of it, though. Last month, speculation circulated that Apple's out-of-left-field update to the iPod Touch hinted at plans for a smaller, 4-inch iPhone in a nostalgic nod back to the much missed iPhone 4 form factor, perhaps one even called the iPhone 6c. And that rumor is still flying around like an annoying gnat. You could also imagine, based on precedent, that Apple would call this fictional phone the iPhone Mini.
All that said, there's still little evidence that Apple will actually release a new size or a new "c" series this year. The reliable Mark Gurman most recently reports that there will be no iPhone 6c or 7c or any other "c" series phones ever again because Apple is discontinuing the line.

Design
Do you have a beautifully slim and sleek iPhone 6? Congratulations, because it's unlikely that anybody will be able to distinguish your soon-to-be-passé model from the brand spanking new iPhone 6s. Just as the company's done every year since it started the "s" series in 2009, Apple is expected to leave the design of the rumored iPhone 6s almost exactly the same. You could argue that the 5s is the exception to this rule since the addition of the Touch ID-enabled home button was easy to spot, but that's not likely to happen again this year.
But there is evidence that Apple will make some significant design improvements that will be indistinguishable to the untrained eye. The most noteworthy, perhaps, are tiny tweaks in the thickness of the rear casing, an apparent move to correct the flaws that caused Bendgate. From the outside, these tweaks will reportedly change the dimensions of the new iPhone ever so slightly. Meanwhile, the rumored addition of Force Touch capabilities will apparently make the device approximately 0.2-millimeters thicker. Again, you won't really be able to tell the difference.
But! All those little things aside, many people believe that Apple will expand the range of iPhone colors to include a rose gold or pink model in addition to the current gold, space grey, and silver lineup. The rose gold and pink rumors likely refer to the same hue, and as longtime Apple rumor render master Martin Hajek envisions it (above), might simply look a little bit more bling-friendly. This is not a crazy idea at all since the Apple Watch comes in rose gold. However, the rose gold option is only available on the very expensive Apple Watch Edition, which is made out of real rose gold. A solid rose gold iPhone is a pretty crazy idea, but it's feasible that Apple will just anodize aluminum to match the rose gold color.
Specs
This is where things get more interesting. Like every "s" series before it, the iPhone 6s will reportedly get a nice spec bump, both on the logic board and the camera. The most noticeable upgrade, however, is rumored to involve the addition of Force Touch technology on the display.
First, let's talk logic board. It seems almost certain that the new iPhone will come equipped with an A9 chipset, reportedly manufactured by Samsung. This next-generation processor is supposed to be 35-percent more power efficient, 15-percent smaller, and 20-percent faster. The real speed, however, will come from the rumored 2-gigabytes of RAM that the new iPhone logic board will be packing. (The iPhone 6 comes with an A8 chip and only 1GB of RAM.) On the wireless side of things, you can expect even more speed from a brand new Qualcomm MDM9635M LTE chip that will offer speeds of up to 300 Mbps.
Leaked images show that Apple manages to pack all of these goodies onto to logic board more efficiently. A side-by-side comparison of the iPhone 6 logic board and the rumored logic board for the iPhone 6s shows fewer chips on a slightly smaller surface area. That includes a new and improved (and slightly smaller) NFC chip. All things told, the new streamlined layout could mean good things for battery life.
Now let's talk about Force Touch. If you own an Apple Watch, you already know about the convenience of a touchscreen that can distinguish between a tap and a deep press. Many dependable sources say that Force Touch is now coming to the iPhone 6s, and it's designed to save you time. Just imagine doing a deep press on Apple Maps to pull up turn-by-turn directions or in the Music app to add a song to a playlist. App developers, of course, will think up a million new ways to use the technology, so the most interesting use cases are still to come.
Finally, there's the camera. Those of you who can remember the very first generation of camera phones will be blown away by the well founded rumor that the new iPhone will gain a 12-megapixel camera that's capable of recording 4K video. It might even come with a dual-lens system that allows for optical zoom. Daring Fireball's John Gruber is calling this the "biggest camera jump ever" for Apple's flagship device, one that " somehow takes it up into DSLR quality imagery." And, frankly, that sounds awesome. Who wouldn't want DSLR quality inside a sliver of glass and aluminum that can also place phone calls, browse the web, and give you relationship advice? But we're not ready to proclaim that DSLR images have finally come to smartphones until we take a few pictures of our own.
Regarding any other potential spec bumps, you can probably expect some improvements in the Touch ID arena that will make fingerprint-reading a little bit faster. You can maybe expect that 16 GB will no longer be offered as the base model, though rumor mongers don't necessarily agree on that. A Chinese tech blog also recently published an image of what appears to be the iPhone 6s packaging which revealed that a 16 GB model would be available. Either way, you can probably forget about a fancy sapphire display because, well, just don't get your hopes up.
iOS 9
Short of any last minute surprises, we already know what iOS 9 looks like. In fact, we know more about the newest version of operating system, since Apple launched a public beta program this year. With its new Proactive features, iOS 9 is smarter and more intuitive, since it learns your behaviors and anticipates what you're going to do when you use your phone—just like Google Now. Siri will also get an injection of intelligence that, we hope, will finally make the AI actually useful.
The upgrade also brings public transit capabilities in Maps, and a new News app that brings a native Flipboard-like experience to Apple's mobile devices. The Notes app is getting some nice new features, like turnkey to-do lists and embedded media. Other than that, iOS 9 will include a bunch of under-the-hood upgrades that will improve performance, security, and battery life.
How much will it cost?
Don't expect any huge surprises here. As always, nobody expects Apple to mix up the pricing structure too much with the new iPhone. If tradition holds, the iPhone 6s will start at $199 with a new contract and the iPhone 6s Plus will start at $299. That would likely bump the iPhone 6 down to $99 with a new contract and presumably make the iPhone 5s free. At least that's how things shook out last year.
There's always a chance that things could get weird this year. Verizon just recently announced that it would stop doing two-year contracts and no longer subsidize phone sales. That could mean that Verizon customers would have to pay full price—probably $650—for the new iPhone. AT&T and T-Mobile have similar month-to-month offerings that also preclude the benefits of a subsidized iPhone. All that said, iPhone subsidies are usually bullshit in the long run.
When will it be available?
Keeping the back-to-school tradition, Apple is expected to announce the new iPhone the week after Labor Day, probably on September 9. (Last year, the iPhone event was also held on September 9.) Apple is reportedly already in mass production for the new devices and expecting more orders than ever. If all goes as planned, pre-orders will start on September 11 and the official release will happen on September 16. We expect lines to be forming right about now-ish.
Just kidding, that would be crazy. Or would it?
Illustration by Michael Hession