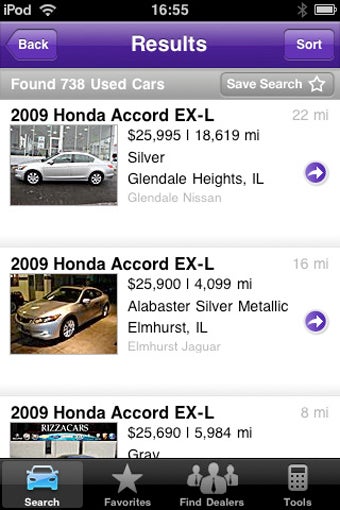 Cars.com: Leafing through a grimy copy of AutoTrader while you're waiting for an oil change is one of America's great pastimes. Cars.com lets you replicate the endless process of lusting after cars you can't afford, and feeling smug satisfaction of ignoring over used cars that you can afford, with a free iPhone app. Some App Store commenters are complaining that there aren't enough search options, but for the most part they're there—they're just hidden behind the "Sort" button in the search results.

Meebo: Hardcore power messagers (who are you people, exactly?) might want to stick with their Beejives and Trillians, but for the rest of us, Meebo will do just fine. It's nearly as good as the best iPhone messaging apps out there, and it costs absolutely nothing. Love.

Autopark: Five dollars? Five dollars for this app? You must be crazy.
Wait, officer, you're saying it's going to cost me $50 for being two minutes late to my meter? $50? You must be crazy.
Wait, judge, you're saying it's going to cost me all the money I make for the rest of my life, just because I tire-ironed that meter maid in the neck? All of it? You must be crazy.

Mashable: If you like Gizmodo, there's a good chance you'll like Mashable. If you like Mashable, there's a good chance you're going to want to download this free iPhone app, which convenient serves up the site. Blog solidarity, right here.

SlingPlayer Mobile: SlingPlayer Mobile's been around for a while, but the lack of streaming over 3G limited its usefulness—if you're in a Wi-Fi zone, you probably have access to a computer. Anyway, now it streams over 3G. Boom.
It's still $30 though, which seems harsh for an accessory app.

Oscars: Download this official Oscars app, so you can pretend for a few lovely days that that stupid dragon rape movie with all the blue jerks isn't going to win best picture, even though it probably is, because of DUMB.

NASA 3D Sun: You know that glowing orb in the sky that keeps the planet from slinging off into the universe, and which keeps us warm enough not to die? It blows up a lot. And now you can keep track of these alarming solar flares and other strange solar occurrences with the brand new 3D Sun app from NASA! It may seem a little boring at first, especially to the scientifically disinclined, but just wait for your first solar flare push notification—that's when you'll get it.

FastMall: Free app, for your mall map(s)! Navigate a whole load of malls with detailed interior maps, which is much easiest that hunting down a physical key, and much less fogey-like. Added bonus: This app helps you get in and out of malls faster, which is great, because malls are universally terrible, and actually shorten your life, because a minute spent in a mall is a minute spent not not being in a mall, where actual human life happens.

Plants vs. Zombies: A terribly addictive tower defense-type game, with zombies and plants instead of soldiers and death towers. The new players give the game a fun kineticism, so don't judge the game by its cartoonish graphics: this is a very, very good game in a fairly crowded category. $3.

Noby Noby Boy: I'm just not up to explaining what this is, or how it works. TUAW committed around 1000 words just to describing this app, all of which I read, and after which I downloaded the app. I was still taken completely by surprise.
Basically, it's not quite a game, and seeing as it was conceived by Katamari Damacy creator Keita Takahashi, it's truly and deeply bizarre. If Katamari Damacy made you laugh, this will make you laugh. If Katamari Damacy kept your attention, this will probably keep you attention. In any case, if you have any sense of whimsy, you'll get your $2 worth.