My initial reaction to Apple's expensive new iPhone battery case was in step with the everyone else's: It looks like it has a tumor. But what I discovered after using it for a full day is it's actually surprisingly great.
What Is It?
The $100 iPhone 6s Smart Battery Case is Apple's first step into the big, big world of charging cases. The battery pack holds 1,877mAh—significantly less than the Mophie Juice Pack Air which costs the same amount. But because it's an Apple product, the Smart Battery Case provides extra features tied into iOS and can be charged with a Lightning cable instead of microUSB. Apple says it will give your iPhone 6 or 6s an impressive 25 hours of talk time, up to 20 hours of video playback, and up to 18 hours of internet browsing.
Apple says the 6s alone gets up to 14 hours of talk time, up to 11 hours of video playback, and up to 10 hours of internet browsing. The Smart Battery Case is an improvement, but it's not an astronomical one. Basically, the case will give in iPhone 6s the same (or better) battery life as an iPhone 6s Plus.
Why Does It Matter?
Apple is years behind on the iPhone battery case game, but its first go is wonderfully simple. The cases also come in an official Apple package and an official "Designed by Apple in California" label on the inside.
G/O Media may get a commission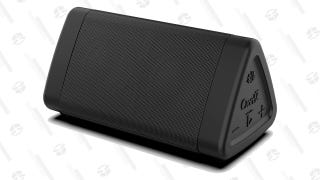 Save 31%
Oontz Angle 3 Portable Bluetooth Speaker
This is important to some people.
Design
This case makes a gross first impression. Unlike Mophie and Incase designs before it, the slip-resistant silicon sheath is all one piece. The phone slides in, and the rubber top flops over to hug it into place. The bottom of the case juts out a little less than an inch and includes an opening for the microphone and a little acoustic chamber for the speaker. When seen from the front, it honestly looks like any other battery case.
Then you flip it over and see the bulge. The case's battery pack looks like a little backpack that's been stuffed under silicone skin. Though sort of unsightly at first, it's quickly obvious that the battery pack also acts as a grip of sorts, making a notoriously slippery phone easier to hold. In other words, it grows on you.
Feeling It
I'm a naked iPhone kind of guy, so wrapping any case around that aluminum body honestly feels weird to me. Battery cases especially feel weird because they're inherently bulky. Also, on the off chance that I need an extra change—usually when I'm traveling—I'll carry an external battery pack for extra insurance.
So, predictably, my first reaction to the new Smart Battery Case was annoyance. It made my typically svelte iPhone 6 both fat and heavy. The bulge meant the device didn't slide easily into my pocket like my naked iPhone, and the buttons no longer clicked like they used to.
These are all generic battery case complaints, however. Once I got over the fact that my iPhone wasn't so skinny anymore, I started to like the new shape. The battery bulge makes the phone weirdly comfortable to hold. It helps that the silicone case is easier to grip than bare aluminum, but my fingers also found a natural home around the contours of the battery pack. The Smart Battery Case does add some heft to the iPhone, both in thickness and in weight. It feels less bulky than other battery cases I've tried, however.
Using It
Like any good Apple device, the Smart Battery Case excels at simplicity. There's no on-off button to initiate a charge. Your iPhone will simply suck the juice out of the case and then switch to the phone battery when the case is empty. You can monitor the case's battery life by swiping down to see the Notification Center. Meanwhile, the battery meter in the upper right hand corner will continue to show you the actual phone battery life.
The extra battery capacity is handy, but it's frankly not enough to make your iPhone last a week. I don't entirely believe that impressive 25-hour talk time number that Apple cites, as the fine print reveals that those statistics come from a highly controlled scenario. For instance, Apple says you'll get up to 20 hours of continuous video playback, but that's specifically for playing video that you've already downloaded from iTunes. I did a test and only got about eight hours worth of watching a yule log burning on YouTube.
Nevertheless, the Smart Battery Case can help you survive for a couple of days without a charge. It's not designed to bring your dead phone back to 100-percent battery, and it won't. The case will provide a little bit of protection and a lot of extra hours of battery life, if you're comfortable with making some sacrifices.
So about those sacrifices. The one that will probably piss you off the most is the headphone jack. Like other battery cases, the new Apple offering will only accommodate very thin headphone plugs. Apple Ear Pods will work just fine, but the various headphones I tried at my desk did not work. (I should note that you obviously won't even notice this quirk if you use wireless headphones.) Apple doesn't sell an adapter nor does one come in the box, though you can expect some to show up soon.
The other thing worth mentioning is the downside to slip-resistant silicone. It's very grippy, so you don't drop your phone. Great. However, it's also a dust magnet that will quickly collect all of the teeny bits of lint in your pocket or bag and turn your phone into a bit of a fur ball. Not so great. The dust issue is probably more visible on the white Smart Battery Case, but it's also problem inherited from the regular silicon iPhone case from Apple. The material used is identical.
But About That Bulge
So you're probably still wondering what's up with that bulge on the back? Why would Apple, the arbiter of elegant design, create something that looks like a biohacker's bad idea?
One speculative idea floating around is that Apple had to design the case this way in order to skirt around a recently awarded Mophie patent. This seems sort of unlikely given the wide range of alternative battery case designs that are out there. It's worth considering, however, that Apple made a risky design decision that provided some marginal utility like the new grip feature and expected its loyal users to accept it. That's what fanboys have done in the past, despite any accompanying inconvenience.
The more I think about it, the more I just don't care. The bulge is goofy-looking, but I kind of like goofy-looking things. Apple could've made it less pronounced by extending the battery to the bottom and leaving the top free to bend open so you could slide your phone in. This even would've allowed for more capacity.
But I actually think that the case offers just enough amperage without turning the iPhone into an unwieldy monster. Honestly, if you've ever held one of those massive Mophie cases, you know it's a little awkward.
Like
I'll just say it: I like the bulge. The Smart Battery Case makes the phone easier to hold and harder to drop. The extra battery life is luxurious, and the smart iOS integration is rather elegant. It's also great to keep using one cable.
No Like
I'm not in love with the silicon material, though I know a lot of people are. It makes pocketing your iPhone a bit of a chore, and the dust magnet material gets on my nerves.
Should You Buy It?
Try it. You might like it. You might hate it. You can return it. When I walked into the Apple Store to pick up my Smart Battery Case, this was one of the first thing the red-shirted Apple employee said to me. He acknowledged the quirky design and admitted that he hadn't used it yet. But if I didn't like, he insisted, I could put it back in the box and get my money back.
That's not a bad proposition for any case. The extent to which someone likes one phone case over another is deeply personal. I like this one against all odds, but you might want more capacity or a more plastic-y form factor. But hey, at the very least the Smart Battery Case is a conversation starter.
[Apple]
---
Contact the author at adam@gizmodo.com.
Public PGP key
PGP fingerprint: 91CF B387 7B38 148C DDD6 38D2 6CBC 1E46 1DBF 22A8