Jessica Henwick is conquering genre franchises—she was in The Force Awakens, Game of Thrones, and Marvel's Iron Fist. But that last commitment—as Colleen Wing—is so great it almost kept us from ever seeing her in Game of Thrones again.

Henwick plays the deadly Nymeria Sand, whose role in the show is pretty different to that in book. (Everything related to Dorne is, basically.) We last saw Nymeria at the meeting between Olenna Tyrell (Diana Rigg), Ellaria Sand (Indira Varma), and Varys (Conleth Hill), indicating that we'd next see the Sand Snakes supporting Daenerys (Emilia Clarke) in her fight against the Lannisters.
Unfortunately, the Netflix/Marvel shows have Henwick on such a crazy schedule that Nymeria almost just vanished from that picture.
Henwick explained what happened to EW:
I wasn't able to do it. My schedule clashed. I was filming Iron Fist for six-to-seven months and they wouldn't give me the time off. [GoT] was so massive for me in terms of my career and building my profile and as an experience in itself, I wanted to return. [A GoT producer explained] "it's really important that you come back otherwise your character will just disappear." So I spoke to Marvel and I managed to get a release. I literally was flying back and forth while I was doing Iron Fist in New York to Belfast, even during Christmas break.
G/O Media may get a commission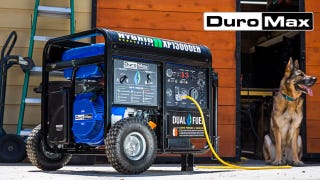 Black Friday Sale
DuroMax Generator Sale
Yeah, no explanation or off-screen death, just a vanishing. I guess it could be worse. They could have recast Nymeria.

Actually, as Henwick points out later in the interview, disappearing could have whipped up fan speculation. I bet anything that, once a season without her had gone by, Reddit would fill with speculation threads about Nymeria. Hundreds of thousands of words would be written, prophecies from the books reinterpreted to include Nymeria. It would have been fun, but this is better. The fewer red herrings we have heading into the final two seasons, the easier it is.
Henwick also said that, when we see Nymeria in season seven, it'll "pick up right where we left off and get into the nitty gritty very quickly. There is no time wasted this season." Good. We want to see them in action as soon as possible.