Everybody's spoilering for the weekend here. To keep you going for the next couple days, we've got a hint about a swinging Iron Man 2 villain, plus some telltale video of the Transformer you didn't believe could possibly exist. In action! Plus, find out which zombie movie borrows romance tips from Woody Allen. And which favorite character won't be back on Doctor Who next year. Also, actors spill Dollhouse secrets. We have set reports from Lost and Fringe, and new Smallville and Heroes pics. Plus hints about Sarah Connor, True Blood, and your favorite show Knight Rider. Thank goodness it's spoiler day! Iron Man 2: We may be seeing Iron Man's grooviest enemy, Crimson Dynamo, in the sequel, hints Jon Favreau. Can Paul McCartney be far behind?? [Chud] Transformers 2: YouTube user RodrigoNJ got some footage of the ice-cream truck Transformer split into two halves, which supposedly are "The Twins." There are more videos at the link, including helicopters and Michael Bay on location. [RodrigoNJ via Transformers Movie Chronicles]
Meanwhile, PhillyFilmGirl has another behind-the-scenes video of a night-time shoot in an alley in what will be Paris, where the Witwickys are vacationing. Supposedly that light pole is really a stand-in for a robot. [PhillyFilmGirl via Transformers Movie Chronicles]
Pontypool Changes Everything: The zombie-talk radio movie borrows social satire from Louis Malle and romance from Woody Allen. (!) And there's a gruesome scene where a zombie girl bashes her head to a pulp against a pane of glass, while shouting about her love for another zombie. [Sci Fi Wire] Fringe: Another loyal io9 reader, Mike, spotted Fringe filming in his Brooklyn neighborhood, and dropped us a line. The show commandeered a diner, and also blocked off a whole stretch of the street. It looked like there was a foot chase of some sort, and then Joshua Jackson ducked inside the diner. [Thanks Mike!] Also, Roberto Orci says we may learn more about the therapy that Walter endured, and it may not have been in his best interest. Also, if he appears lucid on the show, that may be deceptive. We may learn more about Walter and Peters' pasts eventually. We may not have seen the last of Agent Scott, who may live on in Olivia's mind. [TV Guide] Doctor Who: We may not know who's turning up in the 2009 specials, but we know who isn't: Billie "Rose" Piper says she won't be back. Also, she says she hasn't talked to anyone about being in a big-screen Who movie. [BlogtorWho] Dollhouse: Sierra (Dichen Lachman) the doll in Joss Whedon's Dollhouse, gets to be a Navy SEAL and a bank robber in the first couple of episodes. Also, Enver Gjokaj, who plays the doll named Victor, says he's found out who Victor was before his memory was erased, and it was crap-your-pants exciting. [E! Online] Heroes: Here's the official description of episode three of the superhero soap opera's new season, "One Of Us, One Of Them":
When four ruthless, powerful Villains — "Knox" (guest star Jaime Hector), Flint (guest star Blake Shields), The German (guest star Ken Lally) and Jesse (guest star Francis Capra) — bust into a bank and take hostages, Angela (Cristine Rose) sends H.R.G. (Jack Coleman) and his shocking, new empowered partner in after them. Determined to derail a cataclysmic future, Peter (Milo Ventimiglia) must first find what he lost along the way. Meanwhile, Hiro (Masi Oka) and Ando (James Kyson Lee) track Daphne (guest star Brea Grant) and part of "the formula" to Germany, but run afoul of The Haitian (guest star Jimmy Jean-Louis). Horrified by her ability, Tracy Strauss (Ali Larter) leaves Washington, D.C. to search for answers about Niki. A distraught Claire (Hayden Panettiere) asks Meredith (guest star Jessalyn Gilsig) to teach her how to fight. As his romance with Maya (Dania Ramirez) intensifies, Suresh (Sendhil Ramamurthy) finds himself unprepared when his experiment yields some unexpected results.
And here are some promo pics from the season premiere. [Heroes Spoilers]
G/O Media may get a commission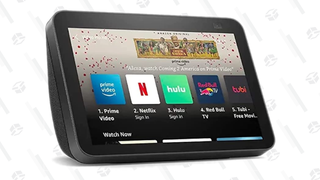 Lost: It sounds as though the Dharma Initiative just filmed another one of its awesome instructional films, starring Francois Chau. [SpoilersLost] Also, a Hawaiian beach was transformed into a marketplace in the Philippines to shoot a scene where a sweaty Desmond frantically searches through the crowd for someone named Althea or Theone, with the last name of Salonga. He starts to give up hope. One extra said she thought maybe Desmond was looking for his son? But she also thought Henry Ian Cusick's stand-in was the actual star, so grain of salt is indicated. A night shoot was being set up at the harbor, either on a pier or on a boat. More pics at the link. [Hawaii Weblog]
Sarah Connor Chronicles: We may see more visitors from the future in the Terminator show. We'll see more "flashbacks" from the future war in the first nine episodes of the season. We probably won't ever see an older John Connor, unless Christian Bale is willing to drop in. An upcoming episode features an original set and an original location from the first Terminator movie, and the original prop gun that Arnie wielded in Terminator shows up as well. [Sci Fi Wire] Smallville: Here are some promo photos from the second and third episodes of the season, "Plastique" and "Toxic." (I think we showed you some of the "Plastique" photos before, but these are higher res. Plus, I think the ones where you can see Clark Kent's press badge are new. Shiny press badge!) [Andreas At LJ]
Also, Erica Durance says Clark lets Lois be under the hilarious delusion that she's competent, ha ha: "She'll go to investigate something, thinking that she's the one solving the problem, and meanwhile he's speeding around saving her a lot. It's quite funny." But she also says she's working to show that Lois is "intelligent and fun and loveable." Oh, and apparently the Lois-Clark kiss that we were told happens in episode five? It's not in the final shooting script. But Lois does have to admit she has feelings for him. [TV Guide] True Blood: Sounds like the TV series will diverge from the original books in a significant way. Instead of Eric killing Longshadow the embezzler vampire, it's going to be Bill in the TV series. [The Grynne] Knight Rider: Okay, so you may not be sold on Knight Rider yet, but just listen to this synopsis for episode three, "Knight Fever":
KITT MAY HAVE MET HIS MATCH WHEN HE FALLS VICTIM TO A DESTRUCTIVE COMPUTER VIRUS— Mike (Justin Bruening) must stop the spread of a computer virus that threatens a total global meltdown. The job gets much harder when KITT (voiced by Val Kilmer) is infected. Meanwhile, Mike's jealousy begins to show when Sarah (Deanna Russo) reconnects with an old flame (guest star Jeffrey Pierce, "The Nine"), who may be the key to solving the latest mission.
[SpoilerTV] Now that you're hella excited, here's a casting call for a ton of characters in episode 9, "Knight Of The Zodiac":
[CAPRICORN, AKA STEVE CORDOVA] (30's - early 40's) Akin to DANNY OCEAN in "Ocean's Eleven", he's a roguish thief with charm and humor. Dangerous when threatened, he's the brains behind a successful ring of thieves running an operation out of Las Vegas. GUEST LEAD. SUBMIT ALL ETHNICITIES. [TESS LANDAFLY] (late 40's, female) Very attractive and holding a PHD in mechanical engineering, she's checking up on the SSC facility to monitor it's waste and emissions from a "green" standpoint. An old flame of DR. GRAIMAN (Bruce Davison), the two are soon reminded of the attraction they once had for each other. GUEST LEAD, SUBMIT ALL ETHNICITIES. [COURTNEY FLYNN] (mid-20's) This pretty blonde is adorable and gets BILLY's (Paul Campbell) attention at a blackjack table in Las Vegas. After an incredible night together, she tells Billy she has gambled away her college tuition, she recruits BILLY to win it back for her. Question is, does she really care about him or is he being "played"? GUEST LEAD, SUBMIT ALL ETHNICITIES. [VIRGO] (late 20's, very fit, male) An accomplice of CAPRICORN, he's busted by MIKE (Justin Breuning) after an intense fight. Caught with the hard drive he stole from a regional FBI office , he trades information about the ring of Zodiac thieves rather than face Guantanamo . 4 SP, 8 LINES, 3 SCENES. SUBMIT ALL ETHNICITIES. [LEO] (30's, male) The big guy of the Zodiac ring, he's in charge of communications and tech. 1 SPEECH, 8 LINES, 5 SCENES. CO-STAR. SUBMIT ALL ETHNICITIES. [GEMINI] (20's, female) The athletic and attractive gun-toter of the ring of thieves. 7 LINES, 5 SCENES, CO-STAR. SUBMIT ALL ETHNICITIES. [VALET #1 & 2] (early 20's, male) These excited valets can't wait to take KITT for a quick race. They're floored when halfway through KITT actually takes over the driving. 7 LINES, 5 SCENES and 5 LINES, 4 SCENES RESPECTIVELY. CO-STAR. SUBMIT ALL ETHNICITIES. [AQUARIUS] (late 20's, female) Gorgeous, curvaceous and very female, she uses her feminine wiles to serve as "the distraction" when needed by the ring of thieves. 6 LINES, 5 SCENES. CO-STAR. SUBMIT ALL ETHNICITIES. [SCORPIO] (30's, male) Small in stature and bespectacled, he's an expert pickpocket. 3 LINES, 5 SCENES. CO-STAR. sptv050769 SUBMIT ALL ETHNICITIES. [DEALER] (30's - 50's, male or female) A blackjack dealer in the casino. 2 LINES, 1 SCENE. CO-STAR. SUBMIT ALL ETHNICITIES. PLEASE NOTE IF ACTOR IS AN ACTUAL DEALER. [ROOM SERVICE WAITER] (20's, male) He delivers champagne and strawberries to BILLY & COURTNEY. 2 LINES, 1 SCENE. CO-STAR. SUBMIT ALL ETHNICITIES. [SECURITY GUARD] (30's - 40's, male) A guard on the casino floor. 1 LINE, 1 SCENE. CO-STAR. SUBMIT ALL ETHNICITIES.
[Spoiler TV] Additional reporting by Lauren Davis.