Things television has in store for you this week: A double dose of Bruce Campbell! More Fringe and The Walking Dead! King Arthur in high school! A Jedi team-up on Star Wars: The Clone Wars. Plus some amazing so-bad-they're-great movies!

Today:
There's no new Scooby Doo - Mystery Inc. tonight, but there is a new Johnny Test at 7:30 PM on the Cartoon Network: "A Scholarship for Johnny."
Sadly, there's no new Chuck tonight. Sorry for the mix-up.
At 8 PM, there's Adventure Time on Cartoon Network ("Story Tellin'"), followed by a new Regular Show at 8:15 ("Don"), a new Mad at 8:30 PM, a new Robotomy at 8:45, and a new Total Drama World Tour at 9:00 PM.

And then there's another outing of The Event at 9 PM on NBC, "I Know Who You Are."

Movie Picks:
At 6:15 PM, Cinemax has Night at the Museum: Battle of the Smithsonian. Anne Hathaway has to do everything you say, in Ella Enchanted, on the Disney Channel at 7 PM.
G/O Media may get a commission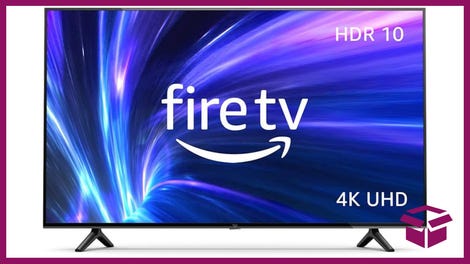 42% Off
Amazon Fire TV 50" 4K Smart TV
Tuesday:
At 8 PM in most markets, PBS has a new Nova, "Dogs Decoded."

At 8, there's a new Tower Prep on the Cartoon Network, in which we get inside the mysterious sport of "Buffer":
Ian tries to get into buffer, a sport played only at Tower Prep that his friends – especially CJ – absolutely love. But, he just can't get his head around all of the rules, or the fact everyone adores the buffer team captain Cal with whom Ian has a budding rivalry. The rivalry is made worse when Coach gets Ian a job as team manager – effectively making him the 'towel boy." Ian is approached by an opposing buffer coach - Coach History - who thinks Ian's special skills will make him a natural at the game. Ian initially disagrees but has a change of heart when circumstances lead him to believe that there is a connection between Coach History and The Gnomes. As Ian gets more involved in the sport and the championship game looms, Ian must decide what's more important to him – being true to his mission and his friends or letting his rivalry with Cal overtake his reasons for playing.
And here are four clips from the episode:
Also, there's a new No Ordinary Family on ABC at 8 PM, "No Ordinary Visitors," in which Stephanie's parents show up. Also featuring Twilight's Jackson Rathbone. Here's a sneak peek:

And there's also a new Stargate Universe on Syfy at 9 PM, "The Greater Good." Here's a sneak peek:



Also at 9 PM: Meteorite Men on the Science Channel
Movie Picks:
At 6:20 PM, Cinemax is showing the Soderbergh remake of Solaris. And Dr. Strangelove, or How I Stopped Worrying and Learned to Love the Bomb, is on TCM at 7 PM.
Wednesday:
Pay your respects to Undercovers, on NBC at 8 PM. They'll be showing a couple more episodes after this week, but the show's already officially axed.
Also at 8 PM, there's a new MythBusters: Buster's Cut on Discovery, followed by a new MythBusters at 9 PM, which is a fan request mini-myth special:
In this fan request special, the team will randomly select six bite-sized mini myths to test. Among the suggestions: Adam Savage and Jamie Hyneman look to see if they can really peel off a dive suit to reveal a perfectly pressed tuxedo, just like 007 (even going as far as consulting a style guru!); meanwhile Kari Byron, Grant Imahara and Tory Belleci test bullet-stopping stories straight from the headlines.
There's also a new Avengers: Earth's Mightiest Heroes at 8:30 PM on Disney XD, in which Wonder Man goes off the rails:

At 10 PM, there's the fall midseason premiere of Psych on USA. Also at 10 PM: a new episode of Sci-Fi Science: Physics Of The Impossible on the Science Channel, "Shapeshifting Transformer."
And at 10:30 PM there's a new episode of Comedy Central's Ugly Americans.
Movie Picks:
The so-bad-it's-beautiful Barb Wire is on Cinemax at 4:10 PM. Or you could wait just 20 minutes longer and watch the so-baffling-it's-baffling The Box, on HBO at 4:30 PM. Later that evening, AMC is showing Red Planet with Carrie-Ann Moss at 10 PM.
Thursday:
There's a new The Vampire Diaries, on The CW at 8 PM. We're finally going to learn the whole backstory of Katherine, which spells only one thing: Bad Wigs. Be very scared.

Also at 8 PM, there's a new The Big Bang Theory on CBS.
Can Fringe continue its recent streak of almost unthinkable excellence? Find out on Fox at 9 PM. This time around — a particular radio frequency makes a bunch of people suffer amnesia. Here's a sneak peek:

Also at 9 PM, Nikita is presumably still wearing the skimpy bathing suits, on The CW.
The midseason premiere of Burn Notice is on USA at 10 PM — it's not technically science fiction, but it does have the occasional outlandish gadget, plus the incredible power of Bruce Campbell.

Movie Picks:
The "teen girl superhero squad" film D.E.B.S. is on IFC at 10:15 AM and 3:15 PM. The Net with Sandra Bullock is on Oxygen at 10:30 AM. And The American Astronaut is on the Sundance Channel at 3:55 PM — "a space traveler goes on an interstellar wild goose chase." It's musical comedy! The first Harry Potter movie, Harry Potter and the Sorcerer's Stone, is on ABC Family at 7:30 PM.
Friday:
There's another new Batman: The Brave and the Bold at 7:00 pm, "Cry Freedom Fighters!" And that's followed by a new Ben 10: Ultimate Alien at 7:30 PM.
Disney is premiering a TV movie called Avalon High at 8 PM, based on Meg Cabot's best-selling young adult novel. A girl goes to a high school and is shocked to discover that her classmates are the reincarnations of King Arthur and the Knights of the Round Table. Because why not? She discovers this as she researches a term paper on King Arthur and starts to notice the parallels. Here's the trailer:

Or you could go with the devil you know and watch a new Smallville, on The CW at 8 PM. Teri Hatcher appears as Lois' dead mom, through the power of stunt casting:

There's also a new Medium on CBS at 8 PM, "Smoke Damage." He's a fireman — who's secretly an assassin who uses fire! Or something.

At 8 PM, we get another outing of Genndy Tartakovsky's Sym-Bionic Titan on the Cartoon Network, followed by a new Generator Rex at 8:30 PM. And then at 9, there's a new Star Wars: The Clone Wars, in which the greatest Jedi of them all, Quinlan Vos, finally appears, to help in the "Hunt for Ziro.":
The Hutt Council is after Ziro. But the Hutts aren't the only ones! Will they catch up with the treacherous Hutt, or can Obi-Wan Kenobi and Jedi Master Quinlan Vos bring him to justice?
At 9 PM, there's a new Supernatural on The CW, called "All Dogs Go To Heaven." The Winchester brothers already have plenty of problems, but add a skinwalker to the growing list.

Also at 9 PM: Industrial Light & Magic: Creating the Impossible, a new documentary about George Lucas' special effects powerhouse.
The hour-long special has interviews with filmmakers George Lucas, Steven Spielberg, Ron Howard, J.J. Abrams and Jon Favreau, actors Samuel L. Jackson and Robin Williams, producer Jerry Bruckheimer and John Lasseter, the chief creative officer at Walt Disney and Pixar Animation Studios. Film and television shows featured in the special include The Abyss, Avatar, Forrest Gump, Jumanji, Jurassic Park, Pirates of the Caribbean, Raiders of the Lost Ark, Robot Chicken, Star Trek (2009), Star Trek II: The Wrath of Khan, Terminator 2: Judgment Day, Transformers, Twister, Young Sherlock Holmes and The War of the Worlds (2005), which starred narrator Cruise.
At 10 PM, there's a new Sanctuary on Syfy, "Hero II". Here's a sneak peek.

Also at 10 PM, there's Dean Of Invention on Planet Green, about turning excrement into a new power source.
If you could take just one day's excrement from all the humans and cows in the world and harness the energy locked inside, you'd have enough electricity to power New York City for seven years. Until recently, all that waste was just going to waste.
Here's a clip:

Movie Picks:
Get more of your Bruce Campbell fix, with Army of Darkness, on Cinemax at 1:45 PM. And the fantastically bizarre and metafictional Bride of Chucky is on Cinemax at 11:45 PM. Harry Potter and the Chamber of Secrets is on ABC Family at 7 PM. And then at 2:15 AM, TCM is showing Galaxy of Terror, the movie that launched a whole monster-sex fetish — it's almost worth tuning in to see how much they're going to have to edit this film for television. That's followed on TCM by They Came From Beyond Space. And then if you stay all the way up to 5:30 AM, you're rewarded with two vintage short films: The Corvair in Action, about a revolutionary new car, and Tear Gas in Law Enforcement, about proper techniques in the use of tear gas.
Saturday:
BBC America is having a Doctor Who marathon from 6:00 AM to 10:00 PM today, starting with the final David Tennant adventure, "The End of Time," and including the entire Matt Smith/Karen Gillan season.
You have a choice of two original TV movies tonight. Try not to get too excited.
On the one hand, Syfy premieres another one of their original TV movies, The Lost Future:
Starring Sean Bean (Lord of the Rings), The Lost Future, premiering Saturday, November 13, at 9PM (ET/PT), is set in an exotic and dangerous future world where an isolated tribe battles for survival in a landscape overrun by mutated beasts carrying a mysterious and deadly illness. A production of Tandem Communications GMBH, The Lost Future also co-stars Annabelle Wallis (The Tudors).
On the other hand, Hallmark is debuting The Good Witch's Gift, the third in their successful series of Good Witch TV movies, starring Catherine Bell as Cassie Nightingale. This time Cassie discovers "it is going to take more than just a little magic to get this good witch down the aisle." Here's the trailer:

Movie Picks:
Flatliners is on Lifetime at 2 PM, featuring young Kiefer Sutherland coming back from the dead. And The Blob is on TCM at 3 PM — worth it just for the theme song, plus Steve McQueen playing the least convincing teenager ever. Meet Captain Nemo in Jules Verne's Mysterious Island on Syfy at 3 PM. Harry Potter and the Goblet of Fire is on ABC Family at 7:30 PM. And truck-stop angel massacre movie Legion is on Starz at 9 PM.
Sunday:
As usual, there's the Fox animation bloc from 8 to 10 PM, including The Simpsons and Family Guy.
At 10 PM, there's another new episode of The Walking Dead on AMC, in which the knife twists a few dozen more times. "Rick makes a decision to go back to Atlanta to retrieve the bag of guns and save a man's life. Lori and Shane must deal with the surprising return of someone they thought was dead." Here's a sneak peek:

Movie Picks:
At 4 PM, ABC is showing Convict 762, about a spaceship captain and her all-female crew, who land on a prison planet where the prisoners seem to have overpowered the guards. At at 7:30 PM, AMC is showing Constantine, with Keanu Reeves in perhaps his most miscast role ever. And at 8 PM, ABC Family is showing Harry Potter and the Order of the Phoenix.