Algis Budrys is a writer's writer, admired more for his style in the genre than his visionary ideas. The Lithuanian-American novelist and critic is the subject of a glowing profile by Technology Review's Mark Williams in which he offers up Budrys' literary style as an exemplar of what the rest of the genre should have followed. A re-appreciation of Budrys is certainly in order, but not in the way Williams suggests.The full article features quotes from an interview that occurred three days before Budrys' death. Mark Williams evocatively describes Hitler passing by the breathless Budrys as a child, and summarizes his place as an underappreciated writer in the field. The son of a Lithuanian general, Budrys' family was sent to the U.S. in 1936. Inspired by science fiction magazines like Astounding, he began what would be a long and successful career as a working writer.
Why might Budrys' oeuvre not be as well known as it should be? For one, some of his work hasn't aged well. His Hugo-nominated novel Who? in particular seems very dated today, set as it is during the Cold War, but more importantly lacking a futuristic sensibility that allows the best science fiction to have a certain timeliness. His most widely read book Rogue Moon (about a deadly artifact) likewise doesn't hold up terribly well, and Budrys always hated the title. Still, Budrys' prose style was admired for a reason, and he has two Hugo nominations to show for it.
Then there's his brilliant last book, Michaelmas. Williams writes of the novel:
In many ways, it's a more attractive world, with a U.N. manned mission to the solar system's outer planets and less terrorism, war, and crime. In a similar way, it could be argued, Budrys's science fiction presents an alternative version of the genre—a promise of better possibilities that were never quite realized.
G/O Media may get a commission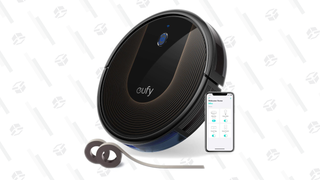 48% Off
Eufy BoostIQ RoboVac
The general dispiriting tone of William's conclusion — "This is what science fiction can be but hardly ever is" — is largely off base here, and the article ignores Bundrys' association with Scientology in the 80s. Yes, Bundrys is a worthy writer who had a magnificent career, there's no doubt. But he's an example of the expansive richness of vision science fiction can embody, not an alternate version of the genre that might have been. The Alien Novelist [MIT Technology Review]